The 50 Million African Women Speak Platform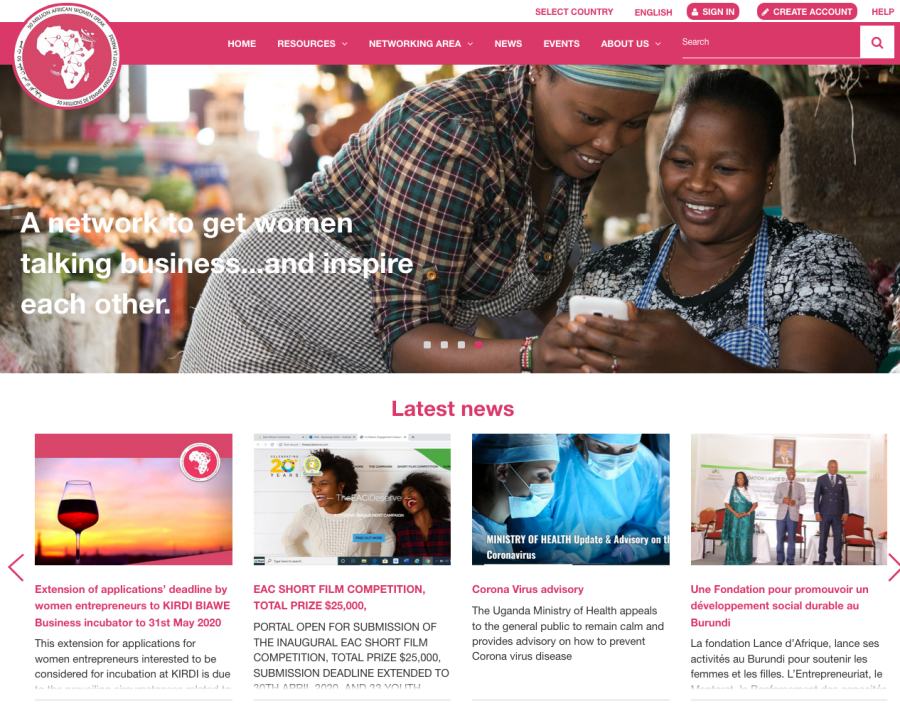 Objectives
The objective
of the 50MAWS platform is to contribute to the economic empowerment of women by providing a networking platform that will enable women in business to access information and financial services. Specifically, the platform aims to improve the ability of women entrepreneurs to network and share information as well as to access information on financial and non-financial services.
The platform
The 50 Million African Women Speak (50MAWS), is a digital platform which is available via web and on mobile devices as an app. The platform is intended to empower millions of women in Africa to start, grow, and scale up businesses by providing a one-stop shop for their specific information needs.
The 50MAWS platform aims to facilitate a dynamic and engaging exchange of ideas among women entrepreneurs, using in-built social media functionality to connect them with one another in ways that will foster peer-to-peer learning, mentoring and the sharing of information and knowledge within communities, and access to financial services and market opportunities between urban and rural areas, and across borders and between countries.
Featuring information on doing business in 38 countries across the African continent, 50MAWS' unique proposition is building a community of women entrepreneurs who will act as peers, mentors, advisors and financiers to each other. This social network is designed to help women to learn from each other, inspire each other and draw from the most comprehensive resource bank for information on various aspects of doing business.
It will also facilitate access to training, business management tools and financing options specifically targeted to women. The expected outcome is to directly impact 50 million African women and create fair waged jobs for young people from the increased business activities and capital flow.
Features
The 50 Million African Women Speak platform includes the following features:
i: A Resources area which provides information on the following:
Business services (business registration processes, immigration information, legal aid, access to inputs, potential sponsors, export and import licenses)
Access to finance (Financial services providers and their products targeting women)
Access to markets (Buyers and sellers)
Capacity building (Learning modules for entrepreneurship and Mentorship)
Telecom Companies (products that can be beneficial to women in business)
Transport Agencies
Social services
Success stories
Weather updates
ii: A Networking area which provides the following interactive features:
Wall (Allows users to create their own posts)
Forum (Allows users to create or reply to discussion threads)
Chat (Allows private one-on-one interactions)
Group (Allows users can create topics for discussion on topics of interest to all of them)
*Please note that a user can only access the Networking area if they are fully registered.
iii: Calendar (event creation and management tool) - available for registered users only.
Visit the 50MAWS Networking Platform, www.womenconnect.org
Partners

Common Market for Eastern and Southern African (COMESA) Secretariat
COMESA began in December 1994 when it was formed to replace the former Preferential Trade Area (PTA) which had existed from the earlier days of 1981. COMESA (as defined by its Treaty) was established 'as an organisation of free independent sovereign states which have agreed to co-operate in developing their natural and human resources for the good of all their people' and as such it has a wide-ranging series of objectives which necessarily include in its priorities the promotion of peace and security in the region.

East African Community (EAC) Secretariat

The East African Community (EAC) is a regional intergovernmental organisation of 6 Partner States: The Republics of Burundi, Kenya, Rwanda, South Sudan, the United Republic of Tanzania, and the Republic of Uganda, with its headquarters in Arusha, Tanzania.
The EAC is home to 172 million citizens, of which over 22% is urban population. With a land area of 2.5 million square kilometres and a combined Gross Domestic Product of US$ 172 billion (EAC Statistics for 2017), its realisation bears great strategic and geopolitical significance and prospects for the renewed and reinvigorated EAC.


Economic Community of West African States (ECOWAS)
The Economic Community of West African States (ECOWAS) was established on May 28 1975 via the treaty of Lagos, ECOWAS is a 15-member regional group with a mandate of promoting economic integration in all fields of activity of the constituting countries.
Member countries making up ECOWAS are Benin, Burkina Faso, Cape Verde, Cote d' Ivoire, The Gambia, Ghana, Guinea, Guinea Bissau, Liberia, Mali, Niger, Nigeria, Sierra Leone, Senegal and Togo.