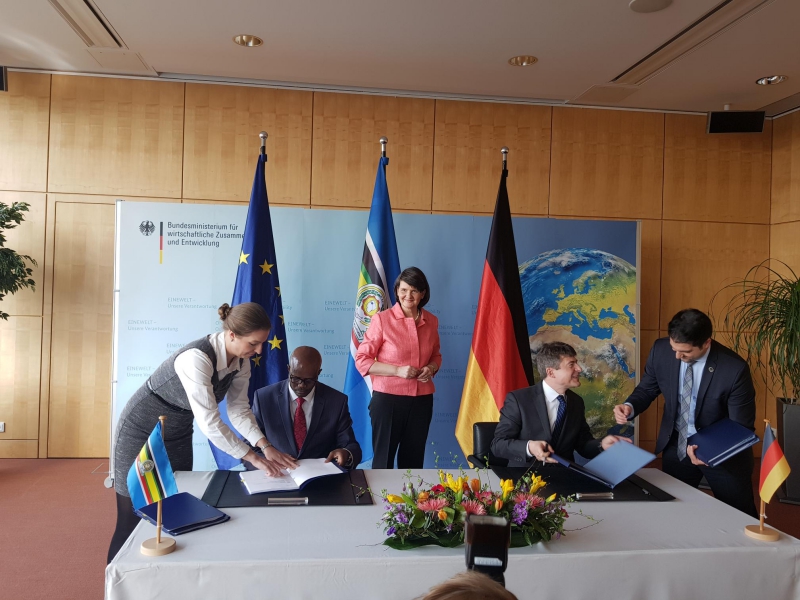 East African Community Headquarters, Arusha, Tanzania, 11th April, 2018: The Secretary General of the East African Community, Amb. Liberat Mfumukeko has held discussions with officials from the Federal Republic of Germany's Ministries for Economic Cooperation and Development (BMZ) and Foreign Affairs, and KfW Development Bank on regional priorities for collaboration for the next three (3) years and signed a five (5) million Euros agreement to support the scholarship programme for East African students.

BMZ delegation was led by Hon. Dr. Maria Flachsbarth, Parliamentary State Secretary; Germany Foreign Ministry delegation was led by Amb. Georg Schmidt, Regional Director for Sub-Saharan Africa and the Sahel; and KFW delegation was led by Dr. Klaus Müller, KFW Director Eastern Africa, DR Congo, and African Union.

Amb. Mfumukeko informed his hosts that the main purpose of his visit to the three Institutions to appreciate the support of the Federal Republic of Germany is giving to the EAC integration agenda. He reiterated that for almost two decades, the Federal Republic of Germany has been supporting EAC through financial as well as technical cooperation and that so far Germany's contribution to the EAC amounts was almost Euro 285 million.
The Federal Republic of Germany has been supporting the EAC in Health and Pharmaceutical Sectors; Trade and Customs; Gender and Education; Monetary harmonization, Institutional Capacity Strengthening and EAC Partnership Fund.

During the meetings, the Secretary General highlighted the EAC priorities for the next 5-year years as spelt out in the 5th EAC Development Strategy, which was launched by the EAC Heads of State in February 2018. These include, among others, consolidation of the Single Customs Territory (SCT) to cover all imports and intra-EAC traded goods, including agricultural and other widely consumed products; infrastructure development; further liberalization of free movement of labor across the Partner States; and enhancement of regional industrial development through investment in key priority sectors, skills development, technological advancement and innovation to stimulate economic development.

Others include improvement of agricultural productivity, value addition and facilitation of movement of agricultural goods to enhance food security in the region; promotion of regional peace, security and good governance; and institutional transformation at the regional and Partner State levels.
In addition to the areas that the Federal Republic is currently supporting, the Secretary General requested Germany to consider support the sectors of Agriculture, Industrial development especially Agro-processing, and ICT as part of institutional transformation.

In regard to support to agriculture. Dr. Klaus Müller, the KFW Director Eastern Africa, DR Congo, and African Union, urged the EAC to explore a mechanism of using the well-established East African Development Bank to channel some support to the smallholder farmers.

The possibility of channeling funds through commercial banks with specifics/favorable terms and conditions geared towards promoting companies acting in that sector was also discussed. KFW indicated that it was already supporting Agriculture initiatives at bilateral level but always channels the support through Development Banks.

The German officials agreed to explore different ways to support the EAC Agriculture at regional level, as well as ICT. Indeed ICT enhancement will enhance transparency and value for money in the regional bloc.
On industrial development, it was agreed that Germany and EAC shall collaborate for technology transfer, experience sharing and possibility of doing business to enable direct access to markets for EAC companies. KFW and EAC also discussed how the immunization programme with GAVI could be shaped up in the next 3 years.

On the scholarship programme, KFW recommended that the EAC should mobilize additional funds to support the propgramme from the Partner States contribution but also from other donors.

The Scholarship Programme will be implemented in cooperation with the Inter-University Council for East Africa (IUCEA) and KFW. The objective of this programme is to promote EAC's regional integration agenda by supporting higher education students and their role in fostering awareness for the East African integration process, creating social change as well as economic growth.
Under Component A "Scholarships", the Project offers financial support for academically skilled but disadvantaged master students with the main focus on Mathematic, Informatics, Science, Technology (MINT) or Business Science and women are especially encourage to join MINT-courses.
The students shall also become acquainted with another country of the EAC through a semester or full studies abroad, based on individual preferences. Comparable to the European Erasmus Programme, a higher degree of regional identity shall be promoted. At the Universities mentors will be selected in order to support the students during the master programme. The project shall finance the first three cohorts of master students of approx.157 students over their full study time of 2 years.

Component C will support capacity building within EAC and Partner States, and will be implemented by the EAC Secretariat.

Speaking at the signing ceremony, Hon. Dr. Maria Flachsbarth, Parliamentary State Secretary reiterated the continued support by the Federal Republic of Germany to the education sector in the EAC. She said that her government was contented with the support to EAC to deepen the integration process, asserting that "for successful regional integration and development, young generation matters a lot, therefore the scholarship programme is very key".

Also present at the meetings were Mr. Niels Breyer, Head of East African Division BMZ; George Rademacher, Deputy Head of East African Division BMZ; Mr. Ralph Timmermann, BMZ Head of Division East Africa, Horn of Africa, Sudan and South Sudan; and Mrs Arlina Elmiger, KFW Head of Division Health and Education.