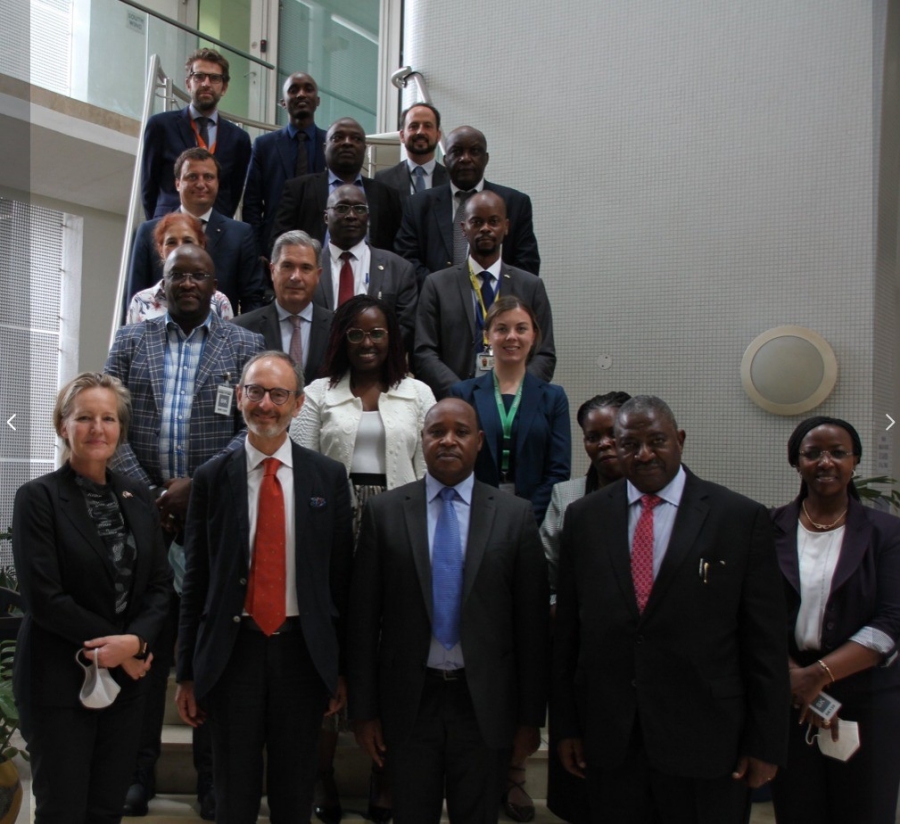 EAC Secretary General urges EU to lift sanctions on Burundi
…As Secretariat seeks strengthen cooperation with EU
East African Community Headquarters, Arusha, Tanzania, 9th June, 2021: The Secretary General of the East African Community (EAC), Hon. Dr. Peter Mathuki has appealed to the European Union (EU) member states to lift sanctions against the Republic of Burundi, noting that the country had opened a new page and was ready to move forward.
Dr. Mathuki said that the EU sanctions on the East African were hurting not only Burundians but the people of the entire region.
"I appeal to the EU that we work together and open a new page for the betterment of the people of the Republic of Burundi," said Dr. Mathuki.
The Secretary General was speaking during a high level discussion with the EU Delegation to Tanzania on how to enhance EU support to the integration process in East Africa.
Dr. Mathuki underscored the importance of EU to work with the region as a bloc, thereby enabling the Community attain its objectives in the integration process.
The European Union (EU) imposed sanctions against Republic of Burundi in 2015 at the height of internal crisis in the country following the late President Pierre Nkurunziza's extension of tenure.
At the same occasion, the EAC Secretary General and his team had an opportunity to share different areas of integration priorities seeking support from the EU programming 2021-2027.
The priorities include Increasing space for the Private Sector in the EAC integration; Enhancing EAC regional governance institutional capabilities in peace building taking into account the inclusive, accountable and democratic governance of the region; as well as strengthening regional coordination, preparedness and response to epidemics, pandemics including COVID-19, and public health emergencies in the EAC region among others.
In addition, the EAC has requested the EU to support capacity building programmes that will focus on EAC's institutional strengthening and transformation; project management and Monitoring and Evaluation (M&E); strengthening of Procurement, Audit and Risk Management, Planning, Budgeting and Accounting, and Financial Management procedures; as well as integrated information management system for East African Community
The Head of EU Delegation to Tanzania, Amb. Manfredo Fanti assured the Secretary General of EU's commitment to work closely with EAC and commended the Secretariat for the good work that has led to the attaitment of several achievements.
Amb Fanti expressed his appreciation for the outstanding work the Secretary General has exhibited since taking over the leadership of the Community on 26th April this year.
The Deputy Secretary General in charge of Planning and Infrastructure, Eng. Steven Mlote, and other senior officers accompanied the EAC Secretary General to the discussions.
For more information, please contact:
Simon Peter Owaka
Senior Public Relations Officer
Corporate Communications and Public Affairs Department
EAC Secretariat
Arusha, Tanzania
Tel: +255 768 552087
Email: sowaka [at] eachq.org
About the East African Community Secretariat:
The East African Community (EAC) is a regional intergovernmental organisation of six Partner States, comprising Burundi, Kenya, Rwanda, South Sudan, Tanzania and Uganda, with its headquarters in Arusha, Tanzania.
The EAC Secretariat is ISO 9001: 2015 Certified