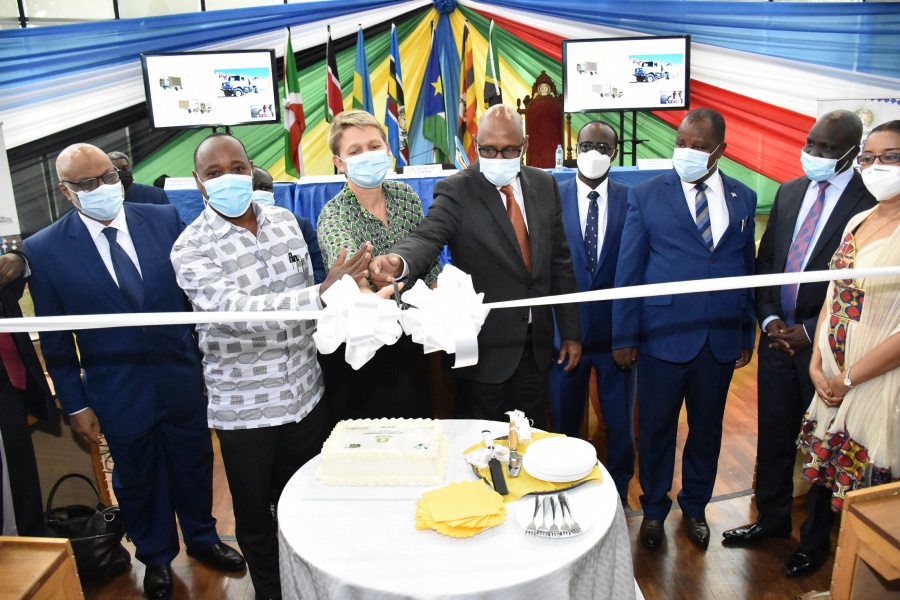 EAC-RNPHRL-CD Project - Phase II Milestones
The project was established under directive (EAC/Health/SCM13/Directive 36). The key objective is to strengthen the capacity of Partner States to rapidly detect and respond to disease outbreaks. This is being achieved through the mobile laboratory networks divided into two phases of implementation. Phase II (2021-2024) focuses particularly on antimicrobial resistance (AMR) surveillance and response.
As of June, 2022, Phase II of the project has registered the following achievements:

Launch of phase II:

this activity was officially conducted in June 2021 at the EAC headquarters in Arusha, presided over by the Hon. Secretary General, the German Ambassador to the United Republic of Tanzania, the EAC Council of Ministers and representatives from WHO, ECSA among others.



Baseline assessment:

the EAC Secretariat technical project experts have conducted rapid assessment / baseline study on status of antimicrobial resistance (AMR) implementation and strategy in relations to GLASS in most Partner States to help inform on strategic implementation of Phase II.



Implementation agreement between EAC Secretariat and the Partner States:

The approved Phase II implementation agreements are ready for signing by the respective Partner States

(

EAC/SCHealth/21/Decision 009

)

.



Nomination and selection of phase II TOTs:

Each

Partner State nominated two (2) laboratory experts for phase II who were subjected to an independent technical assessment by the EAC technical consultants. The nominees were among the existing government laboratory staff who committed to continue working in the national microbiology section / unit during the implementation of the project in phase II.



Training of Trainser (TOT):

the first extensive training of trainers (TOTs) on bacteriological pathogen identification and antimicrobial resistance (AMR) detection, surveillance and response was conducted from 20

th

June up to 8

th

July 2022 (21 days).



Procurement of mobile container laboratories:

the detailed specifications have been agreed by all Partner States and procurement

is ongoing to acquire six (6) additional mobile container laboratories units, equipment and vehicles, designed for antimicrobial resistance in phase II. The procurement is now at the stage of review and approval of tender documents. Further, additional procurement is ongoing for pending p

hase I reagents and consumables for field missions, repair / replacement of faulty equipment, ICT/WBEX and LIMS consultancy.



Maintenance and repairs:

the project recently completed the preventive maintenances of the key mobile laboratory equipment such as the Biorad PCR

machine and ELISA. Further, the renovation, repairs and equipping of the EAC training laboratory building at Arusha is ongoing for microbiology section.



Regional coordination:

the last 9

th

Expert Working Group (EWG) and Regional Steering Committee (RSC) was held in October 2021 in Nairobi, Kenya. The 10

th

EWG / RSC meetings are scheduled to take place in September 2022 in Juba, Republic of South Sudan.



Financial updates:

Phases I and II budgets are at 71% and 1.5% utilization / consumption rate respectively. The value for phase II is significantly low as this phase was launched recently in June 2021 and because procurements and trainings are being implemented or planned.
---
EAC Mobile Laboratories Training on Antimicrobial Resistance and Monkeypox Diagnosis