EAC-RNPHRL-CD Phase I interventions
Project key information
Project executing agency (PEA): EAC Secretariat
Financing partner: German Development Bank (KfW)
Implementation period: phase I (2017-2020; extension to December 2022)
Implementing partners: EAC Partner States' Public Health Reference Laboratories
Technical consultant: Bernhard-Nocht Institute for Tropical Medicine (BNITM) (4 Technical Staff seconded to EAC Secretariat)
Procurement consultants: GOPA Infra in phase I
Project staffing: 3 Coordination Staff, EAC Secretariat
Key Objective:
The purpose of phase I (2017 to 2020) of the EAC regional network of public health reference laboratories for Communicable Diseases project was to install nine (9) mobile laboratories units in order to strengthen the capacity of EAC Partner States to detect and respond to viral pathogens of biosafety levels 3 and 4 nature, with a particular focus on Viral Haemorrhagic Viruses (VHFs), such as Ebola Virus Disease (EVD), Crimean Congo Hemorrhagic (CCHF), Marburg Virus Disease (MVD), Yellow Fever, Rift Valley Fever, among others.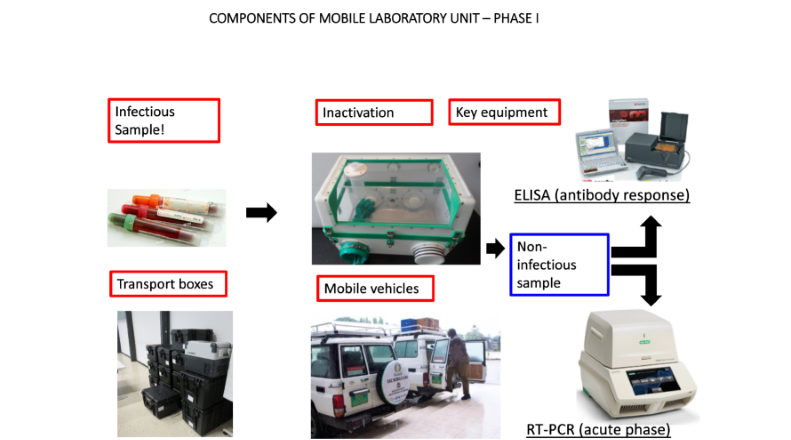 These mobile laboratories are of modular design and, depending on the need, can be packed up in 15-20 boxes and rapidly deployed to any potential outbreak either by car, plane or boat. The key equipment of these laboratories is a BSL3/4 containment glovebox in which viruses and bacteria can be inactivated and rendered non-infectious for further diagnosis. The current setup of these phase I laboratories, however, does not allow the detection of bacterial pathogens and their antimicrobial resistance (AMR) profiles, as these analyses require pre-culture steps of viable bacteria for accurate diagnosis. This gap in diagnostic capacity was a priority issue raised during recent discussions with the Ministries of Health (MoH) and National Public Health Laboratories (NPHLs), during phase I of the mobile laboratory project.
Currently, none of the partner countries has the capacity to safely culture bacterial pathogens in the field and therefore samples need to be collected from peripheral health centres and sent to centralised reference labs (mostly in capital cities) for culturing, diagnosis and antimicrobial resistance testing.


Deployment of Mobile Laboratories in the Region during outbreaks as of 30th June, 2022