EAC-RNPHRL-CD Phase I interventions
The East African Community (EAC) signed a Financial Cooperation Agreement with the Federal Republic of Germany on 22nd January 2016. Subsequently, the EAC signed a 3-year financing and project implementation agreement with the Government of the Federal Republic of Germany through the German Development Bank Group (KfW) on 28th November 2016 to support the establishment and operationalization of the "EAC Regional Network of Public Health Reference Laboratories for Communicable Diseases Project (Phase I)". Given the region's requirement for technical support regarding this level of laboratory practice, the EAC Secretariat with support from KfW appointed the Bernhard Nocht Institute for Tropical Medicine (BNITM) Headquartered in Hamburg, Germany, as a Technical Consultant.
The purpose of the EAC mobile medical laboratory network during 2017-2020 (Phase I) was to install nine (9) mobile laboratories in order to strengthen the capacity of each of the six (6) EAC Partner States to detect and respond to pathogens of biosafety level 3 and 4 (BSL3/4) nature, with a particular focus on viral haemorrhagic viruses (VHFs), such as Ebola Virus Disease (EVD). among others.
These mobile laboratories are of modular design and, depending on the need, can be packed up in 15-20 boxes and rapidly deployed to any potential outbreak either by car, plane or boat. The key equipment of these laboratories is a BSL3/4 containment glovebox in which viruses and bacteria can be inactivated and rendered non-infectious for further diagnosis. The current setup of these phase I laboratories, however, does not allow the detection of bacterial pathogens and their antimicrobial resistance (AMR) profiles, as these analyses require pre-culture steps of viable bacteria for accurate diagnosis. This gap in diagnostic capacity was a priority issue raised during recent discussions with the Ministries of Health (MoH) and National Public Health Laboratories (NPHLs), during phase I of the mobile laboratory project.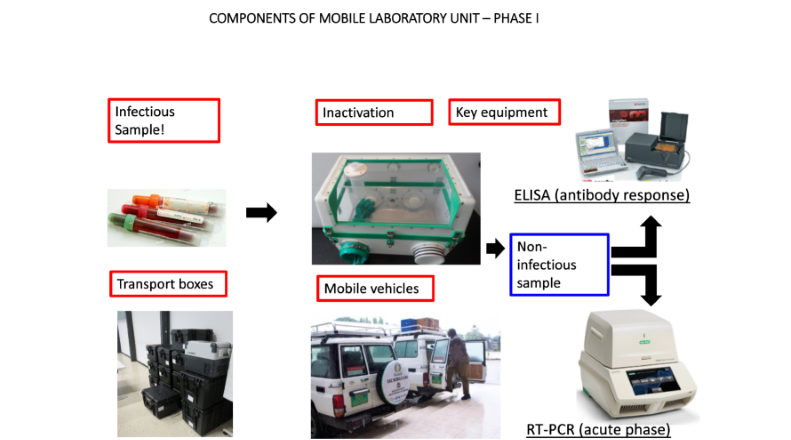 Currently, none of the partner countries has the capacity to safely culture bacterial pathogens in the field and therefore samples need to be collected from peripheral health centres and sent to centralised reference labs (mostly in capital cities) for culturing, diagnosis and antimicrobial resistance testing.
As time between sample collection and lab diagnostics can be considerable and cold chains difficult to maintain, many samples are compromised by the time they reach the reference lab. This frequently results in no diagnosis of that patient sample, which leads to both a cost burden on laboratories with limited resources and a lack of information, impacting on the clinician's ability to provide informed treatment.
This is a major problem facing national health facilities in the EAC region and is even more pertinent in the context of AMR, where the misuse of antibiotics to treat bacterial infections without evidence based antimicrobial resistance profiling of the pathogen is common practice. As outlined by the World Health Organisation's (WHO) Global Antimicrobial Resistance Surveillance System (GLASS) the development of AMR in numerous bacterial infections has reached alarming levels in many parts of the world, including East Africa. Consequently, a lack of field culture capabilities in the EAC region impairs both outbreak control and patient care through increased AMR.
Deployment of Mobile Laboratories in the Region