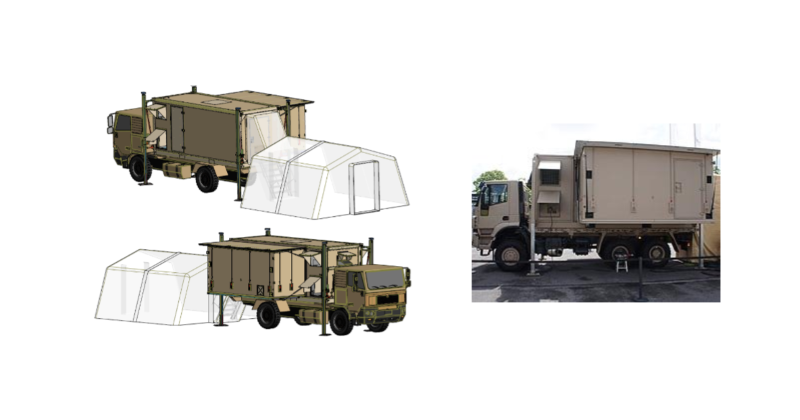 EAC-RNPHRL-CD Project Phase II Interventions
Project key information
Project executing agency (PEA): EAC Secretariat
Financing partner: German Development Bank (KfW)
Implementation period: phase II (June 2021-June 2024).
Implementing partners: EAC Partner States' Public Health Reference Laboratories
Technical consultant: Bernhard-Nocht Institute for Tropical Medicine (BNITM) (4 Staff seconded to EAC Secretariat)
Procurement consultants: GFA in phase II
Project staffing: 3 coordinating Staff at EAC Secretariat.
Key Objective:
The purpose of phase II (2021 to 2024) of the EAC regional network of public health reference laboratories for Communicable Diseases project is to establish a regional network of antimicrobial resistance (AMR) surveillance and response network. The project shall procure six (6) mobile container laboratories fully equipped with well-trained operators.
The misuse of antibiotics to treat bacterial infections without evidence-based antimicrobial resistance profiling of the pathogen is common practice. As outlined by the World Health Organisation's (WHO) Global Antimicrobial Resistance Surveillance System (GLASS) the development of antimicrobial resistance has reached alarming levels in many parts of the world, including the East African Community. Consequently, a lack of field laboratory diagnostic culture capabilities impairs both outbreak control and patient care in the EAC region.
Phase II will help to address the following EAC Health Sector investment priorities: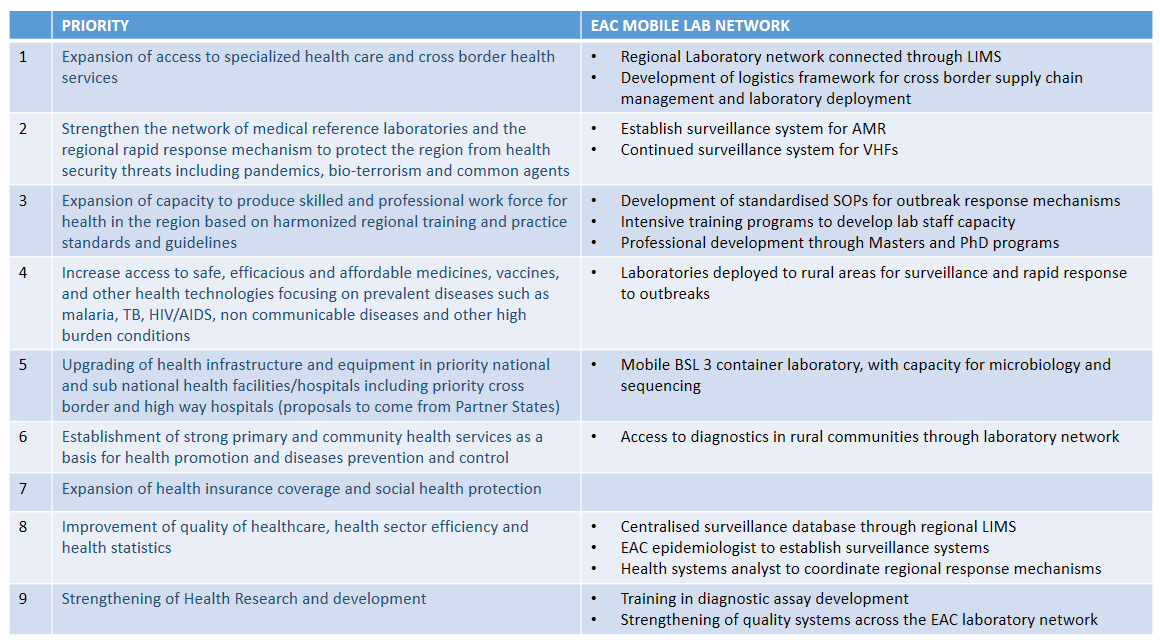 Description of Phase II mobile Container Laboratory unit
The mobile container laboratory shall be loaded onto a truck, transported to the field, and will be fully operational in any remote location. The state-of-the-art laboratory is equipped with a negative pressure system compliant with BSL3 standards in order to host a culture facility to accurately diagnose bacterial diseases and define their antimicrobial resistance (AMR) profiles. Further, the container laboratories shall be equipped with next-generation sequencing facilities suitable for field settings, the laboratory will be able to carry out genotypic DSTs as well.
The laboratories will be equipped with essential bacterial culture equipment (incubators, blood culture systems), to isolate bacteria from blood, urine and stool and conduct antimicrobial resistance profiling. The bacterial work will follow guidelines outlined by the WHO Global Antimicrobial Resistance Surveillance System (GLASS) and a special emphasis will be put on the surveillance and monitoring of priority AMR pathogens as defined by GLASS.
The key laboratory equipment of the container laboratories includes:
Laminar flow hood and incubators for bacterial culture,
A Bactec blood culture system,
Minion sequencing and bioinformatics facility for genotypic resistance testing,
Nucleic acid extraction robot, PCR Hood, PCR machine for pathogen identification,
Glovebox for inactivation of BSL3/4 pathogens,
Blood chemistry facility,
Centrifuges, fridge/freezer, autoclaves,
ICT and LIMS connectivity, and
Back-up generator to ensure autonomous operation of laboratory