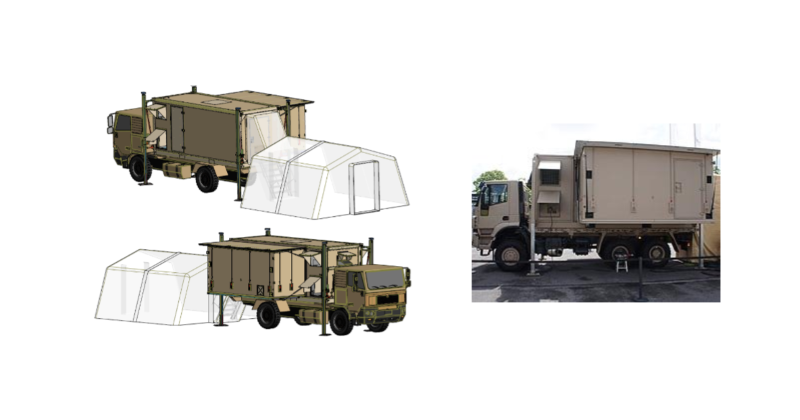 EAC-RNPHRL-CD Project Phase II Interventions

The main aim of the Project is to strengthen in the East African Community (EAC) sustainable structures and capacities for the rapid identification of infectious disease outbreaks within the territories of its Partner States in order to enable timely and effective response for the prevention of an epidemic.
Vision: An East African environment free from highly infectious diseases
Goals: Reduced incidence of highly infectious diseases in the East African region in order to secure sustained socio-economic development in the EAC region
Development Objective : To attain a healthy, highly infectious diseases-free EAC population through coordinated and harmonised effort.
Specific Objectives:
Strengthen capacities in all six (6) EAC Partner States to respond to pathogens of biosafety level (BSL) 3 and 4 nature and other outbreaks of infectious diseases, prone to cause cross-border epidemics, by rapid diagnostic capacities that enable timely interventions.
Establish and operationalise the "EAC Regional Network of Anti-Microbial Resistance (AMR) Surveillance and Response Network"
Establish and publish the "East African Journal of Laboratory Medicine and Anti-Microbial Resistance Surveillance"
Establish linkages and integration with the existing "East African Integrated Disease Surveillance Network (EAIDSNet)" and other national, regional and international disease surveillance and pandemic emergency preparedness and response netwrks,
Design and execution of various innovative and operational researches
The objectives under Phase II can be catogorizsed into the following two compenents:
a) Laboratory Infrastructure:
Establish six (6) mobile BSL3 container laboratory units for bacterial culture and mobile field sequencing/bioinformatics for rapid pathogen identification and antimicrobial resistance testing (AMR)
Harmonise the new six (6) container laboratories with existing nine (9) mobile laboratories under EAC coordination
Field missions for Anti-Microbial Resistance (AMR) and disease surveillance
Deployment of modular EAC mobile laboratories for rapid regional response to disease outbreaks
We will develop six (6) container mobile laboratories (one per partner NPHLs) which are able to culture bacterial pathogens at biological safety level 3 / 4. These laboratories can be loaded onto trucks, transported to the field and will thus be fully operational in remote, difficult to reach locations. They will be equipped with a negative pressure system compliant with BSL3 standards in order to host a state of the art culture facility to accurately diagnose bacterial diseases and define their antimicrobial resistance (AMR) profiles using culture/plate based phenotypic drug-susceptibility testing (DST). By also equipping the laboratories with next generation sequencing facilities suitable for field settings, the laboratory will be able to carry out genotypic DSTs as well. For an overview of a conceivable laboratory concept see figure 2.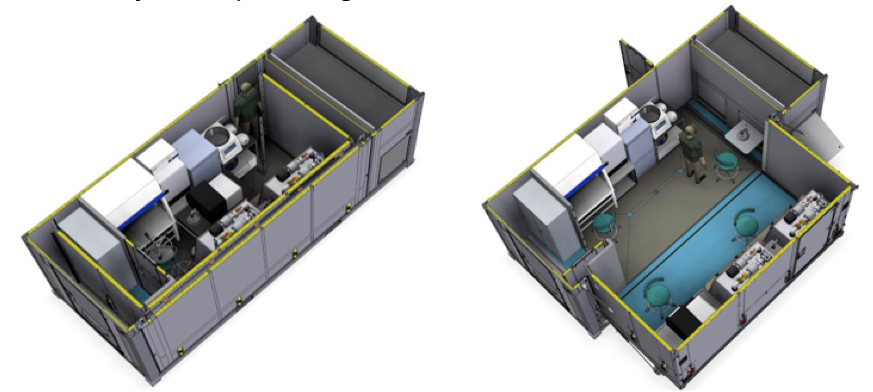 The laboratory will be installed within an extendable 20ft container and contain a BSL-3 negative pressure system with separate gowning area and an airlock for sample import. It will be equipped with (i) Laminar flow hood and incubators for bacterial culture, (ii) a Bactec blood culture system, (iii) Minion sequencing and bioinformatics facility for genotypic resistance testing, (iv) Nucleic acid extraction robot, PCR Hood, PCR machine for pathogen identification, (v) glovebox for inactivation of BSL3/4 pathogens, (vi) blood chemistry facility, (vi) Centrifuges, fridge/freezer, autoclaves, (vii) ICT and LIMS connectivity, (viii) back-up generator to assure autonomous operation of laboratory
The laboratories will be equipped with essential bacterial culture equipment (incubators, blood culture systems), to isolate bacteria from blood, urine and stool and conduct antimicrobial resistance profiling. The bacterial work will follow guidelines outlined by the WHO Global Antimicrobial Resistance Surveillance System (GLASS) and a special emphasis will be put on the surveillance and AMR monitoring of priority AMR pathogens as defined by GLASS.
Although the main focus of the labs is on AMR work, these container laboratories will also be equipped with a static BSL4 glovebox, which (in combination with the sequencing facility) will enable them to conduct epidemiological molecular analysis (to identify index cases in outbreaks) and identify novel pathogens as well as emerging strain variants of haemorrhagic fever viruses that would have been missed by classical diagnostic techniques. Therefore they will perfectly complement the already existing 9 modular laboratories procured during phase I of the project.
Through the use of an ICT platform with a laboratory information management system (LIMS), these mobile laboratories will have the capacity to handle large data sets and could be integrated with the existing LIMS system (established during phase I of the project ) and with national health reporting system of each country.
b) Training Component:
Training workshops in microbiology, bioinformatics, assay development, scientific writing and quality systems
Professional development through Masters studentship within the EAC
Development of regional bio-engineering capacity
Harmonisation of Standard Operating Procedures (SOPs) across laboratory network
Data sharing through laboratory network
EAC Health Sector Investment Priorities
Phase II of the EAC Regional Network of Mobile Public Health Reference Laboratories for Communicable Diseases and Anti-Microbial Resistance Monitoring and Response Project will address the following EAC Health Sector investment priorities: