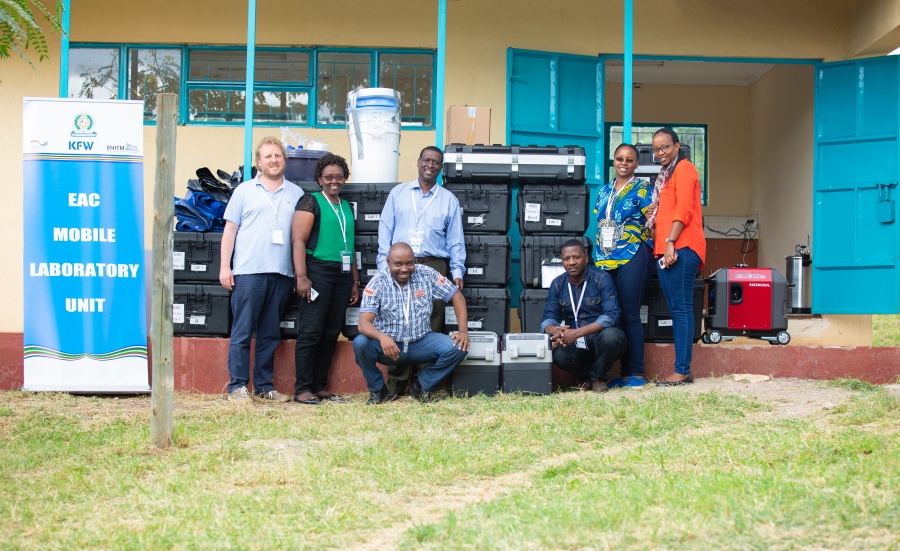 EAC-RNPHRL-CD Project - Phase I Milestones
The key objective of the Project is to strengthen the capacity of Partner States to rapidly detect and respond to disease outbreaks. This is being achieved through the mobile laboratory networks divided into two phases of implementation. Phase I (2017-2020) focused particularly on viral pathogens of biosafety levels 3 and 4. Phase II (2021-2024) focuses particularly on antimicrobial resistance (AMR) surveillance and response.
Phase I of the EAC Regional Network of Public Health Reference Laboratories registered the following milestones:
Procured and deployed 9 complete Mobile labs in the EAC region each fully equipped with portable PCR machines, ELISA machines, Gloveboxes, mobile vehicles and electrical power supply system.


Trained many lab experts as Trainers, testers, shippers of infectious substances (IATA), bioengineers, and specialized drivers.


Regional scientific research conducted through coordination, shared protocol and data, and result utilization in areas of Test kits e.g. COVID-19 RDT validation and sequencing


Regional travels facilitation for travelers during the COVID-19 lockdowns as most of these labs were deployed at border ports of entry of the Partner States.


Field deployment of these laboratories during, Field simulation exercises and suspected or actual disease outbreaks as the first respondent to determine the cause outbreaks.



Regional studies ongoing in some Partner States for COVID-19 RDT validation and Sequencing studies.

Technical consultancy support to the EAC Mobile Labs by the BNITM

Outbreak response - Ebola outbreak in Kisoro Uganda 2019, Dengue in Tanzania 2019, and current COVID-19 pandemic in the EAC region

Publications of at least two scientific papers e.g. commentary mobile labs for SAR-Cov-2 diagnostics: What Europe could learn from EAC to ensure trade in times of border closures)

Regional trade facilitation - EAC mobile labs support the assurance of regional trade through the testing of truck drivers for COVID19 at border points enabling movement of goods and services during lock downs.
---
EAC Mobile Laboratories Training on Ebola Emergency Response - Highlights

EAC Mobile Laboratories Practical Laboratory Training & Field Simulation Exercise (FSX) at Namanga