About the Trade Fair

The EAC MSMEs Trade Fair aims to create awareness of the sector's potential in producing and providing essential affordable goods and services and showcasing the region's diversified cultures.
Symposium

During the Trade Fair, a daily Symposium will be run with a view to recommending harmonisation of policies and strategies in enhancing regional integration and development of East Africa.
Partner State Profiles

Embracing MSMEs as an enabler and driver of a people-centered integration agenda through expanded marketing outlets for the sector's products and services.
Exhibition
This activity is designed to enable the participating artists to showcase and sell their wares such as jewelry, clothing, curios, paintings etc.

Venues and Activities

Discover what the trade fair has to offer, as artisans from the region exhibit their products, a true display of East Africa's strong cultural heritage and innovation.


Partner States' Days

The EAC Partner States will have an opportunity to showcase their Tradition and Culture on the specific Partner States' Days. The days are as per the programme of activities.
---
The East African Community undertakes MSMEs promotion through bringing together different artisans from all the Partner States under the annual East African Community Micro, Small and Medium Enterprises (MSMEs) Trade Fair formally known as the EAC Jua Kali Nguvu Kazi Exhibition. The Trade Fair is organized by the EAC Secretariat in collaboration with the Confederation of Micro and Small Enterprises Organization (CMSEO - EA) and the Partner States.
The first Trade Fair was held in Arusha in November 1999 during the historic event of signing of the Treaty for the Establishment of the East African Community. Subsequent to the success of the Arusha Trade Fair, the EAC Heads of State directed that the Trade Fair be held annually on rotational basis among the EAC Partner States so as to enhance and revamp the socio-economic integration of the people of East Africa, opening up new market frontiers for their products while bridging up the knowledge and technological gaps between them.
The 2022 edition of the Trade Fair is themed "Buy East African to Build East Africa for Resilience and Sustainable Development".
The 22nd Trade Fair is scheduled to take place from 8th - 18th December, 2022 in Kampala, Uganda. The Trade Fair will bring together more than 1,000 exhibitors from all the EAC Partner States...
---
---
Opening & Closing Ceremonies
These two events will entail the signaling of the start as well as the close of the Festival by the Guest of Honour.
Exhibition

The Trade Fair will be located at venue, which will host various cultural exhibitions by EAC Partner States.
Symposium

A daily Symposium will be run by professional and experienced local and Regional presenters
---
The Symposium will provide a forum for regional experts to discuss and deliberate topical issues, with a view to recommending the harmonisation of policies and strategies in enhancing regional integration and development of East Africa.
Benefits of the EAC Common Market to MSMEs
Established on 1 July 2010, the EAC Common Market combines the region's economies with a market of over 250 million people. In this expanded or larger market, goods, services, capital and people move freely, creating opportunities for the private sector. Despite being in existence for 11 years, MSMEs have not fully benefited from this expanded market on account of several challenges that include limited awareness on the benefits and opportunities; compliance with technical and regulatory requirements/standards as well as Non-Tariff Barriers.
The objective of this presentation will be to enumerate the benefits and opportunities that the common market presents, and the various regional initiatives undertaken to support and facilitate MSMEs participation.
Preparing MSMEs to take up opportunities under the AfCFTA
The African Continental Free Trade Area (AfCFTA) aims to create a single market for goods and services for almost 1.3 billion people across Africa and deepening the economic integration of Africa. The trade area could have a combined gross domestic products of around $3.4 trillion and intra-Africa export potential of US. 22 billion. If fully implemented the AfCFTA could boost regional incomes by as much as 9 percent—to $571 billion. It could create almost 18 million more jobs, many of them higher-paying and better-quality jobs, with women workers seeing the biggest gains. By 2035, the resulting jobs and income growth could help up to 50 million people exit extreme poverty. However, achieving its full potential depends on significantly policy reforms, trade facilitation measures across African signatory nations and awareness and training on the opportunities especially for the MSMEs.
The AfCFTA plans to reduce tariffs among members and covers policy areas such as trade facilitation and services, as well as regulatory measures such as sanitary standards and technical barriers to trade. The AfCFTA will gradually eliminate tariffs on 90 percent of goods and reduce barriers to trade in services.
As state parties make efforts to reduce the barriers to trade and investment, export sectors that likely to grow the most are textiles and apparel; chemical, rubber and plastic products; and processed foods. In order to unlock these potential gains in trade, investment, and jobs, countries must first successfully conclude the negotiations and implementation of the AfCFTA Protocols must be carried out by each Partner State.
The MSMEs should therefore be positioned to take advantage of all the opportunities and expected gains from the AfCFTA.
Overview of the EAC Simplified Trade Regime, EAC RoO and the EAC CET 2022 version
EAC Simplified Trade Regime (STR)
Under the EAC Customs Union, and as guided by EAC Rules of Origin, 2015 the EAC Simplified Trade Regime (STR) is a special provision aimed specifically at small traders who regularly transact in low value consignments.
The STR was introduced in 2007 to simplify customs clearance requirements for both exports and imports of small cross-border traders (SCBTs). The Simplified Certificate of Origin (SCoO) exempts consignments of goods that originate in the EAC and are valued at US$2,000 or below from payment of import duty in the EAC destination country.
The Simplified Certificate of Origin (SCoO) is issued by Customs at the border free of charge.
The STR Provisions aims at promoting regional integration by providing a framework to ease the requirements of small-scale traders to participate in structured cross-border trade.
The EAC Secretariat in collaboration with Partner States developed a list of originating goods commonly traded under the Simplified Trade Regime.
Rules of Origin (RoO)
The EAC Rules of Origin are Annex III to the Protocol establishing the EAC Customs Union and are among important pillars of the EAC Customs Union.
Article 14 to the Protocol establishing East African Customs Union provides that goods shall be accepted as eligible for community preferential tariff treatment if they originate within the Partner States and meet the criteria set out in the Rules of Origin adopted under the Article.
The EAC Rules of Origin provide under Rule 4 the criteria to enable the competent authorities in Partner States to determine which goods qualify as originating in the EAC. For goods to qualify as originating in the EAC, they must be wholly produced entirely in the EAC or must undergo sufficient working or processing in EAC using materials imported from third countries.
Originating goods are issued with the EAC Certificate of Origin (CoO) and will be exempted from paying import duty when transferred within the region.
The Rules provide for processes or operations which do not confer origin i.e simple processes or operations which will not confer origin thus the finished products will attract duties as per the EAC Common External Tariff (CET).
The Rules allows cumulation for Partner States to jointly meet the Rules of Origin requirements through further processing of inputs imported which are then considered as 'originating'. It provides flexibility by allowing producers in the Partner States to use materials from cumulating partners without losing origin thereby enhancing economic relations between the partners.
Proof of Origin
Certificate of origin [Rule 17] :
Issued before actual exportation of goods
o Issued after exportation (retrospectively) and endorsed in box 4 as follows: "Issued after exportation".
o Duplicate certificate of origin [Rule 18] endorsed in box 4 as follows: "Duplicate of Certificate No. […. ] of [date]"
o Replacements [Rule 19] and endorsed in box 4 as follows: "Replacement for [Partner State] Certificate No. […. ] of [date]"
o Origin declaration – used by Approved exporters [Rule 20]
Validity
Proof of origin will be valid for 6 months from date of issuance
Cross Border Trade and dealing with NTBs.
Cross Border Trade
Cross Border Trade refers to movement of goods and services across international borders;
Cross Border Trade is conducted by; individuals, firms, or countries;
Cross border trade is categorized into formal and informal trade;
Formal Cross Border Trade is conducted by legally registered traders/firms who fulfil the customs documentation and procedural requirements to cross the border;
Informal Cross Border Trade is movement of goods between neighboring countries conducted by unregistered small-scale traders;
Unrecorded business transaction operating outside the formal economy;
Cross Border Trade in goods is governed by EAC Customs Union Protocol, whereas, Cross Border Trade in services is administered by EAC Common Market Protocol;
Advantages of Cross Border Trade in the Community
It is a source of employment and income for traders;
Cross border trade promotes food security;
Contributes to GDP growth at national level; and
Contributes to poverty alleviation.
Dealing with Non-Tariff Barriers (NTBs)
The EAC Elimination of NTBs Act 2017 is a legal framework that provides for elimination of NTBs in the Community. It defines NTBs as "… laws, regulations, administrative and technical requirements other than tariffs imposed by a Partner State, whose effect is to impede trade."
The Legal mandate to eliminate NTBs in the Community is anchored on:
Article 75 (1) (c) of the Treaty for establishment of the East African Community;
Article 13 (1) of the EAC Customs Union Protocol provides ... "each of the Partner States agrees to remove, with immediate effect, all the existing non-tariff barriers to the importation into their respective territories of goods originating in the other Partner States and, thereafter, not to impose any new non-tariff barriers;
Article 13 (2) of the EAC Customs Union Protocol further provides that "Partner States shall formulate a mechanism for identifying and monitoring the removal of non-tariff barriers."
NTBs are reported by traders or Partner States to the National Focal Person who coordinates the National Monitoring Committee for elimination of NTBs in a Partner State.
In East African Community, NTBs are eliminated at Technical and Policy Levels
Technical Level
National Monitoring Committee on NTBs;
Regional Monitoring Committee on NTBs;
EAC Time Bound Programme (a mechanism for identifying, reporting and removing NTBs in the Community).
Policy Level
Sectoral Committee on Trade;
Committee on Customs;
East African Standards Committee;
Sectoral Council on Trade, Industry, Finance and Investment;
Dedicated Sessions of Permanent Secretaries/ Principal Secretaries/ Under Secretaries and Ministers/ Cabinet Secretaries responsible for EAC Affairs and Trade
Bilateral Meetings;
Council of Ministers; and
The EAC Summit of Heads of State.
Partner States should remove all the existing NTBs and, thereafter, not to impose any new ones.
Standards, Quality Assurance, Metrology and Testing (SQMT)
Standards are a tool for measuring quality, a basis for third party certification, mutual recognition of test reports and quality marks, promoting fair trade, measure against dumping and protection of consumer health safety and environment.
Harmonization of standards, conformity assessment procedures and measurement systems facilitate intra EAC trade, value addition, innovation and private sector competitiveness. Awareness of Standardization, Quality Assurance and Metrology (SQMT) activities is therefore desirable in realizing the desired objectives of the Customs Union, Common Market and forms a basis towards achieving EAC drive to buy East African to build East Africa sustainably.
Awareness, access, knowledge and skills especially by the MSMEs to partake and benefit from SQMT activities is limited and the symposium will provide a platform for creating awareness to various MSMEs sectors on the role of standards and conformity assessments systems in product development unlocking the vast market opportunities for their products nationally, regionally and internationally.
MSMEs opportunities in the Republic of Uganda
EAC Trade Portal as well as the Online Buyer Seller Platform
The EAC Trade Information Portal (TIP)
The EAC Trade Information Portal (TIP) gives access to step-by-step guides on licenses, pre-clearance permits and clearance formalities for the most traded goods within, to and from the East African Community (EAC).
The Republics of Burundi, Kenya, and Rwanda, Tanzania and Uganda developed their Trade Information Portals while the Republic of South Sudan will develop one under Markup Project. For each step, the trade portal tells the user where to go, who to see, what documents to bring, what forms to fill, what costs to pay, what law justifies the step and where to complain to in case of a problem.
The Trade Facilitation Index (TFI) allows EAC Partner States to exchange good practices and to track their progress towards facilitation goals set at the regional and national levels, in application of the WTO Trade Facilitation Agreement.
The TFI enables institutions engaged in trade facilitation to measure and compare the ease of importing and exporting and the related administrative burden between EAC Partner States.
To access the portals through: https://tradehelpdesk.eac.int
==========================
The EAC Buyer-Seller Platform
The EAC Buyer-Seller Platform is an e-commerce platform that is currently under development. The platform is aimed at creating a wider market, promote and sell products that are produced in the region. The platform provides one-stop center to the public and business community on products that can be sourced within the region.
The EAC Buyer-Seller Platform is envisaged to enhance intra-EAC trade and investment and will contain an integrated database/catalog of manufacturers, producers, SMEs, (registered) MSMEs and wholesalers and their respective products, as well as logistics/service providers, and respective services.
As part of marketing and promoting the private sector in the region, the platform will provide opportunities for exhibition space for products produced within the region.
2022 TRADE FAIR HIGHLIGHTS



Welcome Message

H.E Yoweri Kaguta Museveni
President of the Republic of Uganda

TRADE FAIR COVERAGE

TRADE FAIR QUICK INFO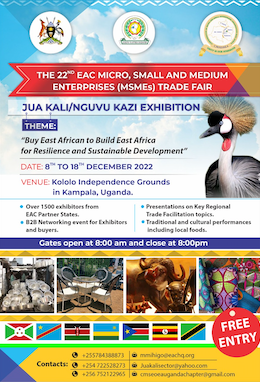 EXHIBITOR REGISTRATION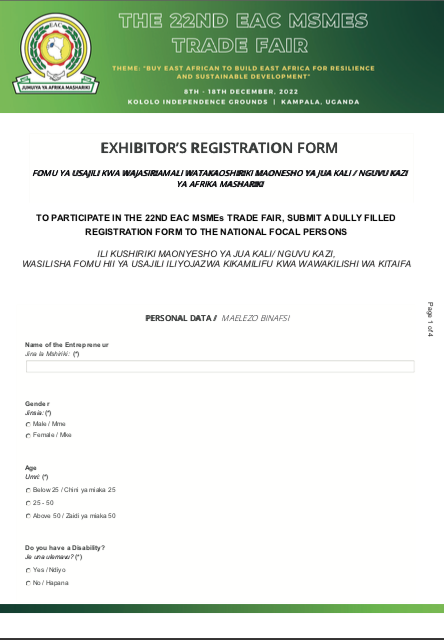 PRESS RELEASES

2021 TRADE FAIR CATALOGUE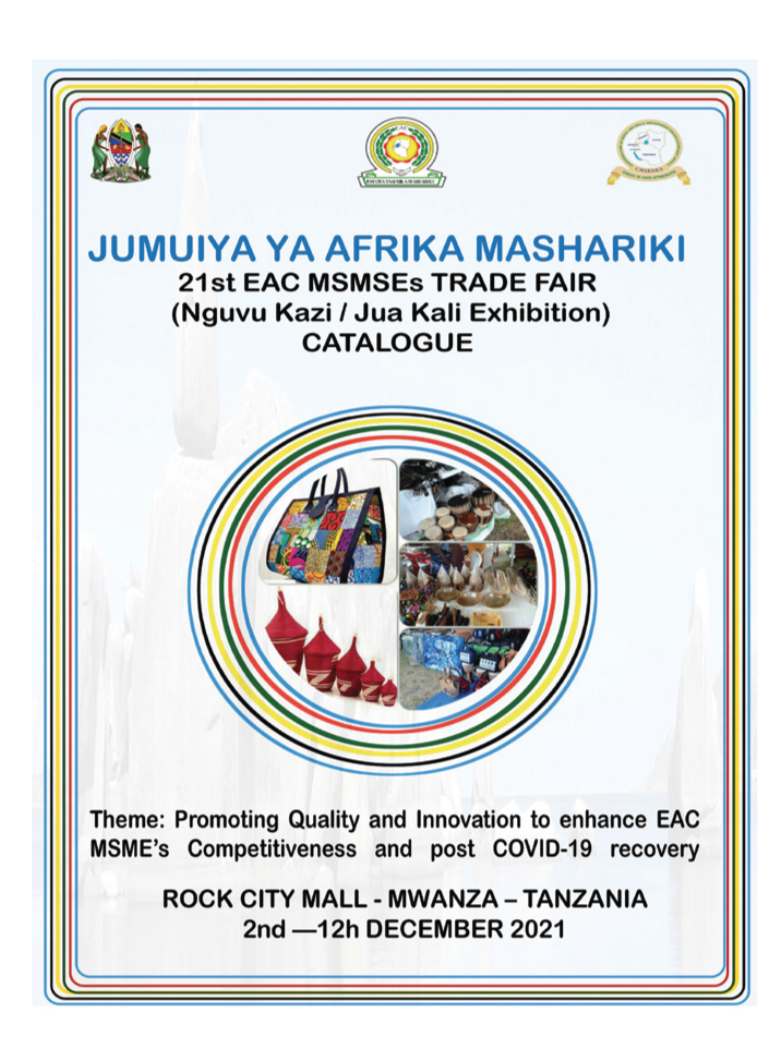 2022 TRADE FAIR GALLERY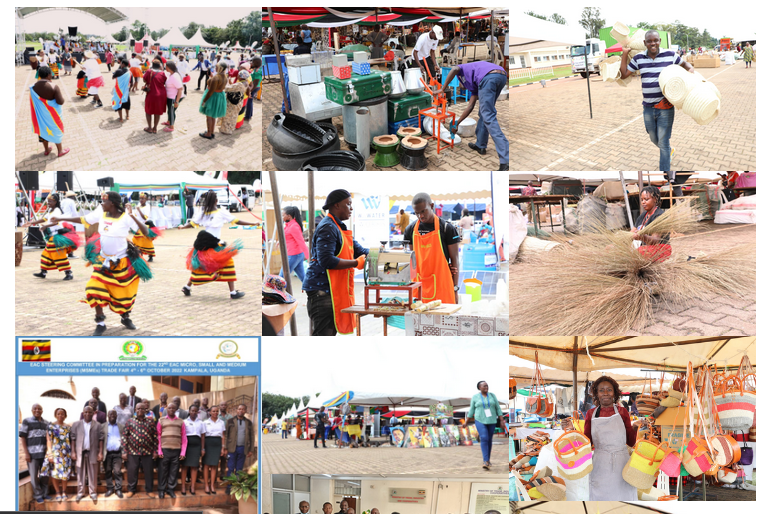 PLANNED ACTIVITIES

Cultural Performances
Art Exhibitions
Cultural Market Place
Symposium
Childrens' games
Food Market and Exhibition

---