ABOUT THE FESTIVAL

Jamafest is an acronym for Jumuiya ya Afrika Mashariki Utamaduni Festival, the Kiswahili rendering for the EAC Arts and Culture Festival which aims to promote regional socio-cultural integration through arts and culture by providing a platform to showcase culture as a primary driver of regional integration.
Jamafest came to life after the EAC Council of Ministers in September 2011 directed the EAC Secretariat to organize regular festivals of the kind, and Rwanda was consequently selected to host the first edition of the Festival in 2013, with Kenya hosting the 2015 edition and Uganda the 2017 edition. It is envisaged the festival will be held biennially and hosted by Partner States rotationally.
The 2019 edition of the Festival is themed "Cultural Diversity: A Key Driver to Regional Integration, Economic Growth and Promotion of Tourism".
The Festival will featured a carnival, art exhibitions, a symposium, live performances, films, literary works, a fashion show and tradition games..
---
CAPTURED MOMENTS
HIGHLIGHTS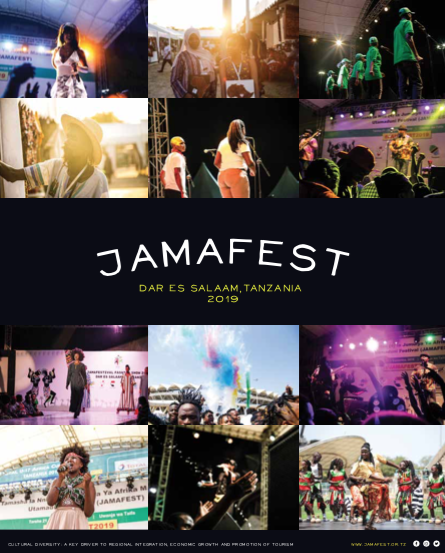 PLANNED ACTIVITIES

Carnival
Cultural Performances
Art Exhibitions
Cultural Market Place
Symposium
Children theatre and games
Film Exhibition
Traditional Sports and Games
Food Market and Exhibition
Cultural Excursion and Awards
Fashion Show and Modeling
QUICK LINKS

---