EAC-MRH Programme Institutional Arrangement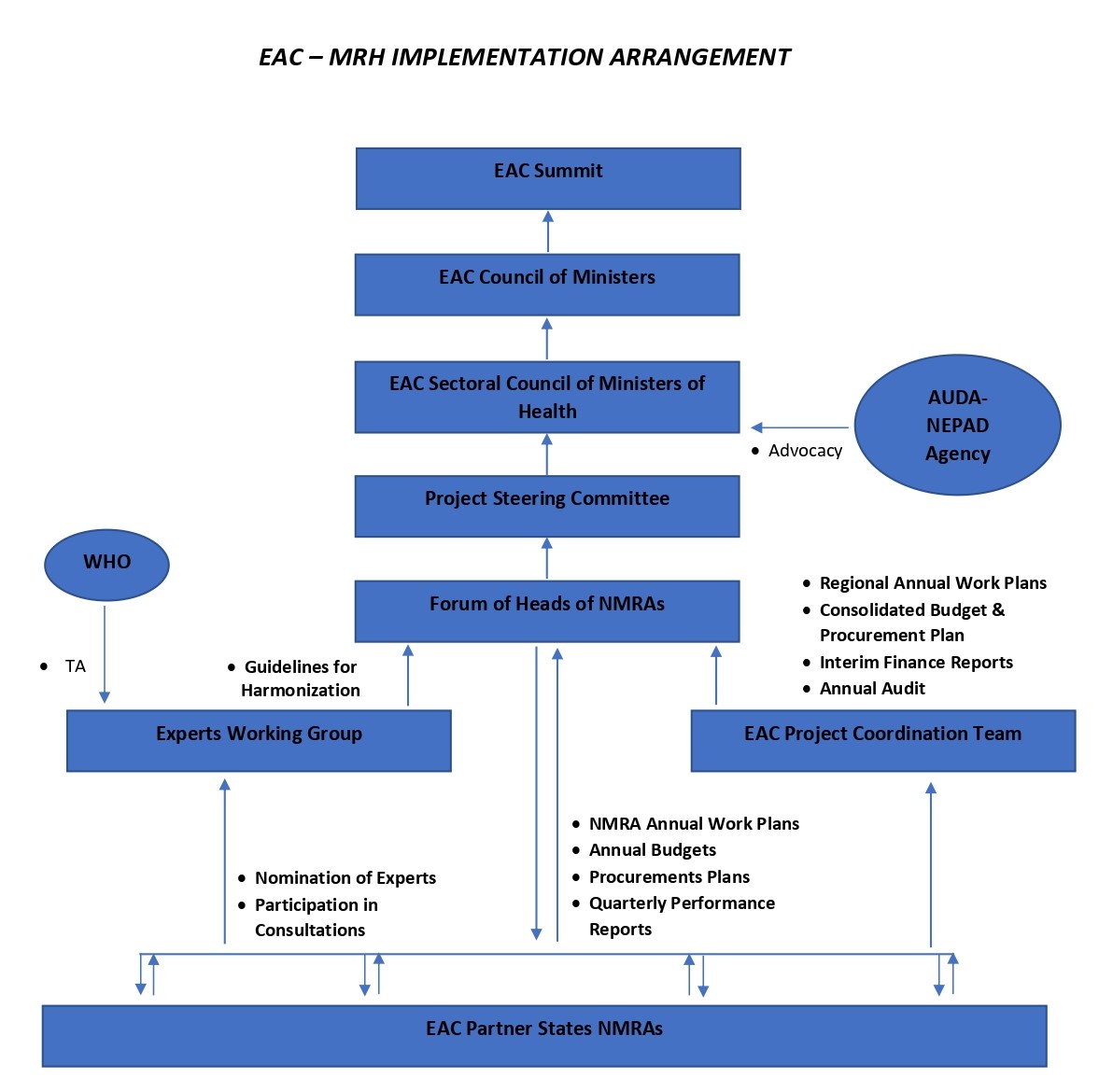 EAC Summit of Heads of State
The Summit provides highest political leadership and direction on Health Sector Investment Priorities , specifically on Increase Access to Efficacious and Affordable Medicines, Vaccines and other Health Technologies focusing on Malaria, Tuberculosis, HIV/AIDS , COVID-19 and other emerging diseases.
EAC Council of Ministers
The EAC Council of Ministers approve and adopt key policy instruments for domestication by EAC Partner States. The Council is also responsible for allocation of resources for all EAC regional programmes and projects. Issue directive and decisions in line with Treaty for Establishment of the East African Community. The decisions and directives of the Council of Ministers are informed by the Policy guidance from relevant Sectoral Councils such as Health, Industry and others.
EAC Sectoral Council of Ministers of Health
The EAC Sectoral Council of Ministers responsible for Regional Cooperation on Health shall set overall policy and direction of the programme. The Forum of Heads of NMRA and Project Steering Committee will make decisions concerning implementation of the project including technical matters and will report progress to the EAC Sectoral Council on Health and thereafter the matter shall be forwarded to the EAC Council of Ministers. Any decision endorsed by the EAC Council of Ministers becomes mandatory in all EAC Partner States.
Project Steering Committee
The Project Steering Committee (PSC) will be responsible for approval of annual work plans, budgets and technical oversight of the project. The committee shall comprise of the Chief Pharmacists and Heads of National Medicines Regulatory Authorities from the EAC Partner States. EAC Secretariat shall be secretariat to the committee.
Forum of Heads of NMRA
Comprise of the chief executive officers of the EAC Partner States National Medicines Regulatory Authorities and are responsible for provision of overall leadership and technical oversight of the programme.
Regional Experts Working Groups (EWGs)
Comprised of Partner States Experts from EAC NMRA and they responsible for development and implementation of harmonized regulatory guidelines and procedures for medical products , vaccines and health technologies.
Project Coordination Team
The Project Coordination Team comprises of EAC technical staff drawn from Health, Finance, Information Technology Departments. The team manages and monitors the day today work programs and schedules of project components.