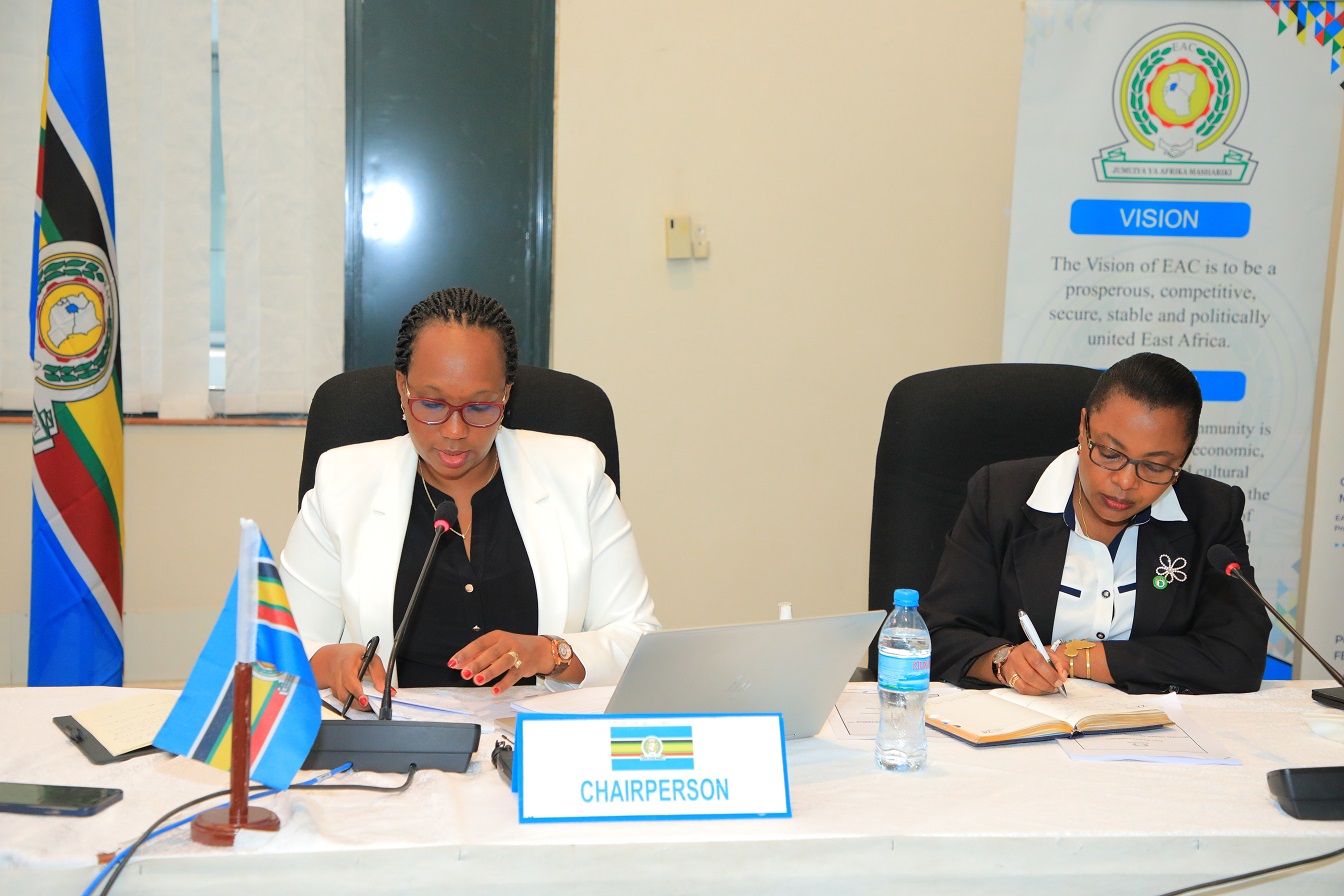 EAC Partner States resolve 10 Non-Tariff Barriers as new ones emerge
East African Community Headquarters, Arusha, Tanzania, 6th June, 2023: East African Community Partner States resolved a total of 10 Non-Tariff Barriers (NTBs) as four (4) new ones emerged.
The 42nd Meeting of the Sectoral Council of Ministers on Trade, Industry, Finance and Investment (SCTIFI) that was held at the EAC Headquarters in Arusha, Tanzania was informed that eight (8) NTBs remained outstanding and were at different levels of resolution.
The Ministerial Session of the 42nd SCTIFI that was chaired by Burundi's Minister of Trade, Transport, Industry and Tourism, Hon. Marie Chantal Nijimbere, consequently directed Partner States to resolve all outstanding NTBs.
The Ministers were informed that the Republic of South Sudan was still charging EAC citizens visa fees, specifically those from Rwanda and Burundi, with EAC citizens who had travelled to the country complaining of visa charges at Juba International Airport. In her response, South Sudan informed the meeting that South Sudanese are also still charged visa in some EAC Partner States.
The Ministers noted that there is a mechanism to monitor the implementation of the EAC Common Market Protocol under the Sectoral Council on EAC Affairs and Planning where the issue can be handled and resolved.
The meeting further directed Partner States that still impose visa requirements on EAC citizens to remove the requirement by November 2023.
The Ministers expressed concern that Partner States still impose visa requirements on EAC citizens and emphasised the need to expeditiously remove the requirements, adding that such requirements could also hinder access to the African Continental Free Trade Area (AfCFTA).
The meeting observed that it was high time the Community considered putting in place a borderless bloc to facilitate the smooth flow of capital services and goods.
Among the resolved NTBs were a 25% excise duty imposed by Kenya on Ugandan table eggs and 25% Kenyan excise duty on onions, potatoes, potato crisps and chips from Uganda that became effective 1st July, 2022.
Also resolved was an import ban and denial of market access by Kenya through non-issuance of import permits for powdered milk from Uganda as a means of cushioning the surplus production and low producer prices in Kenya.
Another resolved NTB was that of 13 roadblocks between Nimule and Juba with Ugandan traders losing more than 150,000 South Sudanese pounds each. South Sudan reported that she had already complied with a SCTIFI directive to remove all roadblocks, adding that there are now only two roadblocks from Nimule to Juba.
Among the new NTBs is a complaint by Kenya that Uganda was denying market access to EAC Partner States under preferential treatment by charging full Common External Tariff of 35% to juices originating from Kenya.
Kenya also reported that Tanzania was subjecting to discriminatory treatment Kenyan exports of animal and animal products despite their commitment in the bilateral meeting to amend the Act to resolve the discriminatory charges on Kenyan animal and animal products by June 2022.
On her part, Tanzania reported that Kenya was charging a 25% excise duty on hatching eggs exported by some Tanzanian companies.
Kenya said that Uganda charges 18% Value Added Tax on exercise books from Kenya while Uganda manufacturers of the exercise books are VAT-exempt as per the provisions in the Uganda VAT Act.
The Partner States committed to addressing the new NTBs through the 35th Regional Monitoring Committee for NTBs.
Speaking during the opening session, Chairperson Hon. Nijimbere disclosed that the value of intra-EAC trade represents 20% share of intra-regional to global trade making the EAC bloc the first ranked compared to other regional economic communities in Africa.
Hon. Nijimbere said that the region was still faced with challenges that included NTBs imposed by Partner States which negatively affect the movement of goods and the welfare of EAC citizens.
In a speech read on his behalf by Dr. Irene Isaka, the Director Social Sectors at the EAC Secretariat, EAC Secretary General Hon. (Dr.) Peter Mathuki hailed the SCTIFI as a mechanims that gives policy direction, reviews and approves policy measures and activities that EAC has been implementing or plans to implement with regard to trade, industry, finance and investment matters.
"It is in this respect that we underscore the importance of SCTIFI since it is an engine for the socio-economic transformation of the region," said Dr. Mathuki, even as he urged Partner States to eliminate NTBs to boost intra-regional trade.
"While we aim and work hard to increase intra-regional Trade, Non-Tariff Barriers particularly denial of market access and other institution administrative measures remains a major factor impeding the free movement of goods across the region," said the Secretary General.
Dr. Mathuki said that the SCTIFI has the mandate to adequately address the bottlenecks and challenges that undermine the Community's efforts in improving the quality of life of citizens and attaining sustainable development objectives through the implementation of the Common Market Protocol.
Also present at the meeting were Hon. (Dr.) Dier Tong Ngor (Minister of Finance and Planning, South Sudan), Hon. Simon Chelugui (Cabinet Secretary for Cooperatives and MSMEs Development, Kenya), Hon. Dr. Jean Ngabitsinze (Minister of Trade and Industry, Rwanda) and Hon. Dr. Mwigulu Nchemba (Minister for Finance and Planning, Tanzania). Uganda was represented by Mr. Patrick Ocailap, the Deputy Secretary to the Treasury, Ministry of Finance, Planning and Economic Development.
Simon Peter Owaka
Senior Public Relations Officer Corporate Communications and Public Affairs Department EAC Secretariat Arusha, Tanzania Tel: +255 768 552087 Email: This email address is being protected from spambots. You need JavaScript enabled to view it.
About the East African Community Secretariat:
The East African Community (EAC) is a regional intergovernmental organisation of seven Partner States, comprising the Republic of Burundi, the Democratic Republic of Congo, the Republic of Kenya, the Republic of Rwanda, the Republic of South Sudan, the Republic of Uganda and the United Republic of Tanzania, with its headquarters in Arusha, Tanzania.
The EAC Secretariat is ISO 9001: 2015 Certified