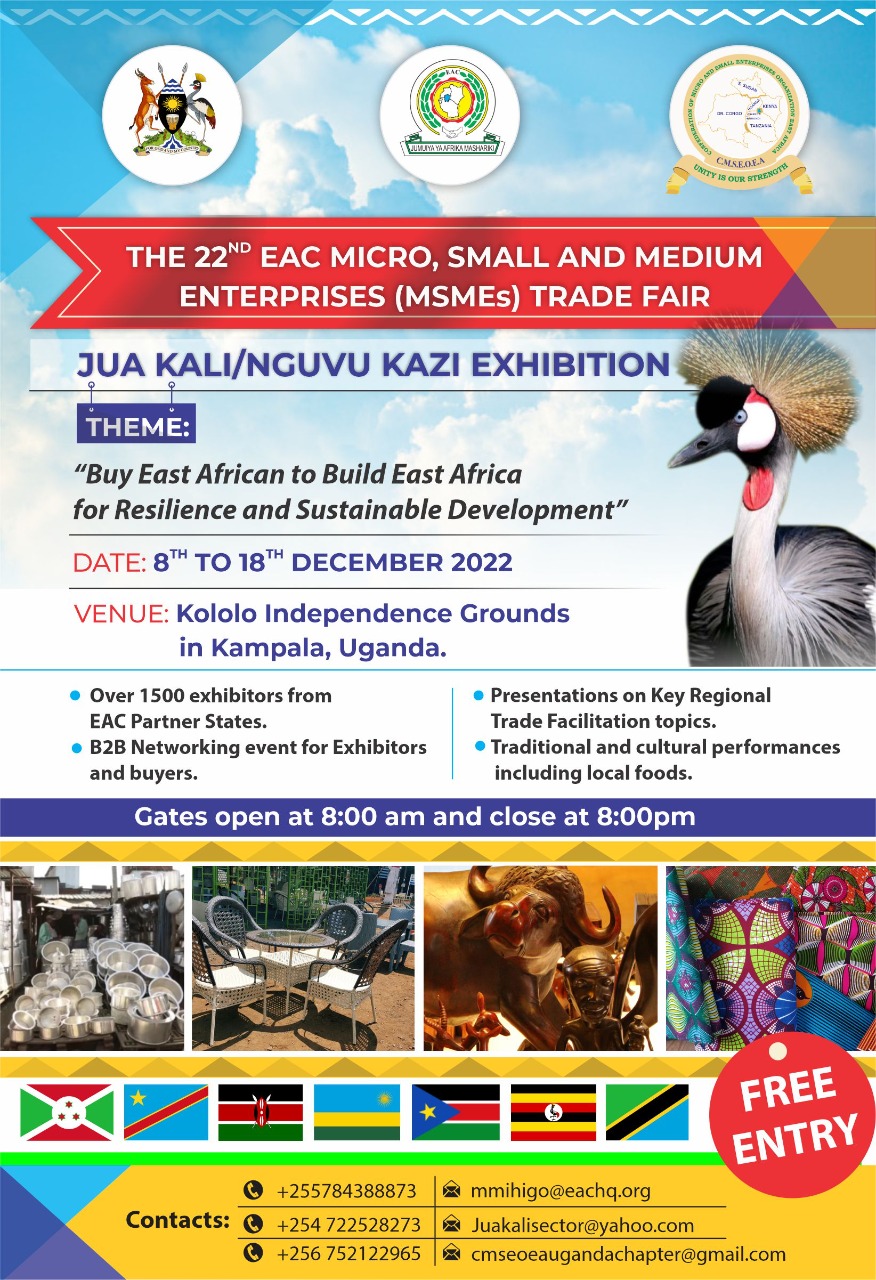 22nd EAC Micro, Small and Medium Enterprises (MSMEs) Trade Fair set for Kampala, Uganda
East African Community Headquarters, Arusha, 20th October, 2022: Preparations for the 22nd Edition of the East African Community (EAC) Micro, Small and Medium Enterprises (MSMEs) Trade Fair, popularly known as the Jua Kali/Nguvu Kazi Exhibition, are in high gear.
The 22nd edition of the annual EAC Jua Kali/Nguvu Kazi Exhibition, which will be held under the theme "Buy East African to Build East Africa for Resilience and Sustainable Development," is expected to attract more than 1,000 artisans from all the seven (7) EAC Partner States.
The exhibition will run from 8th – 18th December, 2022 at the Kololo Independence Grounds in Kampala, Uganda.
The main objective of the Trade Fair is to contribute towards the realisation of the region's development goals and aspirations by lending support to this budding sector of the economy, which needs public patronage and Government support in order to be sustainable.
The Trade Fairs further create considerable impact on the image of the sector, which is today seen as the panacea to the daunting question of unemployment and poverty alleviation in the region.
The 1st EAC MSMEs Trade Fair was held in Arusha, Tanzania in November 1999 during the historic event of signing of the Treaty for the Establishment of the EAC. Subsequent to the success of the Arusha exhibition, the EAC Heads of State directed that the Exhibition be held annually on rotational basis among the Partner States so as to enhance and revamp the socio-economic integration of the people of East Africa.
Participation
To participate in the Exhibition, exhibitors from the EAC Partner States are required to register with their respective chapters of the Confederation of Micro and Small Enterprises Organisations (CMSEO) as follows:
Partner State

Contacts

Republic of Burundi

Jumapili TajabTel: +257 79 29 99 76 Email: This email address is being protected from spambots. You need JavaScript enabled to view it.

Republic of Kenya

Caroline Kioko Tel: +254 723 019079 Email: This email address is being protected from spambots. You need JavaScript enabled to view it.

Republic of Rwanda

Ephrem KarangwaTel: +250788307330 Email: This email address is being protected from spambots. You need JavaScript enabled to view it.

Republic of South Sudan

Jane Gordon Tel: +211 921 643 567 Email: This email address is being protected from spambots. You need JavaScript enabled to view it.

Republic of Uganda

Bbira BbosaTel: +256 772 440458 Email: This email address is being protected from spambots. You need JavaScript enabled to view it.

United Republic of Tanzania

Josephat Rweyemamu

Tel: +255 716 520 237

Email: This email address is being protected from spambots. You need JavaScript enabled to view it.
Notes to Editors:
The 21st edition of the MSMEs Trade Fair was successfully held in Mwanza, Tanzania in December 2021 where more than 1,000 exhibitors participated.
The exhibitions have benefited small traders in building capacity on value addition, cross border trade, the EAC Simplified Trade Regime among others through the daily symposium. Knowledge sharing, technological transfer, building new partnerships and markets are among other benefits of the exhibition. Over the years, the Region has experienced more traders formalizing their businesses, adding value to their goods, expanding and capturing new markets.
For more information about the Trade Fair please visit: www.eac.int/juakali
For more information, please contact:
Simon Peter Owaka
Senior Public Relations Officer
Corporate Communications and Public Affairs Department
EAC Secretariat
Arusha, Tanzania
Tel: +255 768 552087
Email: sowaka [at] eachq.org
About the East African Community Secretariat:
The East African Community (EAC) is a regional intergovernmental organisation of seven Partner States, comprising the Republic of Burundi, the Democratic Republic of Congo, the Republic of Kenya, the Republic of Rwanda, the Republic of South Sudan, the Republic of Uganda and the United Republic of Tanzania, with its headquarters in Arusha, Tanzania.
The EAC Secretariat is ISO 9001: 2015 Certified