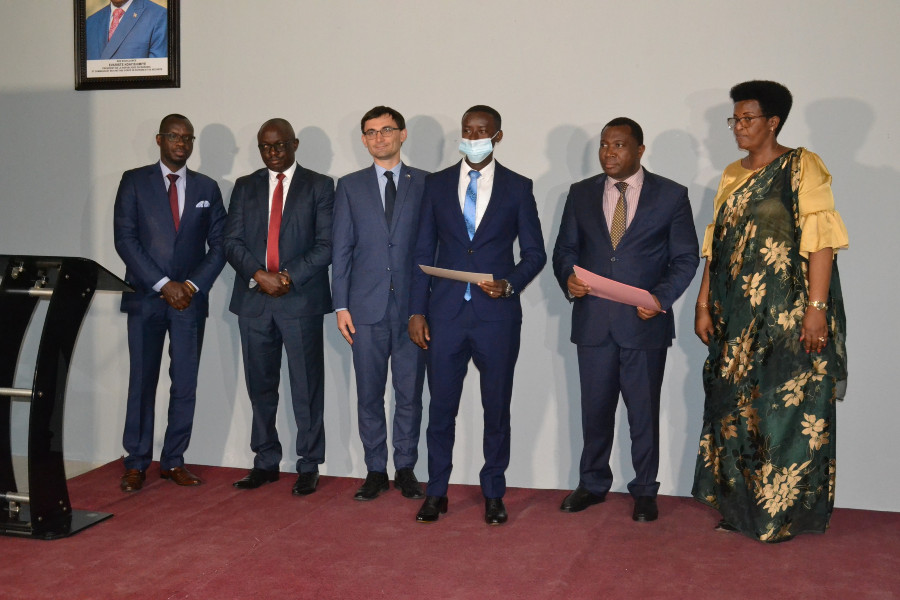 Burundi launches her own Trade Information Portal
East African Community Headquarters, Arusha, Tanzania, 28th July, 2021: The Republic of Burundi has launched her own Trade Information Portal which is meant to map out all her imports, exports and transit procedures, fees and time. The next step after mapping will be to simplify and remove unnecessary and redundant bottlenecks.
Trade Information Portals (TIPS) have already been launched and operationalised by Kenya, Rwanda, Tanzania and Uganda.
On 27rd July 2021, Burundi joined other Partner States to avail her own TIP on the internet as committed by the Burundi delegation during the 38th Meeting of the Sectoral Council on Trade, Industry, Finance and Investment held in Arusha on 28th May, 2021.
The publication of Trade Information is a good sign that Burundi is committed to facilitate trade by making trade information more transparent.
The launching ceremony was co-presided over by Hon. Domitien Ndihokubwayo, Burundi's Minister for Finance and Economic Planning and Hon. Capitoline Niyonizigiye, Minister for Trade, Transport, Industry and Tourism.
Hon. Ndihokubwayo urged the private Sector to use this opportunity offered by the Government of Burundi to plan effectively their business for the development of Burundi.
On her part, Hon. Niyonizigiye assured the public that her ministry would continue to support all initiatives to promote business facilitation as it is an important source of revenue for both government and the business community.
"For the government, the benefits come in the form of increased tax revenues, better use of resources and improved compliance by business operators," said Hon. Niyonizigiye.
The Commissioner General of Office Burundais des Recettes, Mr. Pacifique Munyeshongore also called upon private sector, especially SMEs to exploit this opportunity given to them in order to grow their businesses.
Mr. Mateusz Prorok, Project Manager at the EU delegation in Burundi, said that the portal would support businesses in promoting their value chains and assured Burundi of continued support by EU for the sustainability of Trade Facilitation in the country.
Mr. Munyampundu Evariste, the Regional Coordinator of the Trade Information Portal Project and Trade Facilitation Officer, represented the EAC Secretary General. In his remarks, thanked Burundi for her efforts to facilitate trade, which he said has had a positive impact on intra-regional trade trade and international trade.
The Burundi TIP was funded by European Union Commission via Mark-up project with a technical support of International Trade Center (ITC), EAC Secretariat and UNCTAD.
Burundi Trade information Portal can be accessed http://info.commerce.bi and the EAC Trade information Portals are accessible through https://tradehelpdesk.eac.int/. We encourage the Private Sector and other Trade researchers to visit and suggest simplification to the National Trade Facilitation Committees.
For more information, please contact:
Simon Peter Owaka
Senior Public Relations Officer
Corporate Communications and Public Affairs Department
EAC Secretariat
Arusha, Tanzania
Tel: +255 768 552087
Email: sowaka [at] eachq.org
About the East African Community Secretariat:
The East African Community (EAC) is a regional intergovernmental organisation of six Partner States, comprising Burundi, Kenya, Rwanda, South Sudan, Tanzania and Uganda, with its headquarters in Arusha, Tanzania.
The EAC Secretariat is ISO 9001: 2015 Certified