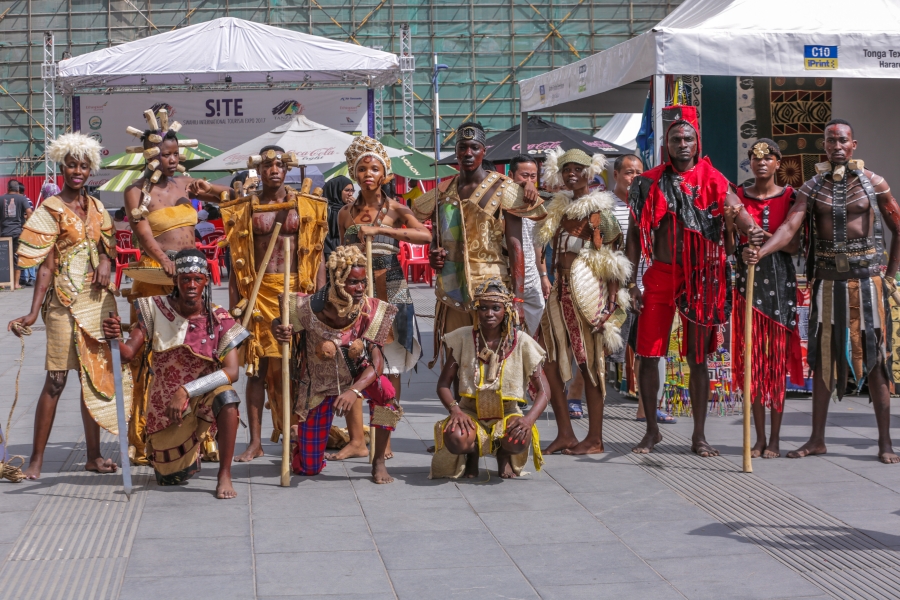 5th edition of the Swahili International Tourism Expo 2019 concludes in Dar
East African Community Headquarters, Arusha, Tanzania, 21st October, 2019: The EAC Secretariat participated at the 3-day Swahili International Tourism Expo (SITE) which took place at the Milimani City Conference Hall in Dar-es-Salaam ; Tanzania, from 18th to 20th October, 2019.
Officiating the opening of the exhibition, the Minister for Natural Resources and Tourism; Hon. Dr. Hamisi Kigwangalla began by welcoming all exhibitors, visitors and international stakeholders to the event. He commended the Ministry of Natural Resources and Tourism for their successful efforts in organizing the 5th SITE, 2019 in collaboration with the Tanzanian Tourism Board and other key stakeholders within the tourism sector including the EAC Tourism Department.
The Minister highlighted the significance of the event in publicizing, marketing and promoting tourism both locally and internationally. He continued to highlight that SITE has continued to gain global recognition through the years from its inaugural Expo in 2014.
The growing popularity of this event is due to the fact that it has continued to attract hundreds of exhibitors/participants from various countries within Africa as well as other countries worldwide, which use this platform to pitch their companies/business opportunities to potential investors, as a benchmarking and peer learning business forum as well as a marketing platform for their products.
In his opening statements; the Chairman of the Board of Directors-Tanzania Toursim Board (TTB); Justice Thomas Mihayo warmly welcomed and also addressed participants at the Expo. He outlined that the event attracted more than 210 exhibitors from 60 countries and approximately 333 international tourist operators and media practitioners.
In addition, the Chairman applauded the various Tanzania Embassy Offices for swiftly coordinating the registration process for the various respective nationals in order for them to participate at the event. "about 142 international tourist operators were able to successfully attend SITE 2019 from 22 countries as follows: the Embassy of Tanzania in Sweden brought participants from Sweden, Norway, Finland, Denmark, Latvia, Estonia, Lithuania and Ukraine; the Embassy of Tanzania in Malaysia brought participants from Malaysia, Thailand, Philippines, Indonesia and Brunei. Other participants who attended came from China, South Korea, Japan, Canada, South Africa, Oman, India, England and Brazil.
SITE 2019 was the 5th edition whose focus was on inbound and outbound travel to Africa and it brought together hundreds of tourism and travel professionals from all over the world. The Expo took place in the format of a travel and trade exhibition with a conference element focusing on topical tourism, sustainability, conservation and other market related issues. The exhibition was targeted to attract well over 500+ international and local exhibitors, 3000+ visitors, 440+ hosted buyers and media from Africa, North and South America, Europe, India, Eastern Europe and China.
The objective of EAC's participation at this event is to showcase the prime tourist destinations across the 6 Partner States. SITE also continues to serve as a visibility and publicity platform for EAC to popularize the EAC integration agenda, its benefits, achievements, progress and challenges to East Africans and especially the youth.
- ENDS -
For more information, please contact:
Simon Peter Owaka
Senior Public Relations Officer
Corporate Communications and Public Affairs Department
EAC Secretariat
Arusha, Tanzania
Tel: +255 768 552087
Email: sowaka [at] eachq.org
About the East African Community Secretariat:
The East African Community (EAC) is a regional intergovernmental organisation of six Partner States, comprising Burundi, Kenya, Rwanda, South Sudan, Tanzania and Uganda, with its headquarters in Arusha, Tanzania.
The EAC Secretariat is ISO 9001: 2008 Certified