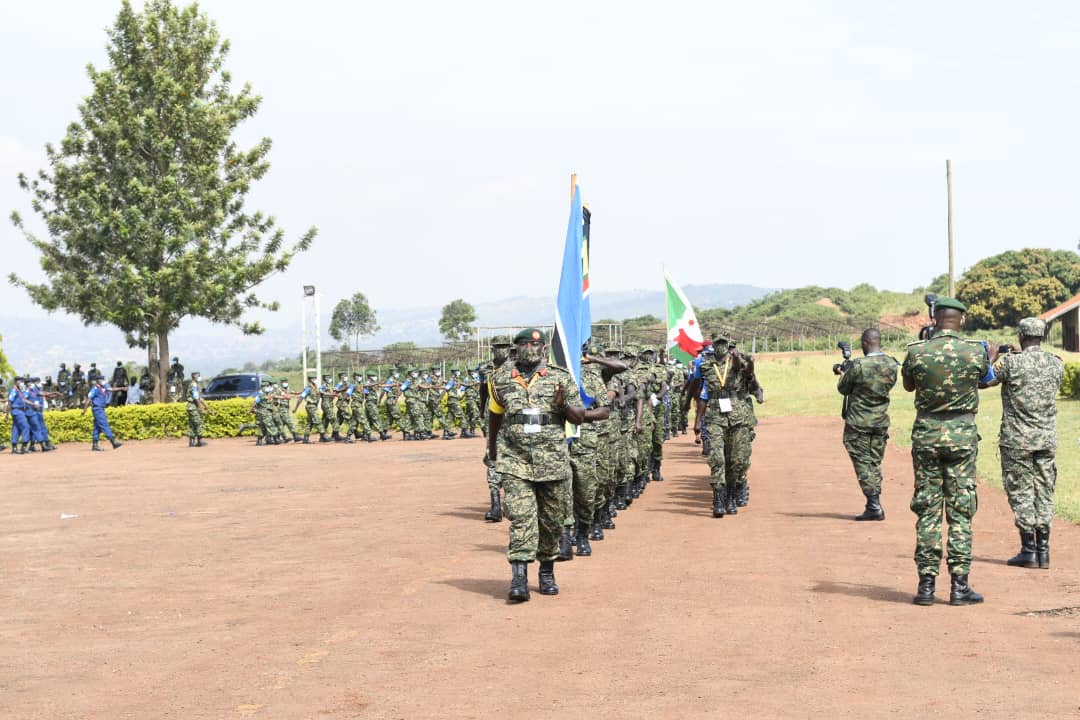 Regional Armed Forces Field Training Exercise affirms EAC's Commitment to strengthening peace and security
East African Community Headquarters, Arusha, Tanzania, 13th June 2022: The EAC Partner States have re-affirmed their commitment to equip their Armed Forces, police and security stakeholders with training on peace support operations following the successful completion of the 12th EAC Armed Forces Field Training Exercise, dubbed "Ushirikiano Imara 2022".
The 2-week training, held in Jinja, Uganda, aimed at enhancing Partner States' Defence Forces' capabilities in jointly combatting complex security challenges faced in the region.
Speaking, at the closing ceremony of the exercise, EAC Secretary General Hon.(Dr.) Peter Mathuki noted that the region continues to be faced with real and potential complex emergencies, which can easily translate into threats to the social economic, cultural and political wellbeing of the people of East Africa.
"These threats range from porous borders and proliferation of small arms and light weapons, internal strife, terrorism and insecurity and it is thus critical for the region to develop its capacity to handle such emergencies and threats," Dr.Mathuki said.
The East African Community Co-operation in Defence provides an opportunity for the security forces to chart a way forward on the region's security challenges.
"We need unity, peace, stability and strength to defend our common interests as East Africans. This will in effect provide a conducive and attractive environment for investment and development of the region," he said.
The exercise was held in accordance with the EAC Defence Sector calendar of activities and under the provisions of the East African Community Protocol on Cooperation in Defence Affairs whose four pillars include, military training, joint operations, technical cooperation; visits and exchange of information.
This year, all Partner States sent their contingents except the region's new member the Democratic Republic of the Congo (DRC), with General Celestin Mbala Munsense, Chief of General Staff of the Armed Forces of the DRC representing the country at the closing ceremony.
The objectives of the Field Training Exercise "Ushirikiano Imara 2022", included among others; to enhance interoperability between the EAC Partner States' Defence Forces and other key stakeholders, to evaluate the readiness of the EAC Partner States' Defence Forces and key stakeholders in response to complex security challenges; and to practice the EAC Standing Operating Procedures (SOPs) for Peace Support Operations, Disaster Management, and Counter Terrorism and Counter Piracy operations.
The Exercise was also meant to practice participants on Command, Control, Communication and information in combined joint operations.
For more information, please contact:
Simon Peter Owaka
Senior Public Relations Officer
Corporate Communications and Public Affairs Department
EAC Secretariat
Arusha, Tanzania
Tel: +255 768 552087
Email: sowaka [at] eachq.org
About the East African Community Secretariat:
The East African Community (EAC) is a regional intergovernmental organisation of six Partner States, comprising Burundi, Kenya, Rwanda, South Sudan, Tanzania and Uganda, with its headquarters in Arusha, Tanzania.
The EAC Secretariat is ISO 9001: 2015 Certified