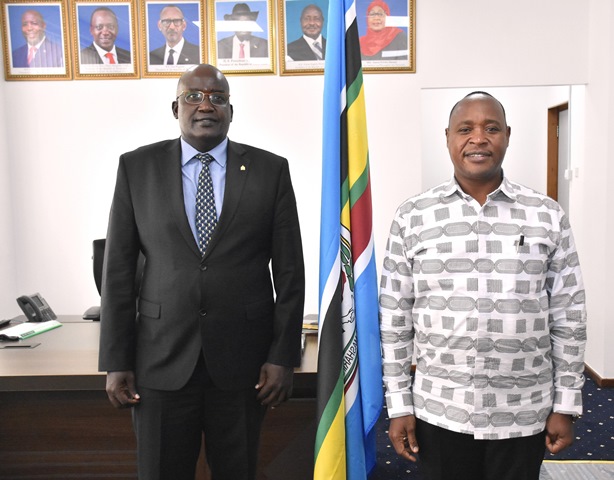 Head of Interpol Nairobi Regional Bureau pays courtesy call in EAC Secretary General
East African Community Headquarters, Arusha, Tanzania, 16th July, 2021: The Head of the International Criminal Police Organization's (Interpol) Nairobi Regional Bureau, Mr Gideon Kimilu, on Friday paid a courtesy call on the EAC Secretary General, Hon. (Dr.) Peter Mathuki at the EAC Headquarters in Arusha, Tanzania.
The two officials discussed several issues touching on regional peace and security including the EAC Joint Response to Regional and Cross-Border Security Threats.
The Secretary General commended the INTERPOL Regional Bureau for working closely with the EAC Secretariat in combating regional and cross-border security threats and urged Partner States to continue taking the lead in developing joint initiatives to reinforce both the personnel and institutional capacities of the Police Forces/Services in the bloc.
Dr. Mathuki said that harmonization remains key in the EAC integration especially towards the attainment of the ultimate goal of the EAC Political Federation, adding that all the four integration stages embrace harmonization and approximation of laws and policies in diverse sectors.
"As such, the security agencies like the police cannot be left behind since they play a significant role touching on the free movement of people, goods, and services across the region, " said Dr. Mathuki.
Speaking on the EAC Joint Response to Regional and Cross-Border Security Threats Project funded by European Union, the Secretary General informed the Head of Interpol that the project was the perfect response to the various and growing security threats across the EAC region.
"It will work both in enhancing the technical capacities and building trust between the law enforcement agencies in the EAC Partner States," added Dr. Mathuki.
On his part, Mr.Kimilu hailed the long standing partnership between the EAC and Interpol in the peace and security sector which he said was a key enabler to the integration process in East Africa.
The Interpol boss said that full implementation of the agreed programmes would enable the law enforcement agencies to, at a regional level, implement information sharing mechanisms that will facilitate rapid and timely response to cross-border threats.
Notes to Editors
The EAC Secretariat and the EU Delegation Regional Office in Tanzania, under the 11th European Development Fund, mobilized a grant of 10 Million Euros to support EAC's Joint Response to Regional and Cross-Border Security Threats. The Financing agreement was concluded in September 2019 with INTERPOL allocated 5 million Euros and EAC Secretariat the balance of 5 million Euros.
For more information, please contact:
Simon Peter Owaka
Senior Public Relations Officer
Corporate Communications and Public Affairs Department
EAC Secretariat
Arusha, Tanzania
Tel: +255 768 552087
Email: sowaka [at] eachq.org
About the East African Community Secretariat:
The East African Community (EAC) is a regional intergovernmental organisation of six Partner States, comprising Burundi, Kenya, Rwanda, South Sudan, Tanzania and Uganda, with its headquarters in Arusha, Tanzania.
The EAC Secretariat is ISO 9001: 2015 Certified