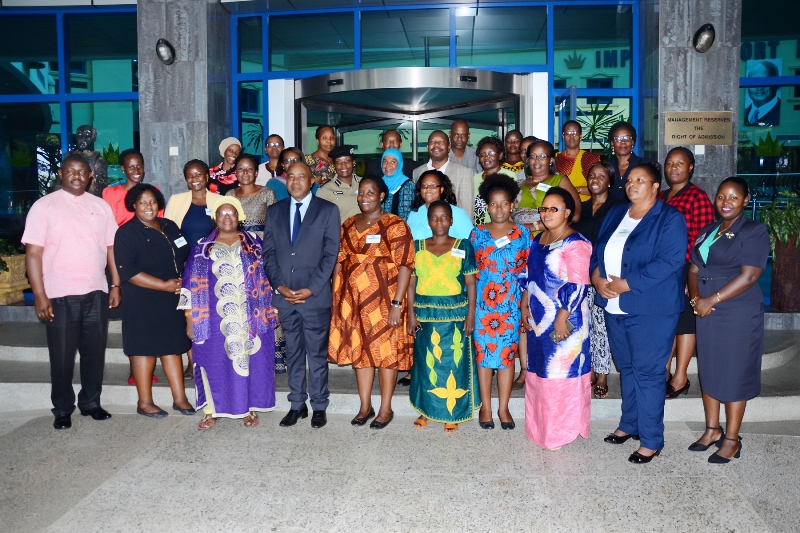 EAC Refresher Training Workshop on the UNSCR 1325 underway in Entebbe
East African Community Headquarters, Arusha, Tanzania, 27th June 2019: A five-day regional Refresher training workshop to raise awareness of EAC Women Security Officers on the United Nations Security Council Resolution 1325(UNSCR 1325) is underway at the Beach Hotel, Entebbe, Uganda.
The 25th -29th June workshop is dedicated to increasing knowledge, skills and awareness on the UNSCR 1325 to Security Women Officers with the intention of promoting the role of women in Peace and Security, specifically at policy level so as to build a formidable force of women officers trained on Women Peace and Security
The workshop is expected to enhance ability of trained officers to competently mainstream the EAC Peace and security interventions and enrich the EAC Peace and Security Instruments including the EAC Strategy on Regional Peace and Security; and competently participate in the regional Peace and Security interventions and initiatives such as conflict management and Resolution through Mediation processes.
Addressing the participants during the opening session, the EAC Deputy Secretary General in charge of Political Federation Mr. Charles Njoroge reminded them on the critical requirements of the four key Pillars of Resolution 1325, which are: Participation, Protection, Prevention, and Relief and Recovery and what each one entails.
The Deputy Secretary General disclosed to the participants that EAC Secretariat have developed a framework for the implementation of the Resolution and it will be implemented in the region level
"I would therefore urge you to pay great attention to the deliberations and come up with proposals that will facilitate placing women at the centre of decision making as victims and also as persons who play a critical role in amelioration of conflict situations and recovery effects. I am also looking forward to proposals from you on how effectiveness and impact can be enhanced through exploitation of EAC Policy and decision processes"
Mr. Njoroge challenged the Partner States to increased participation of women at all levels of decision-making, including in national, regional, and international institutions; in mechanisms for the prevention, management and resolution of conflict; in peace negotiations; in peace operations, as soldiers, police, and civilians as well as Special Representatives of the U.N. Secretary-General.
Notes to Editors
The Security Council adopted resolution (S/RES/1325) on women and peace and security on 31 October 2000. The resolution reaffirms the important role of women in the prevention and resolution of conflicts, peace negotiations, peace-building, peacekeeping, humanitarian response and in post-conflict reconstruction and stresses the importance of their equal participation and full involvement in all efforts for the maintenance and promotion of peace and security. Resolution 1325 urges all actors to increase the participation of women and incorporate gender perspectives in all United Nations peace and security efforts.
As a regional requirement, the EAC is committed to the implementation of UNSCR 1325 as a mechanism of strengthening women's participation and involvement in the promotion of peace and security within the context of conflict prevention and resolution, eradicating sexual violence and ending impunity in conflict situations.
The EAC Regional Framework on UNSCR 1325 sets out what the EAC will do at the level of the EAC Secretariat and in partnership with Partner States, to integrate a gender perspective into its peace and security agenda, efforts to protect women and girls' human rights, and promotion of their participation in conflict prevention, management and resolution.
In a bid to further advance the EAC Secretariat's role in Peace and Security interventions, and in particular strengthen the role of women and girls in Peace and security, the Peace and Security Department did plan for the start, two capacity-building trainings for Partner States' Women Security /Law Enforcement Officers as well as the Secretariat staff.
-ENDS-
For more information, please contact:
Mr Owora Richard Othieno
Head, Corporate Communications and Public Affairs Department
EAC Secretariat
Arusha, Tanzania
Tel: +255 784 835021
Email: OOthieno [at] eachq.org
About the East African Community Secretariat:
The East African Community (EAC) is a regional intergovernmental organisation of six Partner States, comprising Burundi, Kenya, Rwanda, Tanzania and Uganda, with its headquarters in Arusha, Tanzania.
The EAC Secretariat is ISO 2008:9001 Certified