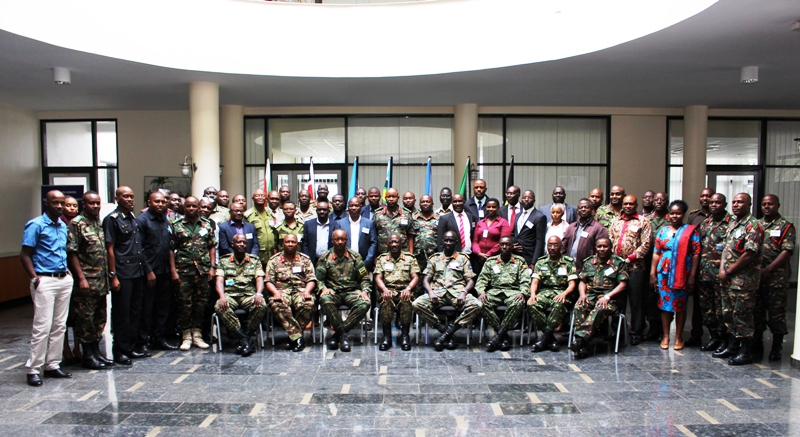 Uganda to host the 12th EAC Armed Forces Command Post Exercise Ushirikiano Imara 2019
East African Community Headquarters, Arusha, Tanzania, 17th January, 2019:The planning meeting for the 12th EAC Armed Forces Command Post Exercise (CPX) USHIRIKIANO IMARA 2019, which is scheduled to take place in the Republic of Uganda towards the end of 2019 is on-going at the EAC headquarters in Arusha, Tanzania.
The 15th - 18th January 2019 meeting is taking place in accordance with Article 2 of the EAC Protocol on Cooperation in Defence Affairs and pursuant to the EAC Defence Sector Calendar of Activities for the period January - June 2019.
The meeting is expected to develop the methodology of the exercise and the distribution of various themes to Partner States ,come up with administrative and logistics plan as well as shared costs among the Partner States
Furthermore, the meeting is discussing Host Nation responsibilities, transport, accommodation, office expendables, feeding and messing, communication, medical, uniforms, ceremonies, maps and charts.
-ENDS-
For more information, please contact:
Mr Owora Richard Othieno
Head, Corporate Communications and Public Affairs Department
EAC Secretariat
Arusha, Tanzania
Tel: +255 784 835021
Email: OOthieno [at] eachq.org
About the East African Community Secretariat:
The East African Community (EAC) is a regional intergovernmental organisation of five Partner States, comprising Burundi, Kenya, Rwanda, Tanzania and Uganda, with its headquarters in Arusha, Tanzania.
The EAC Secretariat is ISO 9001:2008 Certified