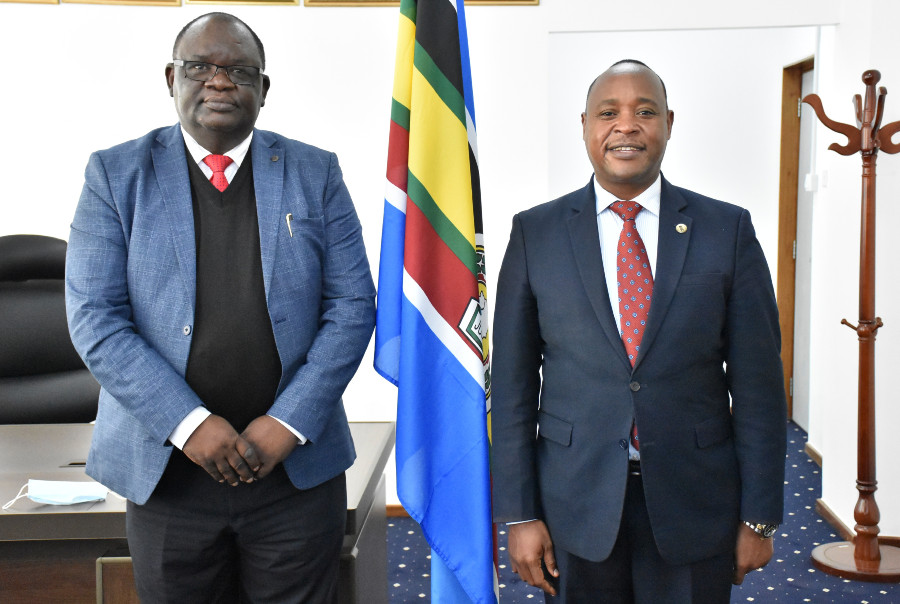 Private Sector a top priority for EAC integration process, says Secretary General
East African Community Headquarters, Arusha, Tanzania, 26th July, 2021: The Secretary General of the EAC, Hon. (Dr.) Peter Mathuki has reaffirmed EAC's commitment to make the private sector a top priority in driving the regional integration agenda.
Speaking during a meeting with the President of Tanzania Chamber of Commerce, Industry and Agriculture (TCCIA), Mr. Paul Koyi, and Chief Executive Officer of Safer Power Limited, Mr. Dalmus Mbai, who had paid a him courtesy call at his office in Arusha, Tanzania, the Secretary General pledged to work closely with the private sector in the region, adding that they were the key drivers of the integration process.
"It is the vision of the Community to see the private sector drive the regional economy by creating wealth and employment for the people of East Africa. The Secretariat will always be at your disposal to help in any way we can, particularly in providing technical assistance," said Dr. Mathuki.
Dr. Mathuki said that the private sector was the engine of regional integration and therefore called for the private sector in the region to bring to the table the challenges the sector encounters.
The Secretary General informed his guests about plans to steer the EAC bloc to greater heights by spearheading EAC economic recovery from Covid-19 and repositioning the bloc into opportunities availed by the African Continental Free Trade Area (AfCFTA).
Dr Mathuki urged the private sector in the region to work closely with the youth by creating mentorship programmes which will not only give the youth experience and provide opportunities for self-employment, but will also develop a succession plan for the business community.
On his part, the President of the TCCIA, Mr. Paul Koyi said there was a need to prepare the private sector in the region so as to enable them to secure a competitive position in the AfCFTA.
"On behalf of the TCCIA, let me pledge my total commitment to work with you Secretary General as a champion of EAC integration in addressing challenges faced by the business community in the region," said Mr. Koyi.
The Chief Executive Officer of Safer Power, Mr. Dalmus Mbai, urged the Secretary General to revive the Secretary General's CEOs Forum that provides a platform for the business community to present their concerns to the EAC, thereby ensuring a conducive business environment within the Community.
For more information, please contact:
Simon Peter Owaka
Senior Public Relations Officer
Corporate Communications and Public Affairs Department
EAC Secretariat
Arusha, Tanzania
Tel: +255 768 552087
Email: sowaka [at] eachq.org
About the East African Community Secretariat:
The East African Community (EAC) is a regional intergovernmental organisation of six Partner States, comprising Burundi, Kenya, Rwanda, South Sudan, Tanzania and Uganda, with its headquarters in Arusha, Tanzania.
The EAC Secretariat is ISO 9001: 2015 Certified