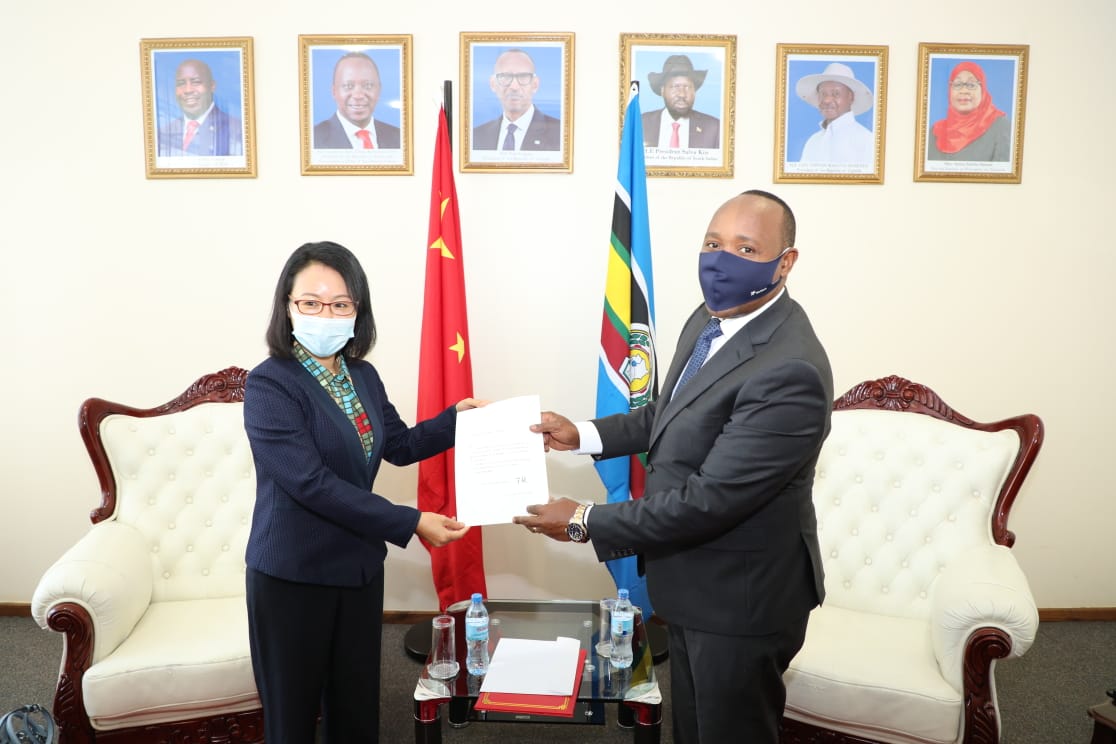 China commits to support EAC development projects to strengthen regional integration
East African Community Headquarters, Arusha, Tanzania, 30th October, 2021: The Peoples' Republic of China has reaffirmed her commitment to supporting the East African Community (EAC) achieve regional integration by promoting its development projects.
The Chinese Ambassador to Tanzania and EAC, H.E. Chen Mingjian, made the commitment while presenting her letter of credence to the EAC Secretary General, Hon. Dr. Peter Mathuki, at the EAC Headquarters in Arusha, Tanzania on Friday.
Welcoming the envoy to the Secretariat, Dr. Mathuki lauded the Peoples' Republic of China for her immense support to the region, particularly through infrastructure development projects geared at enhancing intra-EAC trade.
Dr. Mathuki further hailed China for offering education opportunities to East Africans through the provision of scholarships and exchange programmes, which he said have contributed in filing the skills gaps in the labour market.
"We appreciate the support that China has given us in our programmes such as the YouLead Summit and this speaks of China's commitment and good relations in the region," he said.
The Secretary General informed H.E. Mingjian about EAC's commitment to revitalizing private sector development and urged the Ambassador to rally support in organizing for EAC private sector benchmarking missions to China to network, sample the latest technologies and exchange ideas.
On her part, H.E. Mingjian lauded the Secretary General for the remarkable progress that the EAC had made under his tenure particularly in improving relations with stakeholders and pushing for private sector development.
She expressed China's keen interest in augmenting its cooperation with EAC, adding that it would positively impact EAC products going to Chinese markets especially agricultural products.
The Chinese envoy also disclosed that her country was ready to implement the process of donating vehicles to EAC to enhance its capacity.
Accompanying the Secretary General at the meeting were the EAC Deputy Secretary General in charge of Planning and Infrastructure, Eng. Stephen Mlote, and the Director General Customs and Trade, Mr. Kenneth Bagamuhunda.
For more information, please contact:
Simon Peter Owaka
Senior Public Relations Officer
Corporate Communications and Public Affairs Department
EAC Secretariat
Arusha, Tanzania
Tel: +255 768 552087
Email: sowaka [at] eachq.org
About the East African Community Secretariat:
The East African Community (EAC) is a regional intergovernmental organisation of six Partner States, comprising Burundi, Kenya, Rwanda, South Sudan, Tanzania and Uganda, with its headquarters in Arusha, Tanzania.
The EAC Secretariat is ISO 9001: 2015 Certified