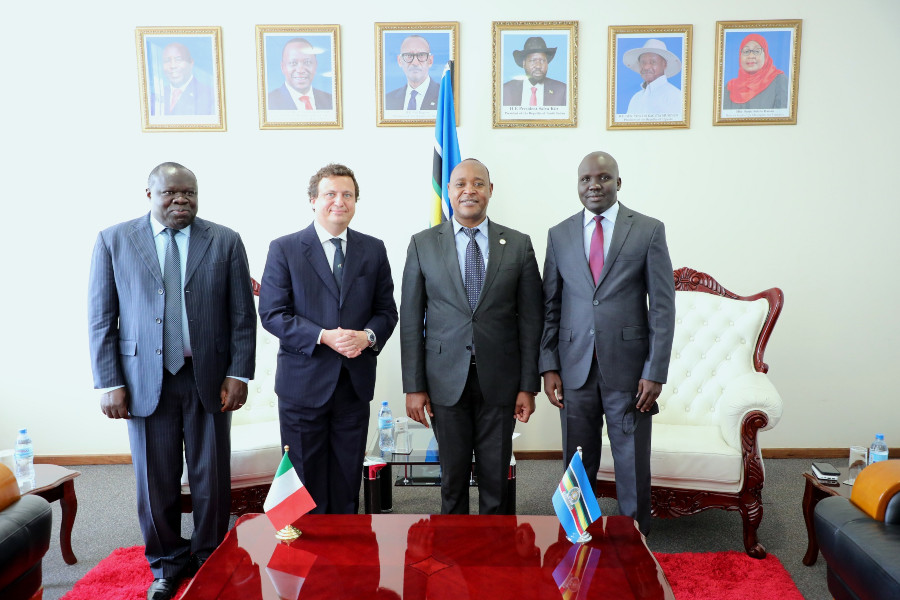 Italy's Ambassador to Tanzania and EAC presents credentials to EAC Secretary General
East African Community Headquarters, Arusha, Tanzania, 18th October, 2021: Italy´s Ambassador to the United Republic of Tanzania and the East African Community, H.E. Marco Lombardi, today presented his credentials to the EAC Secretary General, Hon. (Dr.) Peter Mathuki.
Amb. Lombardi said that it was important for Italy to invest more in Africa, which has an ever-expanding market.
Amb. Lombardi further said that he is keen on strengthening relations between not just Italy and EAC, but the EU as well.
"Regional integration has brought wealth creation and development to all countries in Europe. The common market and Eurozone has brought lots of benefits to Italy and Europe," said the Italian envoy, adding that regional integration was key to solving common problems facing most countries.
Amb. Lombardi said that saving the planet from global warming was one of Italy's key priorities, adding that his country was keen on supporting environmental conservation and climate change mitigation programmes.
The Italian envoy said that Italy is also keen on supporting cooperation for capacity building among countries in Africa and the EAC region especially in the health sector.
On his part, EAC Secretary General Hon. Mathuki described Italy as a great friend of the EAC, noting that the EAC was keen on learning from the EU by benchmarking with the bloc for the betterment of the East African region.
Dr. Mathuki said that negotiations between Partner States were the best way to ensure a win-win situation for the Community.
The Secretary General called for Italy's support in capacity building particularly for new countries joining the Community to ensure their full and fruitful participation in the integration journey.
Speaking at the ceremony, the EAC Deputy Secretary General in charge of the Productive and Social Sectors, Hon. Christophe Bazivamo, thanked Italy for supporting energy and climate change projects in the EAC. Hon. Bazivamo hailed the Italian government's plans to upscale its support for trainings on renewable energy and small hydropower projects in East Africa.
For more information, please contact:
Simon Peter Owaka
Senior Public Relations Officer
Corporate Communications and Public Affairs Department
EAC Secretariat
Arusha, Tanzania
Tel: +255 768 552087
Email: sowaka [at] eachq.org
About the East African Community Secretariat:
The East African Community (EAC) is a regional intergovernmental organisation of six Partner States, comprising Burundi, Kenya, Rwanda, South Sudan, Tanzania and Uganda, with its headquarters in Arusha, Tanzania.
The EAC Secretariat is ISO 9001: 2015 Certified