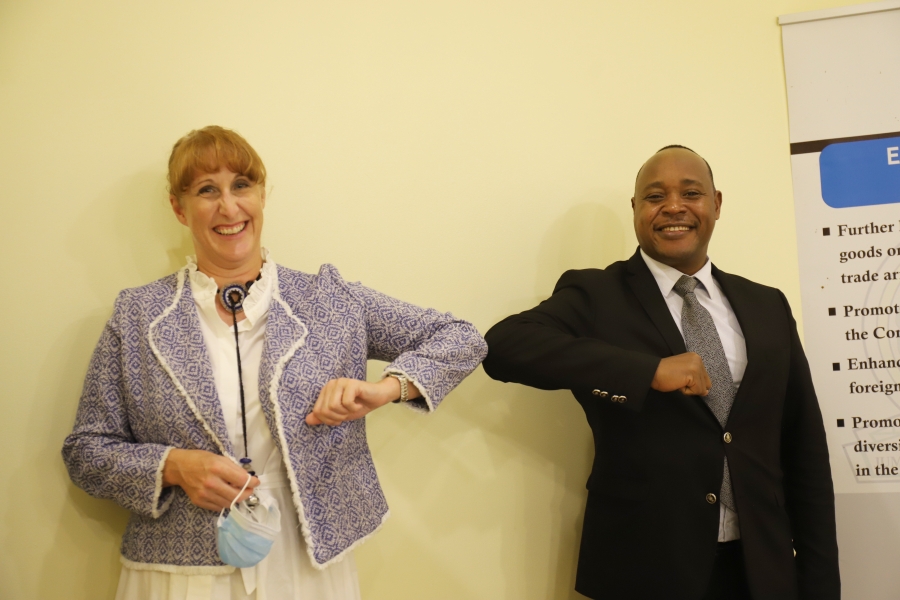 Canada reaffirms commitment towards supporting regional climate change initiatives
East African Community Headquarters, Arusha, Tanzania, 1st September, 2021: The High Commissioner representing the Republic of Canada in the United Republic of Tanzania, Her Excellency, Pamela O'Donnell held discussions with the EAC Secretary General Dr. Peter Mathuki in Dar es Salaam, Tanzania on Wednesday, 1st September 2021.
In her remarks, H.E O'Donnell noted that it was critical for the EAC to continue actively availing information materials to demystify anti-vaccination campaigns.
"A vaccinated East Africa will attract foreign investment and revive the tourism sector which significantly contributes towards the economy," she said.
The High Commissioner also called on the EAC to urge Partner States to embrace the African Continental Free Trade Area (AfCFTA) noting that the over 1.3 billion market size is set to offer the region adequate trade opportunities.
Ms. O'Donnell reaffirmed Canada's keen interest in investing in climate change and women's economic empowerment issues in the EAC region.
On his part, Dr. Mathuki emphasized the need for skills development and capacity building. Dr. Mathuki also reiterated his commitment to deepening private sector development as the engine of socio-economic growth in the region.
For more information, please contact:
Simon Peter Owaka
Senior Public Relations Officer
Corporate Communications and Public Affairs Department
EAC Secretariat
Arusha, Tanzania
Tel: +255 768 552087
Email: sowaka [at] eachq.org
About the East African Community Secretariat:
The East African Community (EAC) is a regional intergovernmental organisation of six Partner States, comprising Burundi, Kenya, Rwanda, South Sudan, Tanzania and Uganda, with its headquarters in Arusha, Tanzania.
The EAC Secretariat is ISO 9001: 2015 Certified