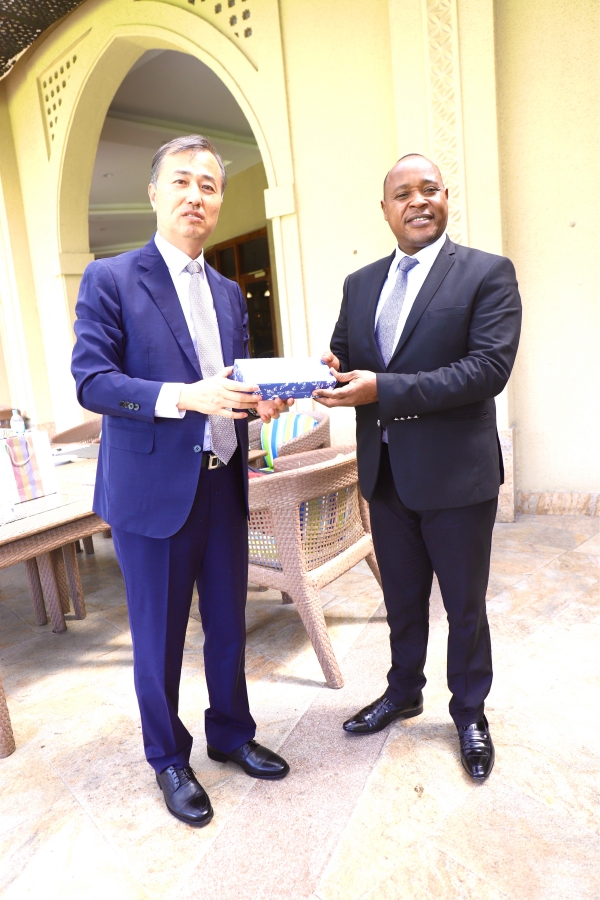 Korean Ambassador to Tanzania affirms Korea's support to the EAC
East African Community Headquarters, Arusha, Tanzania, 1st September, 2021: The Korean Ambassador to Tanzania, His Excellency Cho Tae-ick has affirmed the Republic of Korea's commitment to supporting EAC regional integration initiatives during a meeting held with EAC Secretary General Dr. Peter Mathuki in Dar es Salaam, Tanzania on Wednesday, 1st September 2021.
During their discussions, Dr. Mathuki noted that the Republic of Korea is a strategic partner for the East African region and emphasized on the need to revitalize relations.

The Secretary General affirmed his commitment towards increasing uptake of Covid-19 vaccines, stating that all EAC Secretariat staff were currently being vaccinated. He also noted that the EAC Secretariat was taking measures towards mitigating the spread of the virus and has for the last week of August 2021 closed its offices for fumigation.
The two executives deliberated on priority areas of collaboration and partnership geared towards supporting the regional integration agenda.

Dr. Mathuki denoted the need to strengthen EAC's efforts towards responding to Covid-19 and economic recovery, as well as e-commerce, digitalization, and capacity building.
"Peace is a critical component of sustainable development which enables a society to sustain a healthy business environment. Support towards this sector is critical, and there is need to identify underlying factors that will enable us to address direct and structural insecurity," he said.

On his part, H.E Tae-ick congratulated Dr. Mathuki on his appointment and efforts in reviving relations among development partners since taking office.
The Ambassador also affirmed his Government's commitment to supporting the African region. "The African region and Republic of Korea have a long-serving history. It is important that we establish areas of cooperation that are beneficial to East Africans," he said.
For more information, please contact:
Simon Peter Owaka
Senior Public Relations Officer
Corporate Communications and Public Affairs Department
EAC Secretariat
Arusha, Tanzania
Tel: +255 768 552087
Email: sowaka [at] eachq.org
About the East African Community Secretariat:
The East African Community (EAC) is a regional intergovernmental organisation of six Partner States, comprising Burundi, Kenya, Rwanda, South Sudan, Tanzania and Uganda, with its headquarters in Arusha, Tanzania.
The EAC Secretariat is ISO 9001: 2015 Certified