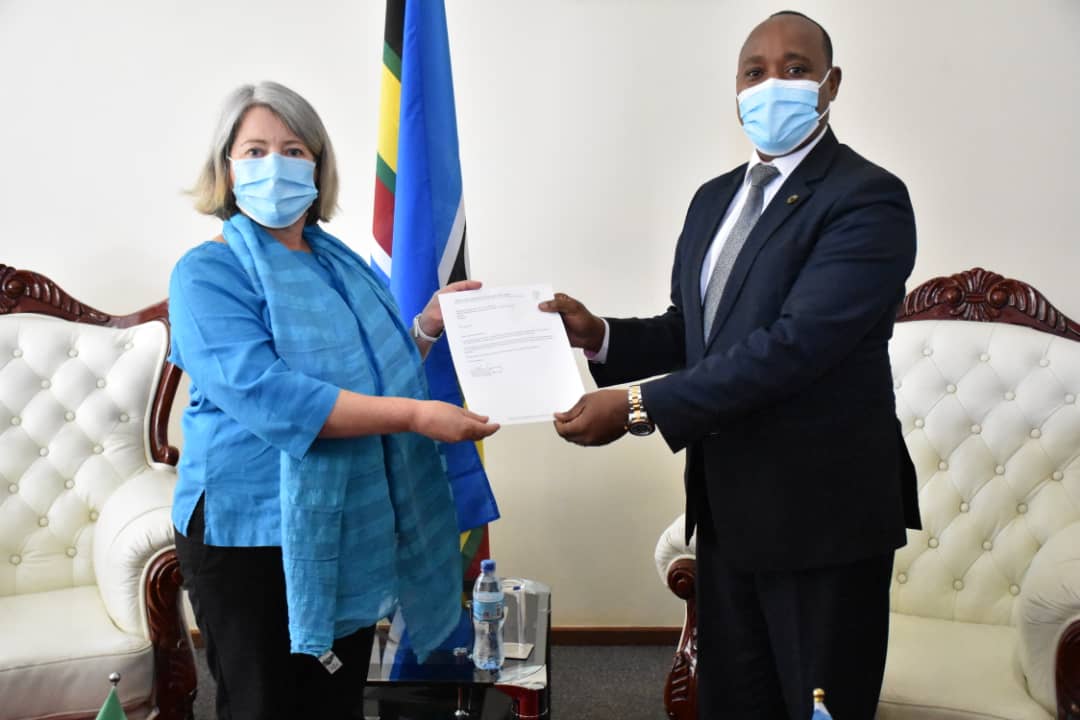 Irish Ambassador to Tanzania accredited to EAC
East African Community Headquarters, Arusha, Tanzania, 7th July, 2021: The Irish Ambassador to Tanzania, H..E. Mary O'Neil has been credited to the East African Community.
Amb. O'Neil presented her credentials from the Irish Ministry of Foreign Affairs to the EAC Secretary General, Hon. (Dr.) Peter Mathuki, at the EAC Headquarters in Arusha, Tanzania.
Receiving the Irish envoy, Dr. Mathuki said that the EAC was a fast growing regional economic community with increasing opportunities for investment. Dr. Mathuki informed the Ambassador that the EAC was a strategic place to invest and live in, adding that it was also endowed with abundant natural resources.
Dr. Mathuki further told the envoy that the EAC was currently focused on eliminating non-tariff barriers to trade (NTBs) and increasing intra-regional trade by putting in place a Trade Remedies Committee as a mechanism to resolve trade disputes in the region.
On the COVID-19 pandemic, the Secretary General said that there was need for a coordinated approach to harmonisation of testing procedures and charges, mutual recognition of COVID test certificates across the board in all Partner States.
Dr. Mathuki observed that COVID had revolutionized the way things were done in the business world by revitalizing e-commerce whereby purchases and payments are now done virtually.
The Secretary General said that the EAC Customs Union was yet to be fully operationalised, adding that Partner States had agreed on the first three bands for the Common External Tariff with negotiations for the 4th band still underway.
"Under the Common Market Protocol, Partner States are still trying to harmonise travel documents to be used across the region and the adoption by all countries of the EAC Single Tourist Visa," added Dr. Mathuki.
On the East African Monetary Union, Dr. Mathuki informed Ambassador O'Neil that 1st July, 2021 was the commencement date for the East African Monetary Institute, which would be hosted by any of the Partner States that expresses interest. He added that work was also underway to establish institutions that would make the Monetary Union functional even as efforts continue to harmonise monetary and fiscal policies in the region.
On the proposed EAC Political Confederation, Dr. Mathuki said that the Community was currently engaging members of the public through awareness creation and leaders' forums to pick their views on what kind of a political confederation they would want.
On her part, Ambassador O'Neil told the Secretary General that Ireland's policy on vaccination against COVID was that no one in the world was safe until everyone is safe. The envoy hailed Tanzania for joining the COVAX Facility, the global pooled procurement mechanism for COVID-19 vaccines to ensure fair and equitable access to vaccines for all participating countries.
Amb. O'Neil said that Ireland was very much in support of integration initiatives all over the world due to her experience as a member of the European Union.
"Ireland is now a key contributor to the EU rather than just being a beneficiary due to our strongly improved economy that has come about due to the integration in Europe," she said.
She disclosed that the Irish embassies in Kenya, Tanzania and Uganda working closely to promote trade between Ireland and the EAC Partner States, adding that Ireland was working on institutional partnerships in agricultural research and livestock production with relevant government ministries and institutions in the region. She said that the purpose of these partnerships was to promote agri-business between Ireland and East Africa.
"We also have a fellowship programme with 35 East Africans studying in Ireland at Masters level annually with a focus on business and entrepreneurship development," said Amb. O'Neil, adding that her country had a special interest on women in business.
"Ireland emerged from rural farming communities. We therefore have a strong appreciation for agriculture, agribusiness and trade," said Amb. O'Neil.
For more information, please contact:
Simon Peter Owaka
Senior Public Relations Officer
Corporate Communications and Public Affairs Department
EAC Secretariat
Arusha, Tanzania
Tel: +255 768 552087
Email: sowaka [at] eachq.org
About the East African Community Secretariat:
The East African Community (EAC) is a regional intergovernmental organisation of six Partner States, comprising Burundi, Kenya, Rwanda, South Sudan, Tanzania and Uganda, with its headquarters in Arusha, Tanzania.
The EAC Secretariat is ISO 9001: 2015 Certified