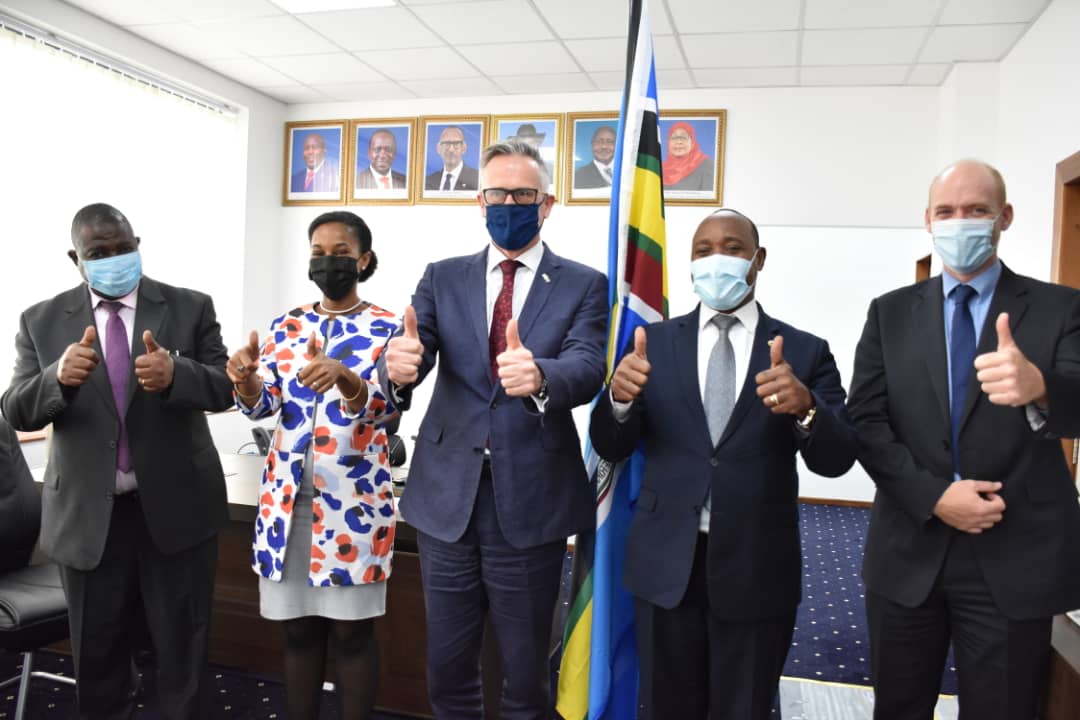 UK High Commissioner to Tanzania and EAC meets EAC Secretary General
East African Community Headquarters, Arusha, Tanzania, 06th July, 2021: The UK High Commissioner to Tanzania and the EAC, H.E. David Concar, on Tuesday paid a courtesy call on EAC Secretary, Hon. (Dr.) Peter Mathuki, at the EAC Headquarters in Arusha, Tanzania.
H.E. Concar assured the Secretary General that it was his country's policy that Sub-Saharan Africa should not be sidelined when it comes to accessing COVID-19 vaccines.
He urged the EAC and Partner States to build back better after the pandemic by using the crisis to accelerate reforms and progress to ensure that the health sector and other systems were much better than they were before the onset of COVID.
"A post-COVID world will certainly be different from what we have now. We can't go back to business as usual," said the envoy.
The High Commissioner said that the onus was on countries with COVID-19 vaccines manufacturing capacity to increase production purposely to avail the commodity at low or zero cost to poor countries in Africa and the third world.
H.E. Concar informed the Secretary General that the UK was one of the biggest contributors to COVID-19 vaccine initiatives as part of measures to mitigate the devastating impact of the pandemic.
The High Commissioner, however, said that population testing and surveillance in all countries would be key to the success of global vaccination initiatives against COVID.
The UK envoy acknowledged that there were currently travelling difficulties between the UK and EAC Partner States, adding that population testing, public health measures and data on COVID were key to unlocking the impasse.
On his part, EAC Secretary General Dr. Mathuki said that information and awareness creation would be important in the uptake of vaccines in the region and elsewhere, noting that there was currently a lot of misinformation surrounding vaccination initiatives.
Dr. Mathuki informed the envoy that there was pressure from the private sector and EAC citizens on Partner States to harmonise testing and the costs of testing for COVID in addition to acceptance of COVID-19 tests across national borders.
The SG told the High Commissioner that there was a new enthusiasm for intra-regional trade and integration in the region with the EAC Heads of State focused on creation of jobs for the youth, poverty alleviation, industrialization and economic growth, adding that the private sector would be key to fulfilling these objectives.
Dr. Mathuki said that the region was open for business and investment and greater foreign direct investment inflows were therefore expected.
On potential trade rivalry within the EAC, Dr. Mathuki said that Partner States should focus more on complementing rather than competing with one another in as far as intra-regional trade was concerned.
He said the focus was on the law of comparative advantages where each Partner State would specialize in selected areas where they had huge potential to facilitate intra-regional trade.
Dr. Mathuki said increasing intra-regional trade was crucial as intra-EAC trade currently stands at less than 15% as compared to the EU where it was almost 70% and the Association of South East Asian Nations where it ranges at over 60%.
Also present at the event were the EAC Deputy Secretary General in charge of Planning and Infrastructure, Eng. Steven Mlote, Mr. Tim Bushell, Infrastructure Adviser at DFID and Ms. Anna-Maria Mbwette, Country Director/Head of Trade Policy and Investment at the British High Commission in Dar es Salaam.
For more information, please contact:
Simon Peter Owaka
Senior Public Relations Officer
Corporate Communications and Public Affairs Department
EAC Secretariat
Arusha, Tanzania
Tel: +255 768 552087
Email: sowaka [at] eachq.org
About the East African Community Secretariat:
The East African Community (EAC) is a regional intergovernmental organisation of six Partner States, comprising Burundi, Kenya, Rwanda, South Sudan, Tanzania and Uganda, with its headquarters in Arusha, Tanzania.
The EAC Secretariat is ISO 9001: 2015 Certified