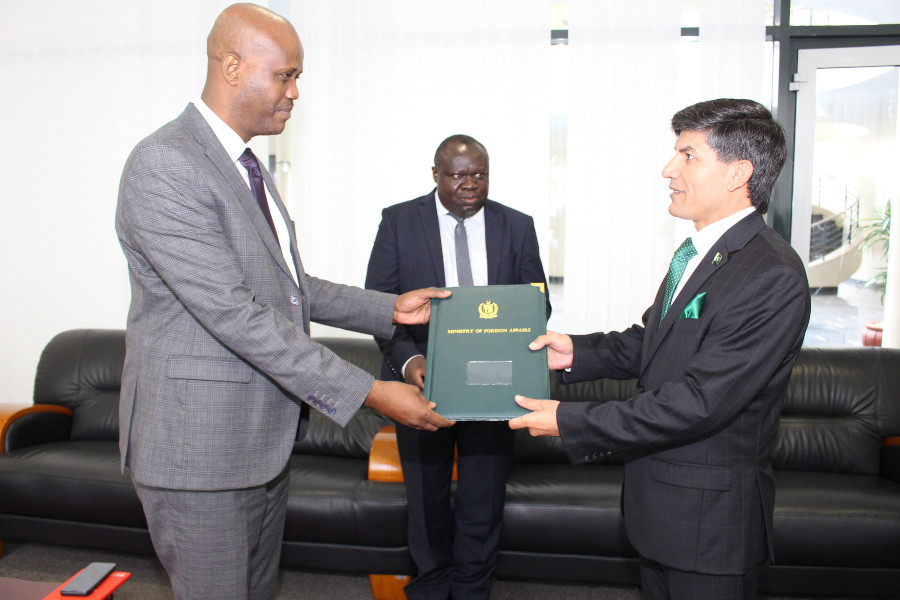 New Pakistani envoy accredited to the EAC
East African Community Secretariat, Arusha, Tanzania, 09th February, 2021: The High Commissioner of the Islamic Republic of Pakistan to the United Republic of Tanzania, Amb. Muhammad Saleem, has today been accredited as the country's representative to the East African Community.
The High Commissioner presented his letter of credence to EAC Secretary General, Amb. Liberat Mfumukeko, at the EAC headquarters in Arusha, Tanzania.
Receiving the Pakistani High Commissioner, EAC Secretary General Amb. Liberat Mfumukeko disclosed that the EAC was undertaking tangible programmes and projects to realise the dream of an integrated region.
Amb. Mfumukeko cited trade, infrastructure development, healthcare, EAC Centres of Excellence and education as among sectors where the Community had recorded significant achievements.
The SG informed the High Commissioner that the EAC was now a Single Customs Territory and that Pakistani businesses setting up in one Partner State would therefore be guaranteed access to the wider East African market.
The SG described Pakistan as a fast growing economy in Asia with a GDP worth US$287 billion (2019) saying it was a country that EAC Partner States could do business, adding that the Community would explore areas of cooperation with Asian country.
"Pakistan is a potential huge market that EAC needs to exploit. The two parties therefore need to explore areas of cooperation and investment," said Amb. Mfumukeko, adding that EAC would arrange a business delegation to visit Pakistan as soon as is feasible.
Among the potential areas of cooperation discussed by the two leaders were in the agro-based industries namely production of fertilisers and pesticides, textile manufacture, higher education, and the provision of health supplies and hospital equipment.
On his part, the Pakistani envoy invited the SG to lead a delegation of business-people from the region to visit Pakistan for purposes of exploring potential areas of partnerships in investment.
Amb. Saleem said that there was very strong wave in Pakistan to engage more with the EAC region.
He disclosed that Pakistan imported raw cotton worth US$50 million from Tanzanian last year, adding that other potential export crops from the region include palm oil, coconuts and cashew nuts.
"Economic diplomacy for Pakistan is not about our country dumping goods in East Africa. We are seeking a win-win situation for Pakistan and East Africa," said Amb. Saleem. He added that education and vocational training were also areas where East Africa would benefit immensely from cooperation with Pakistan.
Also present at the ceremony was the EAC Deputy Secretary General in charge of the Productive and Social Sectors, Hon. Christophe Bazivamo, the EAC Principal International Relations Officer, Ms Suma Mwakyusa, and Mr. Nafees Wahab, the Administrative and Consular Attache at the Pakistani Embassy in Dar es Salaam, Tanzania.
"Pakistanis constitute the fourth largest population of skilled workers in the Silicon Valley after the US, India and Romania. Pakistan also exports vast amounts of ICT apps to US companies including Apple," said the Pakistani High Commissioner.
Amb. Saleem said that Pakistan was ready to support EAC's industrialization plans in diverse sectors but especially in areas where his country had built capacity for several decades, namely: sugar processing, textile manufacture, cement and fertiliser manufacturing, and pharmaceuticals.
For more information, please contact:
Simon Peter Owaka
Senior Public Relations Officer
Corporate Communications and Public Affairs Department
EAC Secretariat
Arusha, Tanzania
Tel: +255 768 552087
Email: sowaka [at] eachq.org
About the East African Community Secretariat:
The East African Community (EAC) is a regional intergovernmental organisation of six Partner States, comprising Burundi, Kenya, Rwanda, South Sudan, Tanzania and Uganda, with its headquarters in Arusha, Tanzania.
The EAC Secretariat is ISO 9001: 2015 Certified