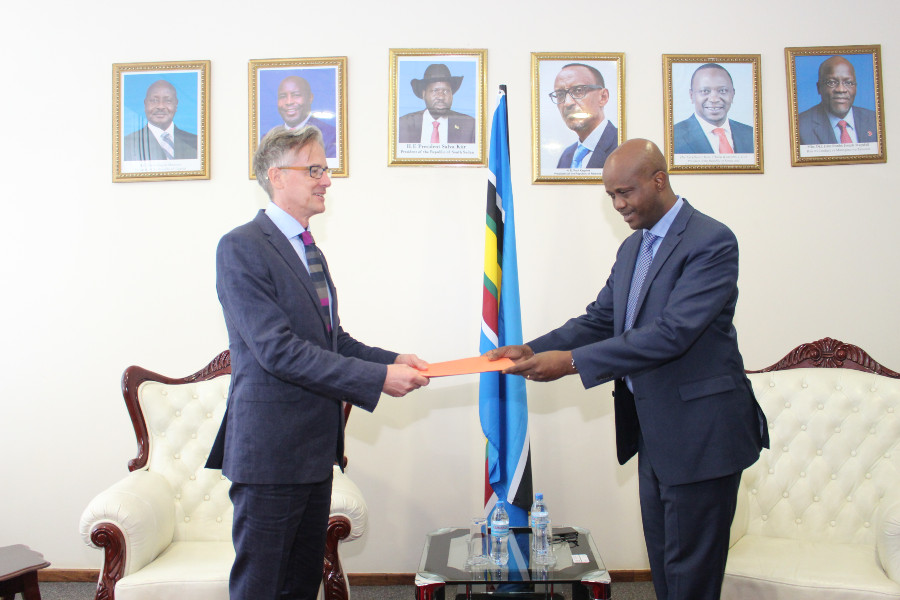 EAC receives credentials from British and Swiss Ambassadors
East African Community , Arusha , Tanzania, 10 th November, 2020:The East African Community Secretary General, Amb. Liberat Mfumukeko today received credentials from H.E David Concar, British High Commissioner to the United Republic of Tanzania, and H.E Didier Chassot, Swiss Ambassador to United Republic of Tanzania.
Speaking with the British High Commissioner, Amb. Mfumukeko hailed the strong relations existing between the EAC and Britain and commended the British government for its dedicated support to the EAC integration process.
The Secretary General shared the progress made by the EAC in the four pillars of integration namely the Customs Union, Common Market, Monetary Union and Political Federation. He added that the Community had made great strides in the four pillars due to the political goodwill of its leaders and the support from the UK through TradeMark East Africa as well as other Development Partners.
On his part, the British High Commisioner said that his appointment was an expression of the British Government's faith in the EAC integration project and lauded the bloc for "creating a sense of mutual confidence and stability" among the countries of the East African region.
The British High Commissioner commended the EAC Secretariat for the good work that has led to the attainment of several achievements, and assured the Secretary General of his country's commitment to continue supporting the integration process.
The British envoy, who pledged the United Kingdom's continued support to the EAC, believes the bloc has an important role to play in promoting economic development and lifting East Africans out of poverty.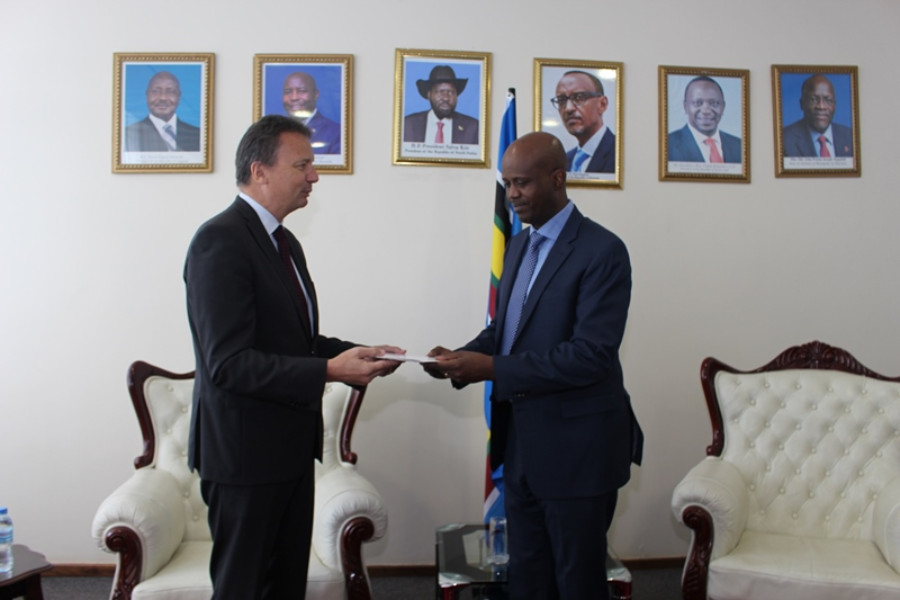 The EAC Secretary General also received credentials from the Switzerland Ambassador to United Republic of Tanzania, H.E Didier Chassot. During the occasion, Amb Mfumukeko commended the Swiss government for its support to the EAC and noted that all Partner States enjoy a strong relationship with Switzerland, which he observed played a significant role in promoting the integration efforts.
"This accreditation provides a new diplomatic thrust that will enhance the value of the EAC- Switzerland relationship", said Amb. Mfumukeko.
Ambassador Chassot hailed the Secretary General for the good work done in deepening the regional integration agenda. He said achieving the Customs Union and the Common Market and moving towards a Monetary Union within such a short time for the Community was commendable.
He noted that the EAC had made significant achievements including promoting regional trade and infrastructure development, adding that Switzerland was keen on providing support to drive the integration process forward.
For more information please contact:

Simon Peter Owaka
Senior Public Relations Officer
Corporate Communications and Public Affairs Department
EAC Secretariat
Arusha, Tanzania
Tel: +255 768 552087
Email: sowaka [at] eachq.org
About the East African Community Secretariat:
The East African Community (EAC) is a regional intergovernmental organisation of six Partner States, comprising Burundi, Kenya, Rwanda, South Sudan, Tanzania and Uganda, with its headquarters in Arusha, Tanzania.