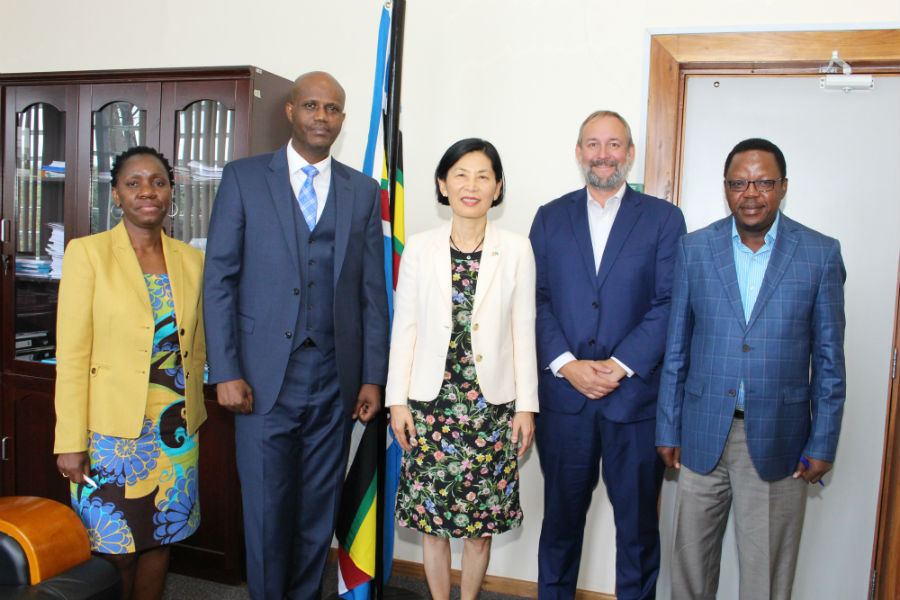 US Envoy pays courtesy call on EAC Secretary General
East African Community Headquarters, Arusha, Tanzania, 9th October, 2019: The Charge d'Affaires at the US Embassy in Dar es Salaam, Tanzania, H.E. Dr. Inmi K. Patterson, today paid a courtesy call on the EAC Secretary General, Amb. Liberat Mfumukeko, at the EAC Headquarters in Arusha, Tanzania.
The Secretary General briefed Dr. Patterson on the status of the integration process within the Community including the various projects that were being implemented in the region.
Amb. Mfumukeko assured Dr. Patterson that the security situation in the region was good with all the six Partner States enjoying peace.
In her remarks, Dr. Patterson proposed that EAC and the World Health Organization in collaboration with the US Embassy look into the possibility of organizing a meeting on emergency preparedness in the region with a view to ensuring that cross-border travel within the Partner States does not increase the spread of infectious diseases such as Ebola.
In his response, Amb. Mfumukeko welcomed the proposal from Dr. Patterson of EAC working together with WHO on emergency preparedness, adding that the EAC Secretariat will take up the matter and act on it accordingly.
- ENDS -
For more information, please contact:
Simon Peter Owaka
Senior Public Relations Officer
Corporate Communications and Public Affairs Department
EAC Secretariat
Arusha, Tanzania
Tel: +255 768 552087
Email: sowaka [at] eachq.org
About the East African Community Secretariat:
The East African Community (EAC) is a regional intergovernmental organisation of six Partner States, comprising Burundi, Kenya, Rwanda, South Sudan, Tanzania and Uganda, with its headquarters in Arusha, Tanzania.
The EAC Secretariat is ISO 9001: 2008 Certified