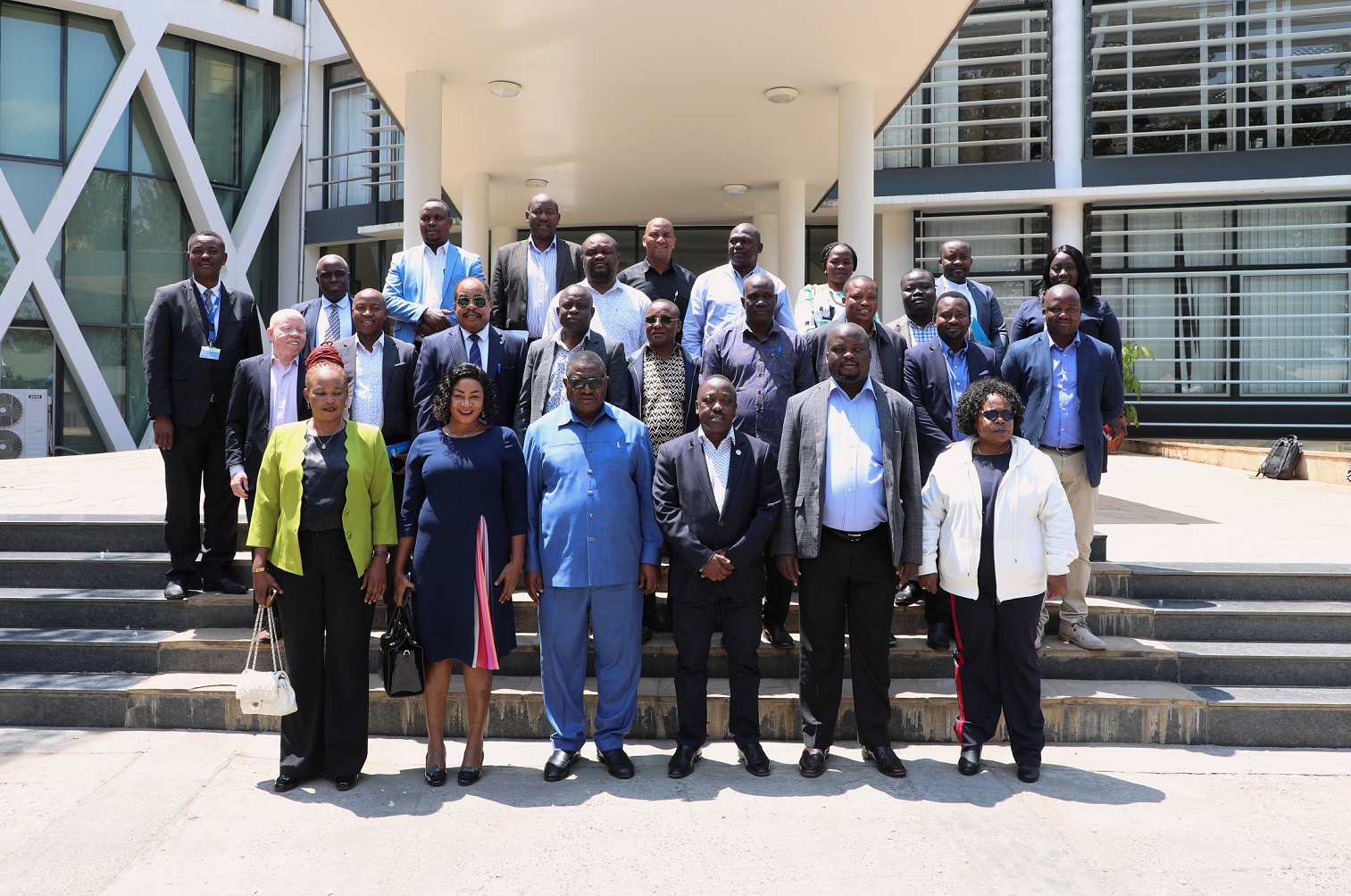 EAC Secretariat reaffirms commitment to infrastructure developemnt to boost intra-regional trade
East African Community Headquarters, Arusha, Tanzania, 5th September, 2022: The East African Community (EAC) Deputy Secretary General in charge of Planning and Infrastructure, Eng. Steven Mlote, has reaffirmed the commitment of the EAC Secretariat to infrastructure development aimed at boosting intra-regional trade and free movement of persons across the Community's seven (7) Partner States.
Eng. Mlote assured a visiting delegation from the Parliament of the United Republic of Tanzania (URT) Parliamentary Committee responsible for Foreign Affairs, Defence and Security of the EAC's readiness to implement various infrastructure projects coordinated jointly by the Secretariat and Partner States.
The committee led by its Chairperson, Hon Vita Rashid Kawawa, was on a one-day working tour to the EAC Headquarters in Arusha over the weekend. They also toured the 42.4 km Arusha ByPass road, which was launched by the EAC Head of States in July this year.
Eng. Mlote cited ongoing infrastructure development projects including the Arusha-Holili-Taveta-Void road, Malindi-Mombasa-Lunga Lunga/Horo Horo-Tanga-Bagamoyo road, Nyakanazi-Kasulu-Manyovu-Rumonge-Bujumbura road, Lusahunga-Rusumo/Kayonza-Kigali road, Masaka-Mutukula/Mutukula-Kyaka road and Bugene-Kasulo-Kumunazi road.
"Other projects are Uvinza-Kanyani, Uvinza-Mpanda and Kibondo-Mabamba/Gisuru-Rusengo and Makebuko-Bugarama roads, Kakira– Malaba and Busitema– Busia-Kisumu-Kisian-Busia (proposed expressway) road," said Eng. Mlote.
On his part, Hon. Kawawa the committee's gratitude for information shared by the EAC Secretariat and requested that the entire URT Parliament should be informed about the ongoing programmes and projects aim to ease transportation in the region.
"Infrastructure is a very important enabler in the EAC region in terms of helping to transport farm produce and different goods to the market," said Kawawa.
Notes to Editors:
Article 89 of the Treaty for the Establishment of the EAC provides for coordinated construction, maintenance, upgrading, rehabilitation and integration of roads in the region. In order to promote the achievement of infrastructure related objectives as set out in the Treaty, the Partner States undertake to improve and expand the existing transport and communication links and establish new ones as a means of furthering the physical cohesion and connectivity of the Partner States, so as to facilitate and promote the movement of traffic (people and goods) within the Community.
For more information, please contact:
Simon Peter Owaka
Senior Public Relations Officer
Corporate Communications and Public Affairs Department
EAC Secretariat
Arusha, Tanzania
Tel: +255 768 552087
Email: sowaka [at] eachq.org
About the East African Community Secretariat:
The East African Community (EAC) is a regional intergovernmental organisation of six Partner States, comprising Burundi, Kenya, Rwanda, South Sudan, Tanzania and Uganda, with its headquarters in Arusha, Tanzania.
The EAC Secretariat is ISO 9001: 2015 Certified