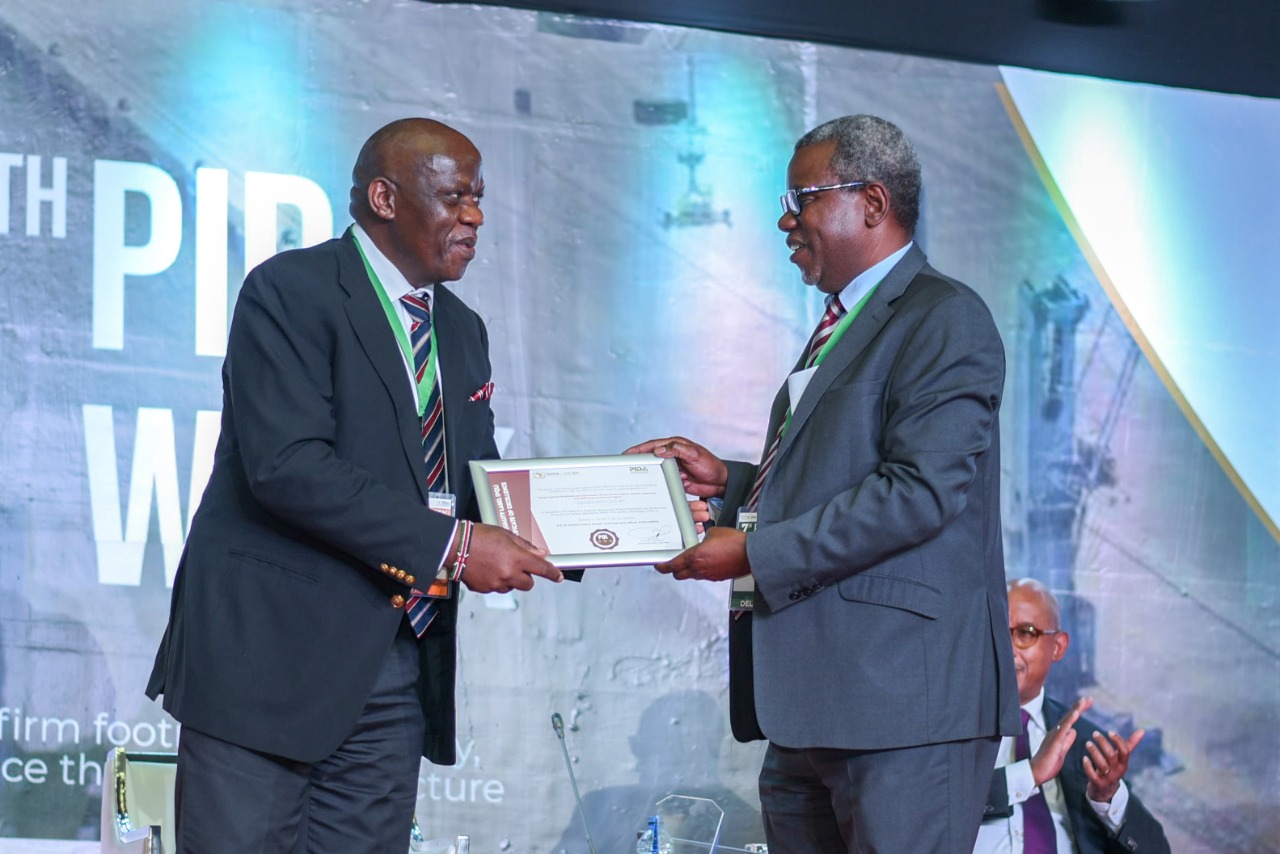 EAC Secretariat receives top award during 7th PIDA Week held in Nairobi
East African Community Headquarters, Arusha, Tanzania, 08th March, 2022: The EAC Secretariat is among three institutions in Africa to be recognized by the African Union Commission (AUC) for excellence in project preparation especially feasibility studies and designs.
The EAC received the Program for Infrastructure Development in Africa (PIDA) Quality Label (PQL) Award during the 7th PIDA Week that was held in Nairobi, Kenya from 28th February to 2nd March, 2022.
The PQL is an award established by the African Union Development Agency (AUDA-NEPAD) for projects that have undergone the process of moving from project conceptualization to being availed funds for studies and designs. This is an inaugural award that will be issued annually during the PIDA Week.
The EAC project that received the award is the Multinational Kenya/Uganda: Kisumu – Kisian – Busia / Kakira – Malaba & Busitema – Busia proposed Expressway. This is a section of the Northern Corridor and covers a distance of 115 km in Kenya and 147 km in Uganda. It links to the proposed Rironi – Mau Summit Expressway in Kenya and the Kampala – Jinja Expressway in Uganda. When completed, the project will contribute to enhanced regional trade by reducing travel times, improve road safety and promote inter-modal transport services between road, rail and lake transport.
Receiving the award on behalf of the Secretary General, the Director for Infrastructure Dr. Kamugisha Kazaura thanked AUDA NEPAD for leveraging funding from GIZ, which enabled the preparation of the Project Concept Memorandum that was instrumental in convincing the Board of the African Development Bank to approve the funding for the project, amounting to US$1.4 million.
Dr. Kazaura also thanked the NEPAD Infrastructure Project Preparation Facility for supporting the EAC over the years, which has seen the preparation to bankability of seven major cross-border road projects over the last 15 years, including the flagship Arusha – Namanga – Athi River Road.
He called upon other development partners to emulate the AfDB to support early projects preparation, which is the key phase that determines the viability of projects and is the guide that assists investors to make decisions on financing of projects.
For more information, please contact:
Simon Peter Owaka
Senior Public Relations Officer
Corporate Communications and Public Affairs Department
EAC Secretariat
Arusha, Tanzania
Tel: +255 768 552087
Email: sowaka [at] eachq.org
About the East African Community Secretariat:
The East African Community (EAC) is a regional intergovernmental organisation of six Partner States, comprising Burundi, Kenya, Rwanda, South Sudan, Tanzania and Uganda, with its headquarters in Arusha, Tanzania.
The EAC Secretariat is ISO 9001: 2015 Certified