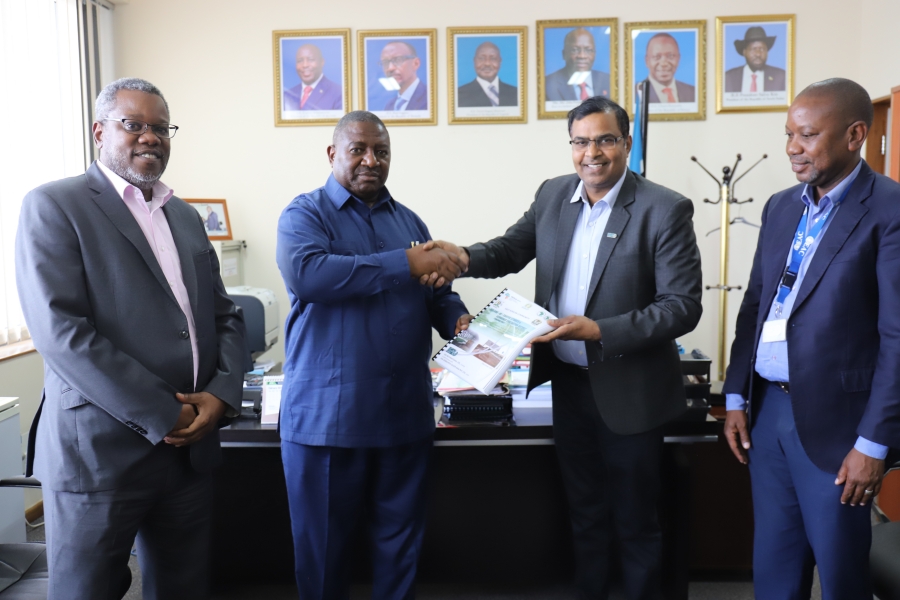 Construction of key EAC Multinational Road Project to kick off soon
East African Community, Arusha, Tanzania, 23rd January, 2021:The construction of the multinational Tanzania –Uganda Road Project of Masaka – Kyotera - Mutukula/ Mutukula – Kyaka and Bugene – Kasulo – Kumunazi is on the way after the conclusion of Feasibility Study and Detailed Engineering Design funded by the African Development Bank (AfDB) under the NEPAD-IPPF facility.
The designs, done by M/S LEA International Limited from Canada in a joint venture with LEA Associates Asia Pvt Ltd from India, covered 89.5 kilometers of the Masaka to Mutukula road section in Uganda; a 30 km section from Mutukula to Kyaka linking to a 133 km Tanzania section from Bugene to Kumunazi via Kasulo.
Speaking during the handover ceremony of the designs report, the EAC Deputy Secretary General in charge of Planning and Infrastructure, Eng. Steven Mlote thanked AfDB for the financial support that had enabled EAC to undertake the feasibility study and design of the multi-million-dollar road project between Uganda and Tanzania.
The Deputy Secretary General said that the purpose of multinational road network is to facilitate the development of the regional road transport market in the East African region.
Eng. Mlote disclosed that the EAC Secretariat will now focus on mobilization of funds to construct the road, as well as cooperation with other regional, continental and global efforts to improve road transport services and safety.
The EAC official also disclosed that the detailed designs of the 400 km long Malindi – Lunga Lunga and Tanga – Bagamoyo road between Kenya and Tanzania have been completed and the AfDB has agreed to finance the project at the cost of US$322 million.
In addition, the detailed designs of the 250 km Nyakanazi – Kasulu – Manyovu road in Tanzania which links to the 78 km Rumonge – Bujumbura road in Burundi; and the 92 km Lusahunga – Rusumo road in Tanzania linking to the 70 km Kayonza – Kigali road in Rwanda have also been completed.
Also present at the event were Eng. Kamugisha Kazaura, Director of Infrastructure, and Suleiman Athuman, Senior Materials and Pavement at the EAC Secretariat as well as Eng. Brijesh Kumar, from LEA International in Association with LASA India.
Notes to Editors
In November, 2017 the EAC Secretariat signed a Financing Agreement of US$1,151,515 with the AfDB to finance the Project Preparation Phase of three (3) key Multinational Road Sections between Masaka in Uganda to Kumunazi in Tanzania. The consultancy contract was signed in August 2018 with the consultant, M/s LEA international Limited in a joint venture with LEA Associate.
For more information, please contact:
Simon Peter Owaka
Senior Public Relations Officer
Corporate Communications and Public Affairs Department
EAC Secretariat
Arusha, Tanzania
Tel: +255 768 552087
Email: sowaka [at] eachq.org
About the East African Community Secretariat:
The East African Community (EAC) is a regional intergovernmental organisation of six Partner States, comprising Burundi, Kenya, Rwanda, South Sudan, Tanzania and Uganda, with its headquarters in Arusha, Tanzania.
The EAC Secretariat is ISO 9001: 2015 Certified