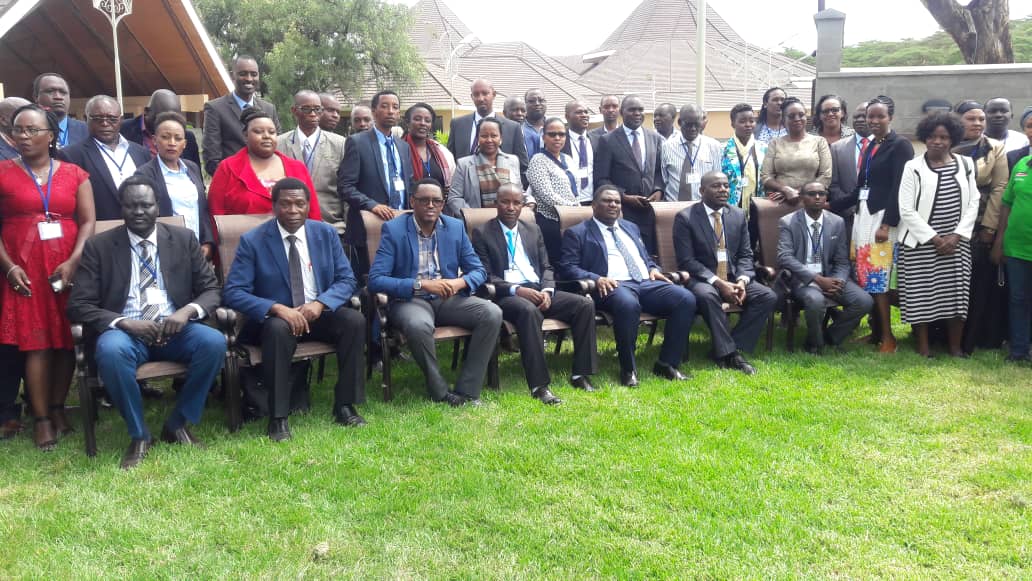 Meeting to improve Air Transport in EAC concludes in Naivasha, Kenya
East African Community Headquarters, Arusha, 20th May, 2019: The 45th East African Community Consultative Meeting aimed at improving Air Transport in the region concluded on Friday 17th May, 2019, at Lake Naivasha Resort in Naivasha, Kenya.
The EAC Consultative meeting on facilitation of Air Transport is a forum for discussion on issues that affect Air Transport in the region in order to comply with Annex 9 (Air Transport Facilitation) and Annex 17 (Aviation Security) of the Chicago Convention on International Civil Aviation. The meeting refers to the ICAO international standards and recommended practices and proposes appropriate recommendations to be implemented by the Partner States at the various EAC international Airports. It is hosted by EAC Partner States, twice a year on rotational basis.
Addressing the delates from the EAC Partner States, the Principal Secretary in the Republic of Kenya's State Department of Transport, Ministry of Transport, Infrastructure, Housing, Urban Development and Public Works, Ms. Esther Koimett underscored the importance of EAC Air Transport facilitation forum in ensuring the smooth movement of passengers, goods and aircrafts at all EAC international airports.
The Principal Secretary, who was represented by the Principal Air Transport Officer, Mr. Benjamin Enyenze, urged Partner States to continuously respond to emerging challenges in order to cope with aviation and non-aviation demands as well as strive to meet international standards. She reminded the participants that Air transport plays a key role in the promotion of trade, tourism and economic growth of the region.
"Air Transport facilitation is an important aspect of aviation and the EAC airports have to continuously enhance capacity of existing infrastructure to be able to cope with future aviation demands, meet international requirements and contend with the ever changing threats against Civil Aviation", noted Ms. Koimett, adding that "the solutions to the challenges we face with regard to infrastructure, safety, security and environmental concerns require a consultative approach in a forum like this".
The two-day Forum was attended by representatives from Ministries, Departments and Agencies, Civil Aviation and Airport Authorities, Airlines, Customs, Immigration and other stakeholders from all the Partner States. Mr. Eric Ntagengerwa, the Principal Civil Aviation Officer, represented the EAC Secretariat.
The 45th EAC Consultative meeting of Air Transport commenced with a visit of the various facilities at the Jomo Kenyatta International Airport (JKIA). The participants commended the Republic of Kenya for proper coordination of various stakeholders at both Cargo and passenger terminals and for putting in place clean and well organized facilities at both the cargo shed and within terminal buildings, enhancing air transport facilitation and security.
The participants also suggested areas of improvements at the Airport including, among others, the need to screen imported goods at the cargo terminal for security reasons, to put in place quarantine area for contaminated animals, and to ensure uniformity of application of disembarkation cards on immigration at arrival.
The meeting further discussed and agreed among other recommendations, to ensure continuous improvement of clearance processes at the EAC international Airports, to introduce online payment systems for all Air operators, to fully implement paperless immigration process, to share information on people involved in pilferage at EAC Airports for monitoring purpose, and to increase their non-aeronautical revenue streams so as to reach a 30:70 ratio by 2020.
The meeting also agreed on important emerging issues in Air Transport that will be discussed in the next EAFAL meetings including, but not limited to Airport facilitation and customer satisfaction, passenger data exchange systems, Airport Collaboration Decision Making (ACDM) and development of regulations to govern/facilitate operations of drones in EAC.
Notes to Editors
The ANNEXE 9 to the Convention on International Civil Aviation Air Transport Facilitation
The Standards and Recommended Practices (SARPs) on Facilitation (FAL) are derived from several provisions of the Chicago Convention. Article 37 obliges ICAO to adopt and amend from time to time international standards and recommended practices and procedures dealing with, inter alia, customs and immigration procedures. Article 22 obliges each Contracting State to adopt all practicable measures to facilitate and expedite navigation by aircraft between the territories of Contracting States, and to prevent unnecessary delays to aircraft, crews, passengers, and cargo, especially in the administration of the laws relating to immigration, quarantine, customs and clearance. Article 23 of the Convention expresses the undertaking of each Contracting State to establish customs and immigration procedures affecting international air navigation in accordance with the practices established or recommended pursuant to the Convention.
Annex 17 to the Convention on International Civil Aviation Security - Safeguarding International Civil Aviation against Acts of Unlawful Interference
The dramatic increase in crimes of violence, which adversely affected the safety of civil aviation during the late 1960's, resulted in an Extraordinary Session of the ICAO Assembly in June 1970. One of the resolutions of that Assembly called for specifications in existing or new Annexes to the Chicago Convention to specifically deal with the problem of unlawful interference, in particular with unlawful seizure of aircraft. Following the work of the Air Navigation Commission, the Air Transport Committee, and the Committee on Unlawful Interference, Standards and Recommended Practices on Security were adopted by the Council on 22 March 1974 and designated as Annex 17 – Security. This Annex sets out the basis for the ICAO civil aviation security programme and seeks to safeguard civil aviation and its facilities against acts of unlawful interference. Of critical importance to the future of civil aviation and to the international community at large are the measures taken by ICAO to prevent and suppress all acts of unlawful interference against civil aviation throughout the world.
Annex 17 is primarily concerned with administrative and co-ordination aspects, as well as with technical measures for the protection of the security of international air transport, requiring each Contracting State to establish its own civil aviation security programme with such additional security measures as may be proposed by other appropriate bodies.
Annex 17 also seeks to co-ordinate the activities of those involved in security programmes. It is recognized that airline operators themselves have a primary responsibility for protecting their passengers, assets and revenues, and therefore States must ensure that the carriers develop and implement effective complementary security programmes compatible with those of the airports out of which they operate.
-ENDS-
For more information, please contact:
Mr Owora Richard Othieno
Head, Corporate Communications and Public Affairs Department
EAC Secretariat
Arusha, Tanzania
Tel: +255 784 835021
Email: OOthieno [at] eachq.org
About the East African Community Secretariat:
The East African Community (EAC) is a regional intergovernmental organisation of five Partner States, comprising Burundi, Kenya, Rwanda, Tanzania and Uganda, with its headquarters in Arusha, Tanzania.
The EAC Secretariat is ISO 9001:2008 Certified