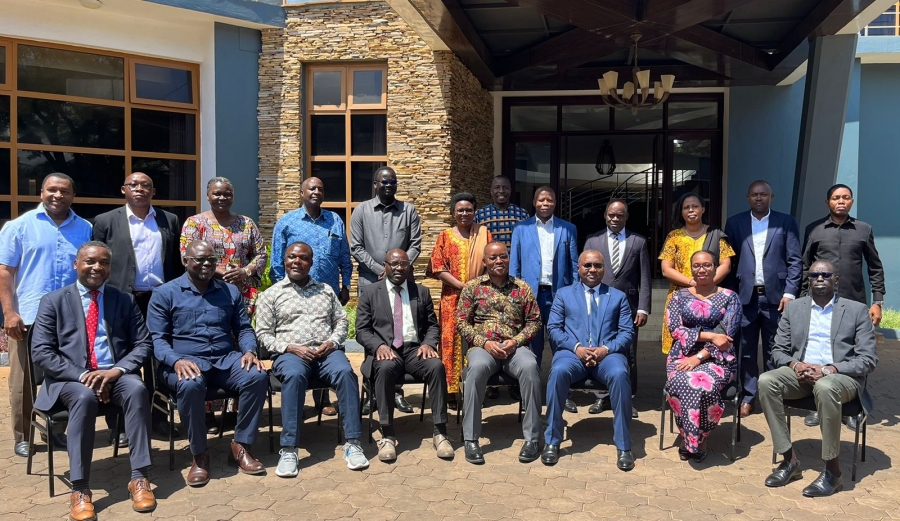 38th Extra-Ordinary Meeting of the Sectoral Council on Trade, Industry, Finance and Investment dedicated to Industrialisation concluded in Kilimanjaro, Tanzania
East African Community Headquarters, Arusha, Tanzania, 3rd March, 2023: The 38th Extra Ordinary Meeting of the Sectoral Council on Trade, Industry, Finance and Investment (Ex-SCTIFI) dedicated to Industrialization concluded over the weekend in Kilimanjaro, United Republic of Tanzania.
The five-day meeting from 28th March to 1st April, 2023 considered the progress of the reports of the implementation of the directives in the sector, Cotton, Textiles and Apparel (CTA) Strategy; Leather & Leather Products Strategy and Automotive Industry Action Plan.
In addition, the meeting considered EAC Industrialization Policy Implementation Action Plan; the development of Micro, Small and Medium Enterprises; Fruits and Vegetables Strategy and Action Plan; and Pharmaceutical Manufacturing Plan of Action.
After deliberations, the Extra-Ordinary Sectoral Council adopted a Quality Management Self-Assessment Tool for Micro, Small and Medium (MSMEs) Enterprises'; the Terms of Reference for a Micro, Small and Medium (MSMEs) Enterprises Platform '; the 2nd Action Plan for the Implementation of the EAC Industrial Policy and Strategy, 2023-2028; Regional Policy Framework for the Promotion of Antibiotics Production and Supply; and Regional Cooperation Mechanism for Information Exchange and hold multi-sectoral meeting to operationalize the information exchange among others.
The Sectoral Council noted the focus of the next five years Implementation Action Plan of the Strategy as strengthening the competitiveness of priority regional value chains to boost intra-EAC trade and Leveraging the African Continental Free Trade Area (AfCFTA) and Global Value Chains (GVCs) for export growth and rapid Industrial Sector Transformation; utilization of local sourcing/procurement; supporting the private sector and SMEs resilience for accelerated growth and recovery.
Furthermore, shifting to Green Industrialization Pathways and anchoring sustainability to achieve SDGs and green growth; Improving Policy Coordination and Building Capacity for Industrial Policy Management; Optimizing Infrastructure & Logistics Networks for Spatial Industrial growth and Agglomeration; and Strengthening collaboration in R&D, Technology Tranfer and adotion of Fourth Industrial Revolution (4IR) technologies among others.
As part of promotion of Buy East Africa Build East Africa (BEABEA), the meeting encouraged the Partner States to adopt the use of traditional / folklore wear as official Government dresses for official events; establish digital platforms to support exchange information on harvesting of cotton and trade of cotton lint in order to increase the intra EAC trade on the products.
The Sectoral Council also made proposals on textile and textile articles to be moved to maximum band to stimulate local production; expand the harmonized cotton, Textiles and apparels (CTA) articles under duty remission; and develop modalities of developing leather industrial parks with common effluent treatment; among others.
Speaking during the official opening of the Ministerial session, the Chairperson of the meeting and Minister of Finance, Budget and Economic Planning, from the Republic of Burundi Hon Audace Niyonzima, called on the Partner States to remove the restrictions and bottlenecks that impede industrial development in the region.
He said that "Industrialization, trade, finance and investment are important pillars of integration and their development will help to deepen integration as the region moves towards the next milestone of financial integration",
He called on Partner States to not only put in place clear policies and strategies but also to implement them on the ground to support economic development and employment for the EAC citizens.
On his part, Mr. Jean Baptiste Havugimana, Director of Productive Sectors, making remarks on behalf of the EAC Secretary General, Hon. (Dr.) Peter Mutuku Mathuki, challenged the Partner States to adopt revolutionary and innovative approaches to implementing industrial policies if the anticipated economic growth in the regional policy was to be achieved.
"As a region we are not doing well in meeting the aspirations of the regional industrial policy targets. The Manufacturing Value Addition (MVA) growth has slowed down in recent years, from 5.3 % between 2005 and 2010, to 4.6 % between 2010 and 2021 falling short of the 10% annual growth rate envisaged in the EAC Industrialization Policy (2008-2032) and are no where near the double-digit growth envisioned"
He said that due to the slow pace of MVA growth, relative to Gross Domestic Product (GDP), the share of manufacturing in GDP has been contracting from previously more than 10% a decade ago to less than 8% on average for the region-raising doubts about structural transformation through industrialization.
Mr. Havugimana while acknowledging challenges in implementation of sector strategies occasioned by COVID-19, human and financial resources at the Secretariat, thanked GIZ Support for the Programme on East African Market Driven and People Centered Integration (SEAMPEC), GFA Consulting Group; German Metrology Institute, United Nations Commission of Trade and Development (UNCTAD) and Trade Mark Africa (TMA) for their sustained support in implementing pillars of the sector.
Extra Ordinary Meeting of the Sectoral Council on Trade, Industry, Finance and Investment was attended by representatives from ministries responsible for Industrial Development; EAC Affairs ; Foreign Affairs; Trade; Investment; Enterprises Development; Finance; Economic; Planning; Agriculture ; Livestock; and Private Sector Organizations, Export Processing Zones; Revenue Authorities; Micro, Small and Medium Enterprises Authorities; Export Promotion Organization, Investment Authorities; Medicine Regulatory Agencies; Presidents Office among others.
For more information, please contact:
Simon Peter Owaka
Senior Public Relations Officer
Corporate Communications and Public Affairs Department
EAC Secretariat
Arusha, Tanzania
Tel: +255 768 552087
Email: sowaka [at] eachq.org
About the East African Community Secretariat:
The East African Community (EAC) is a regional intergovernmental organisation of seven Partner States, comprising the Republic of Burundi, the Democratic Republic of Congo, the Republic of Kenya, the Republic of Rwanda, the Republic of South Sudan, the Republic of Uganda and the United Republic of Tanzania, with its headquarters in Arusha, Tanzania.
The EAC Secretariat is ISO 9001: 2015 Certified