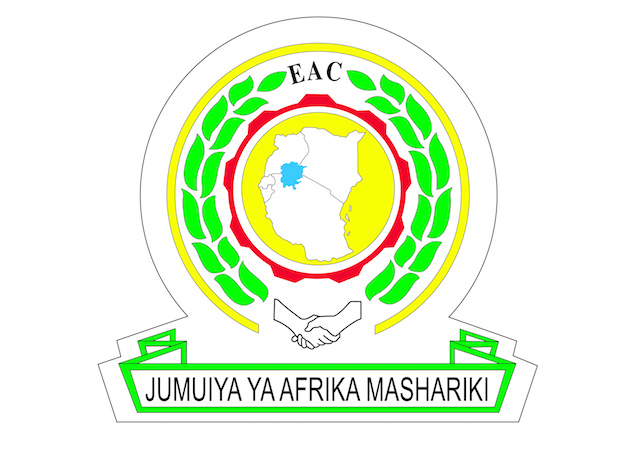 Brainstorming meeting for promoting establishment of an EAC Regional Automotive Industry and EAC Vaccine/Pharmaceuticals Manufacturing Facility held in Arusha
East African Community Headquarters, Arusha, 23rd July, 2018: A one-day brainstorming meeting to promote the automotive industry and vaccine manufacturing with support from German companies Merck, Bosch and the World Economic Forum (WEF) was held on Monday 23rd July 2018, 2018 at the EAC Headquarters in Arusha, Tanzania.
The brainstorming meeting, which was chaired by the EAC Deputy Secretary General in charge of Productive and Social Sectors, Hon. Christophe Bazivamo was attended by Dr. Kirsten Focken, the Programme Manager, Head-EAC-GIZ Programme based in Arusha, the Executive Secretary, East Africa Health Research Commission (EAHRC), Prof. Gibson Kibiki and technical officers from the department of Industrialization and Small and Medium Enterprises (SMEs) sector. Also in attendance were, Ms. Elsie Kanza, Head of Africa, World Economic Forum, Mr. Thill Markus President of Region Africa, Robert Bosch (Pty) Ltd, Mr. Manuel Batz and Mr. Mwai Ngibuini from Merck and Ms. Angelika Farhan from EABC.
Addressing the meeting, Hon. Bazivamo hailed the initiatives taken by the above Foreign Partners to assist EAC in driving the process of promoting the establishment of an EAC Regional Automotive Industry Plant and an EAC Regional Vaccine and Pharmaceuticals Manufacturing Facility noting that local manufacture of products and improvement of the required infrastructure especially for the health sector have been given high priority in the 5th EAC Development Strategy and also as directives of the 19th EAC Heads of States Summit . He pointed out that the initiatives are beneficial and feed well to the already existing policies in the EAC including the 5th EAC Development Strategy, the Industrialization Strategy (2012-2012) and the EAC Regional Pharmaceutical Plan of Action (2017-2027). He urged the collaborating partners to urgently come up with an Implementation Framework and a pragmatic Roadmap for advancing the two initiatives.
On her part, Dr. Focken, the Cluster Coordinator-EAC-GIZ Programme in Arusha, thanked all the participants for active participation towards the proposals. She said fast tracked implementation of the two initiatives would achieve tangible results to the citizens of East Africa and demonstrate the benefits of regional integration.
Mr. Manuel Batz, Director Sales Middle East and Africa, informed the meeting that for instance, by 2020 GAVI support to vaccines in the region will be scaled down and the region needs to be prepared with locally manufactured vaccines. He pointed out that it is imperative for the region to build its capacity in manufacturing vaccines by developing business models that have worked in other regions of the world. He proposed the following as measures to fast track the development of vaccines manufacturing: strong government action including enacting of enabling policies; implementation of a regional public procurement scheme for vaccines; identification of a selected number of vaccines to be prioritized for development of a negotiated regional common agreement to develop the vaccine among other measures.
Mr. Thill Markus, President of Region Africa, Robert Bosch (Pty) Ltd, informed the meeting that despite the fact that the EAC market for passenger, light vehicle is currently small and fragmented accounting for 6% of Africa's demand and 0.5 of global demand making it difficult to justify local manufacturing, a step change is possible if the region can create a single regional market and enact policies to encourage new vehicle demand, and drive trade deals to enable exports that could justify the development of a sizeable local manufacturing industry, similar to the Association of Southeast Asian Nations (ASEAN) and Morocco. He called on the region to make the right policies that would make the automotive manufacturing a major job creator and economic stimulator for the region, injecting over $840M in foreign direct investments per year and creating ~52,000 direct jobs in the first stage of major industry growth. He gave example of growth levers such as stimulating demand through trade policies, enabling consumer financing, encouraging supply through tax incentives and the creation of an auto-focused industrial zone that have worked in countries like Morocco.
In order to take forward the initiatives, the partners agreed on the establishment of a taskforce for each of the two initiatives that will detail out and evaluate the EAC Partner States opportunities and comparative advantage, as well as design a roadmap for action and begin investment attraction with specific potential investors. The ultimate goal of the process would be the establishment of regional vaccines/pharmaceuticals facility and a regional automotive plant that will privilege regional economies of scale and value/supply chains.
-ENDS-
For more information, please contact:
Mr Owora Richard Othieno
Head, Corporate Communications and Public Affairs Department
EAC Secretariat
Arusha, Tanzania
Tel: +255 784 835021
Email: OOthieno [at] eachq.org
About the East African Community Secretariat:
The East African Community (EAC) is a regional intergovernmental organisation of five Partner States, comprising Burundi, Kenya, Rwanda, Tanzania and Uganda, with its headquarters in Arusha, Tanzania.
The EAC Secretariat is ISO 9001:2008 Certified