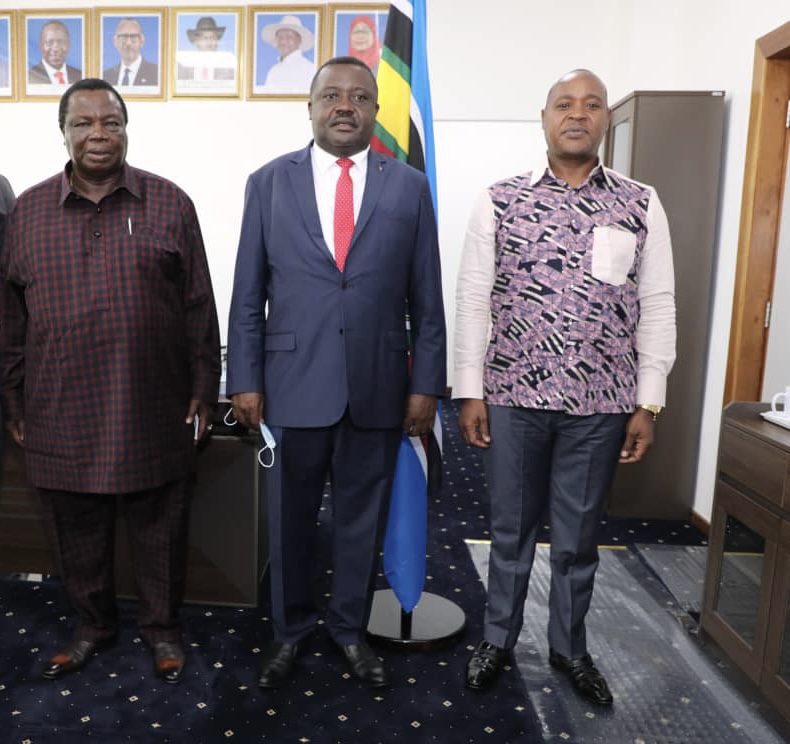 Labourers across the region to benefit from Technical Working Group seeking to address labour mobility issues
East African Community Headquarters, Arusha, Tanzania, 19th November, 2021: East African workers and laborers are set to benefit through prompt intervention of challenges affecting labor mobility and employment, following a commitment to operationalize a regional technical working group.
This follows extensive deliberations between the East African Community (EAC) and the East African Trade Union Confederation (EATUC) on strengthening the labour, employment and migration agenda, held today at the EAC Headquarters in Arusha, Tanzania.
The two organizations committed to operationalise a Technical Working group, that will address matters and challenges affecting labour mobility in the region and implementation of the Joint Programme for the exchange of young workers amongst the EAC Partner States.
The move follows a Memorandum of Understanding (MoU) set to guide the process, endorsed by the 5th Forum of EAC Ministers responsible for Labour and Employment meeting in Dar es Salaam, Tanzania, held on 29th October 2021.
The MoU is set to be presented to the upcoming 41st Council of Ministers for consideration. The EAC committed to highlighting the need for intervention around labour, employment and migration in the upcoming Heads of State Retreat on Common Market Protocol and push for the free movement of labour and right of establishment in the future scorecards.
Speaking during the meeting, EAC Secretary General Dr. Peter Mathuki called on EATUC to proactively drive the finalization and implementation of the draft EAC Labour Migration Policy.
"Once finalised, the policy will guide national laws, policies, and regulations on labour migration within and outside the region," he said.
The Secretary General added that a meeting of Directors in charge of labour will be held in February 2022 to scrutinise the draft policy in readiness for adoption by the EAC Council of Ministers.
"We urge EATUC to also contribute to fast-tracking the finalization and operationalization of the Mutual Recognition Agreements (MRA) for professionals to move freely within the region," he said.
East African Trade Union Confederation (EATUC) chairperson, Mr. Peter Werikhe, called on the EAC to establish a Sectoral Council of Ministers responsible for Labour and Migration and increase the frequency of meetings to address critical issues on labour, employment and migration.
"We also call on EAC to involve all relevant stakeholders, on EAC recovery plans and strategies post Covid-19, to ensure that the decent work agenda is enshrined," he noted.
On his part, Central Organization of Trade Unions, Kenya (COTU-K),Secretary General, Dr. Francis Atwoli called on EAC to coordinate and involve social partners to develop regional position at the International Labour Conference (ILC), Ordinary Session of the Specialised Technical Committee (STC) on Social Development, Labour and Employment (STC-SDLE), AUC and AfCFTA levels.
"We need to strengthen the voice and agenda of EAC, by strategically developing structures to influence opportunities that can benefit East Africans," he said.
Dr. Atwoli also called for the establishment of a desk at the EAC Secretariat, that will seek to address regional labour issues at the Secretariat. A call that was welcomed by the EAC Secretary General.
Other issues discussed include; the finalization of the draft Council Directive on the coordination of Social Security Benefits. This instrument is set to facilitate the portability of social benefits from migrant workers in the region. Fast tracking of the EAC Common Market Protocol provisions related to Labour and Employment and strengthening areas of cooperation and implementation of the revised EAC-International Labour Organization (ILO) MoU.
The EAC Deputy Secretaries General; Eng. Steven Mlote in charge of Planning and Infrastructure, Hon. Christophe Bazivamo, in charge of Productive and Social Sectors and Ms. Caroline Mugalla, Executive Secretary, East African Trade Union Confederation (EATUC) were also in attendance.
For more information, please contact:
Simon Peter Owaka
Senior Public Relations Officer
Corporate Communications and Public Affairs Department
EAC Secretariat
Arusha, Tanzania
Tel: +255 768 552087
Email: sowaka [at] eachq.org
About the East African Community Secretariat:
The East African Community (EAC) is a regional intergovernmental organisation of six Partner States, comprising Burundi, Kenya, Rwanda, South Sudan, Tanzania and Uganda, with its headquarters in Arusha, Tanzania.
The EAC Secretariat is ISO 9001: 2015 Certified