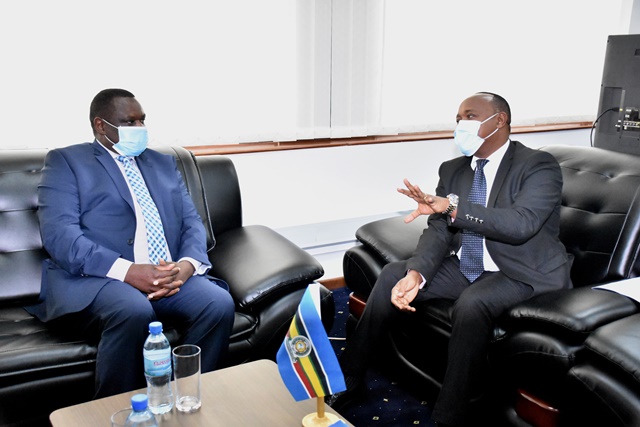 ILO Regional Director pays courtesy call on EAC Secretary General
East African Community Headquarters, Arusha, Tanzania, 14th July, 2021: The International Labour Organization (ILO) Director for the United Republic of Tanzania, Burundi, Kenya, Rwanda and Uganda, Mr. Wellington Chibebe, on Wednesday paid a courtesy call on EAC Secretary General, Hon. (Dr.) Peter Mathuki at the EAC Headquarters in Arusha, Tanzania.
Receiving the ILO Director, Dr. Mathuki expressed his appreciation for the cordial and strong relationship between ILO and the EAC in the pursuit of the Community's objectives over the years.
Dr. Mathuki singled out the MoU between EAC and ILO that was signed on 18th January, 2001 and the revised MoU signed on 19th April, 2018, which provides for new areas of cooperation including: the EAC Decent Work Programme that focuses on Youth Employment, Extension of Social Security and Gender Equality and Empowerment of Women; Mechanism for Coordination of Social Security Benefits in line with the ILO Convention on Social Security (Minimum Standards) No. 102 of 1952, and; the development of a Regional EAC Labour Migration Policy.
He disclosed that Between July 2018 to September 2020, ILO through Extension of Social Protection for Migrant Workers Project, ILO supported the EAC Secretariat to implement different programmes including;Technical support (Consultant) to review and finalisation of the draft EAC Council directive on Coordination and Portability of Social Security Benefits; Facilitation of Social Security Experts' meetings in June and November 2018 as well as Undertaking study on the Assessment of the Effectiveness of Social Protection in South Sudan, July 2019.
"Let me take this opportunity to thank the ILO for the continued support in different projects and programmes on Regional Labour Migration and Social Security," said Dr. Mathuki.
The Secretary General urged ILO to consider further areas of cooperation including: providing a technical staff at the EAC Secretariat to continue with the finalization of the review of draft Council directive on coordination of social security benefits as well as collaboration with the EAC Secretariat in facilitating arrangements for undertaking Manpower Survey in the Republic of South Sudan.
On his part, ILO Country Director Mr. Chibebe pledged to continue working with the EAC to accelerate regional integration and at the same time ensure that the free movement of labour as provided for under the Common Market Protocol enhances livelihoods of the millions of working women and men in the region and their families.
"On behalf of the ILO let me assure you that we will work with you and the entire Community in advancing Social Justice and promoting the Decent Work Agenda in East Africa and the entire African region," said Mr Chibebe.
Notes to Editors:
The EAC & ILO MoU, 2001 was signed on 18th January, 2001, when a delegation led by Mr. Ali Ibrahim, Director of ILO, Area Office for Eastern Africa in Dar es Salaam paid a courtesy call on the then, EAC Secretary General, Amb. Francis Kirimi Muthaura.
The 2001 MoU was amended to include new developments and thereafter, a revised MoU was signed by Amb. Liberat Mfumukeko, EAC Secretary General and Mr. Wellington Chibebe, Director ILO Country Office Dar es Salaam on 19th April, 2018.
For more information, please contact:
Simon Peter Owaka
Senior Public Relations Officer
Corporate Communications and Public Affairs Department
EAC Secretariat
Arusha, Tanzania
Tel: +255 768 552087
Email: sowaka [at] eachq.org
About the East African Community Secretariat:
The East African Community (EAC) is a regional intergovernmental organisation of six Partner States, comprising Burundi, Kenya, Rwanda, South Sudan, Tanzania and Uganda, with its headquarters in Arusha, Tanzania.
The EAC Secretariat is ISO 9001: 2015 Certified