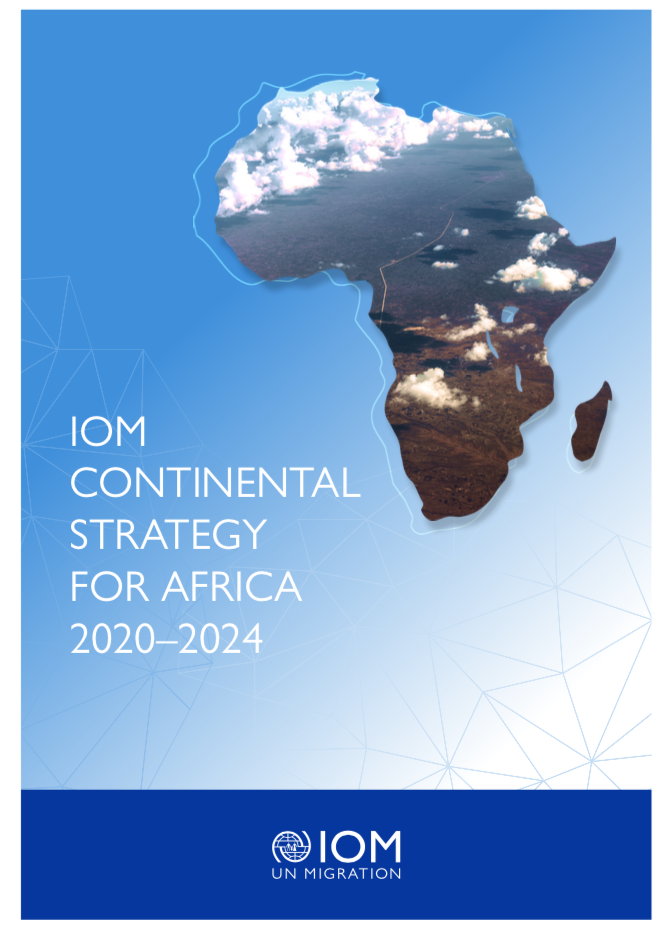 IOM Launches Continental Strategy on Migration for Africa 2020-2024
East African Community Headquarters, Arusha, Tanzania, 22nd October, 2020: The International Organization for Migration (IOM) has launched the first Continental Strategy on Migration for Africa for the period 2020-2024. The Strategy provides an excellent opportunity to further develop synergies for more robust migration dialogues and outcomes across regions and with all relevant partners.
The IOM's Continental Strategy was conceived to reinforce commitment towards safe, orderly and regular migration within and outside the African continent. Through multi-stakeholder engagement, it is expected to give impetus for adaptive measures for better migration management and scale up the positive impacts, opportunities and benefits of migration for the whole of society.
Speaking during the virtual launch of the strategy, which drew participation from IOM, African Union Commission, African Development Bank, UN Economic Commission for Africa and Regional Economic Communities in Africa, the EAC Deputy Secretary General in charge of Productive and Social Sectors, Hon. Christophe Bazivamo, noted that the Strategy would enhance the governance framework for migration and realization of benefits arising from migration on this continent.
"As you are all aware, migration is a natural and unavoidable phenomena that knows no boundaries. Thus, its management requires combined efforts at different levels in order to deal with the barriers to safe and orderly migration," said Hon Bazivamo.
According to IOM, African migration in the 21st Century takes place mainly by land, not by sea. African migrants' destinations are overwhelmingly not to Europe or North America, but to each other's countries.
Noting the various faces of migration which include but are not limited to human trafficking and smuggling on the continent, the Deputy Secretary General said that the development of an effective policy instrument that responds to the current migration challenges in Africa was not only timely, but also relevant.
"This Strategy will therefore, enhance and guide the harmonization of member states' and regional migration policies and legal frameworks," added Hon. Bazivamo.
The EAC has called for deliberate efforts by other RECs to incorporate the Strategy interventions and recommendations in their policy frameworks and strategies.
EAC and IOM signed a Memorandum of Understanding (MoU) on 5th June 2006. The MoU has contributed towards overall efforts to ensure free and safe movement of people between EAC Partner States while tackling issues such as irregular migration, smuggling, human trafficking and labour migration.
Large refugee movements and internally displaced people, labour migration, irregular migration (including trafficking and human smuggling) and traditional temporary migration characterize the region's migration flows. Many of the migrants originating from the EAC Partner States remain within the region, making the Partner States countries of origin, transit and destination.
NOTES TO EDITORS:
The EAC Common Market Protocol that was signed by the Heads of State on 30th November 2009 guides the free movement of persons or migration in the region. The Protocol provides a policy and legal framework on migration within the region. Therefore, since EAC is one of the building blocks of the AU on the continental integration agenda, it implies that, facilitating legal migration in the EAC, significantly contributes to the implementation of the continental Protocol on the Free Movement of Persons, the AU Migration Framework as well as the Global Compact for Migration.
The 15th October, 2020 virtual launch event of the Continental Strategy on Migration for Africa 2020-2024, was attended by IOM, African Union Commission, African Development Bank (AfDB), United Nations Economic Commission for Africa (UNECA), and Heads of Regional Economic Communities in Africa - Sahel–Saharan States (CENSAD), Economic Community of West African States (ECOWAS), Indian Ocean Commission (IOC), Intergovernmental Authority on Development (IGAD), Southern African Development Community (SADC), Economic Community of Central African States (ECCAS), League of Arab States (LAS), Common Market for Eastern and Southern Africa (COMESA) and the East African Community (EAC).
-ENDS-
For more information please contact:

Simon Peter Owaka
Senior Public Relations Officer
Corporate Communications and Public Affairs Department
EAC Secretariat
Arusha, Tanzania
Tel: +255 768 552087
Email: sowaka [at] eachq.org
About the East African Community Secretariat:
The East African Community (EAC) is a regional intergovernmental organisation of six Partner States, comprising Burundi, Kenya, Rwanda, South Sudan, Tanzania and Uganda, with its headquarters in Arusha, Tanzania.