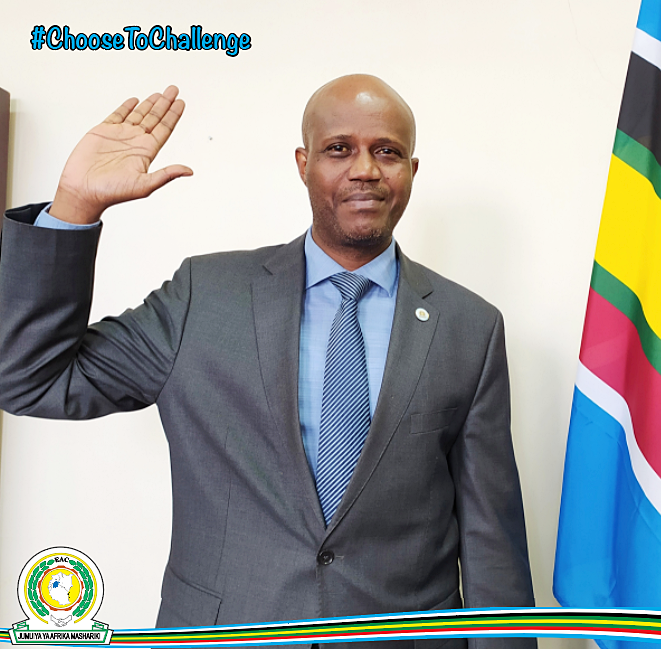 EAC Secretariat to celebrate International Women's Day on Friday 12th March, 2021
…. Theme: "Women in leadership: Achieving an equal future in a COVID-19 world"

East African Community Headquarters, Arusha, Tanzania, 9th March, 2021: The EAC Secretariat together with various partners including EAC staff from all Organs and Institutions, Civil Society Organizations, Private Sector Organizations and International organizations will mark the 2021 International Women's Day on Friday 12th March,2021.
The overall objective of the event is to provide a platform for dialogue on the EAC commitments to promoting women in leadership in the East African Community Secretariat, Partner States and its integration agenda/processes.
Themed "Women in leadership: Achieving an equal future in a COVID-19 world", the 2021 International Women's Day provides a period to reflect on the progress made in women's rights, to call for change, and to celebrate acts of courage and determination by ordinary women who have played an extraordinary role in the history of women's rights.
The theme celebrates the tremendous efforts by women and girls around the world in shaping a more equal future and recovery from the COVID-19 pandemic whereby, women leaders and women's organizations have demonstrated their skills, knowledge, and networks to effectively lead in COVID-19 response and recovery efforts.
Speaking ahead of the event, the EAC Secretary General Amb Liberat Mfumukeko said the recent Participatory Gender Audit conducted in 2018 shows there are gender gaps in all EAC Organs and Institutions, especially in management level.
Amb. Mfumukeko said there are challenges facing women and girls during COVID19 including Gender Based Violence (GBV) whereby Ministries responsible for Gender in East Africa have reported an increase of 48% in GBV cases reported to the police and through Toll-free lines during the lockdowns of the pandemic. The EAC Partner States have put in place Technical Working Groups for GVB during and after COVID-19 period, added Amb. Mfumukeko Minani.
The Secretary General disclosed that measures have been actively enforced including establishment of Regional GBV Sector Technical Working group that is composed of representatives from the Ministries responsible for Gender Affairs; Ministry of EAC Affairs; Grassroot/National level Civil Society Organizations; Pan African and International Civil Society Organizations and National Youth led/based organizations to strengthen monitoring, reporting and accountability mechanisms of Regional and Sub-regional bodies on GBV as well as practices that promote the economic empowerment of women and girls.
In addition, a tool has been developed for the working group to fill in their interventions on Gender Based Violence during COVID-19 and after to improve data collection on the incidences of Gender Based Violence (GBV) and the availability, access, utilization, and effectiveness of services provided by the different stakeholders in the GBV response.
International Women's day is celebrated on the 8th of March every year with a specific theme. It is a day that people around the world dedicated to the women in their lives. Women's Day celebrates the importance and significance of women in every person's life. And the campaigning theme is #ChooseToChallenge.
For more information, please contact:
Simon Peter Owaka
Senior Public Relations Officer
Corporate Communications and Public Affairs Department
EAC Secretariat
Arusha, Tanzania
Tel: +255 768 552087
Email: sowaka [at] eachq.org
About the East African Community Secretariat:
The East African Community (EAC) is a regional intergovernmental organisation of six Partner States, comprising Burundi, Kenya, Rwanda, South Sudan, Tanzania and Uganda, with its headquarters in Arusha, Tanzania.
The EAC Secretariat is ISO 9001: 2015 Certified