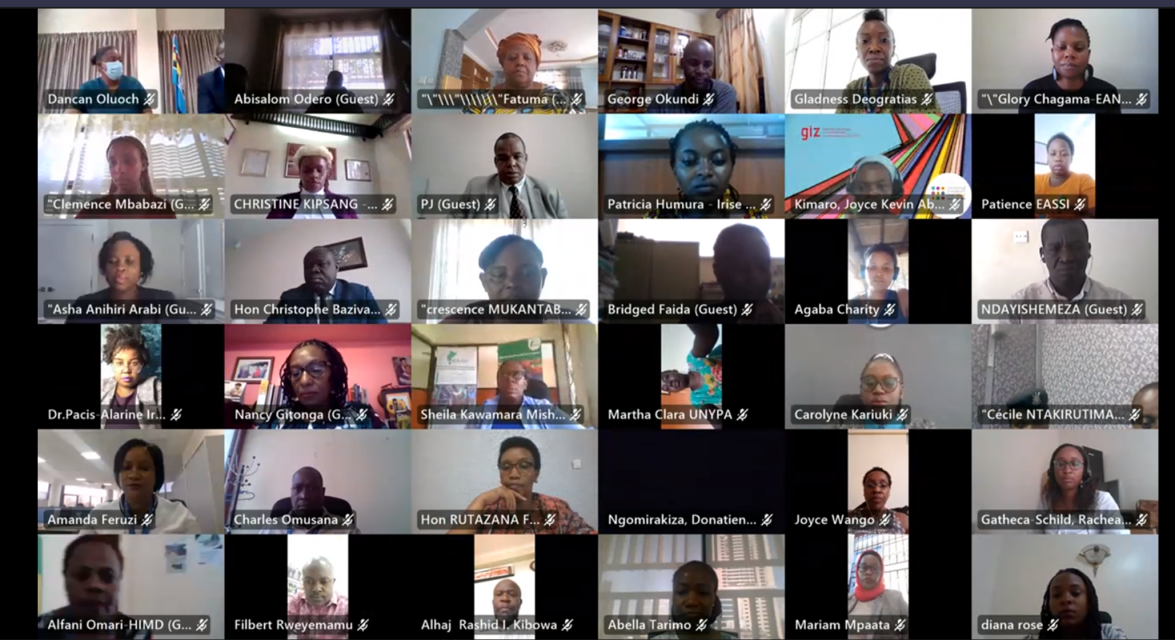 EAC marks International Women's Day 2021
East African Community, Arusha, Tanzania, 12th March 2021: The East African Community (EAC), in collaboration with women organizations, and financial support from the Deutsche Gesellschaft für Internationale Zusammenarbeit (GIZ) GmbH through the Support to Market Driven and People's Centred Integration (SEAMPEC) programme, commemorated the international women's day 2021 virtually under the theme "Women in Leadership: Achieving an Equal Future in a COVID-19 World" with the Campaign Theme being: #ChooseToChallenge.
EAC staff, EALA members, representatives from EACJ, apex bodies of the Regional Dialogue Committee, GIZ staff, women rights associations in the region and EAC Youth Ambassadors, attended the virtual meeting.
It recognised outstanding women leaders in the region who have provided exemplary leadership in promoting equality of women during the Covid-19 Pandemic and provided recommendations for action to promote gender equality in the region.
During the event, Justice Monica Mugenyi, the outgoing Principal Judge of the East African Court of Justice, was gifted the Regional Award of Outstanding Woman in Leadership.
In remarks read on his behalf by Director of Human Resources and Administration at the EAC Secretariat, Ms. Ruth Simba, EAC Secretary General Amb. Liberat Mfumukeko said that despite the progress made within the Community in promoting women's participation in governance, gaps remain in women's representation at different levels of leadership and governance
"This situation is replicated at lower levels of the governance structures as well as within the Organs and Institutions of the EAC," said Amb. Mfumukeko.
"Even as we celebrate the many achievements that we as region have made in the empowerment of women and girls, we should never forget that women still struggle to rise out of their status and, in most societies, they are treated as second-class citizens. They are denied opportunities for fulfilling their economic and political aspirations," added Amb. Mfumukeko.
The Secretary General singled out the critical role played by women in East Africa and beyond during the COVID-19 pandemic.
"Women stand at the front lines of the COVID-19 crisis, as health care workers, caregivers, innovators, and community organizers, and as some of the most exemplary and effective national leaders in combating the pandemic. The crisis has highlighted both the centrality of their contributions and the disproportionate burdens that women carry," he said, adding that the women and the girl-child had borne the bulk of the negative effects of the pandemic.
"As schools resumed in Partner States, we noticed that a good number of students especially the girl child failed to resume school due to teenage pregnancies," he said.
"Women leaders and women's organizations have demonstrated their skills, knowledge and networks to effectively lead in COVID-19 response and recovery efforts. Today, there is more acceptance than ever before that women bring different experiences, perspectives and skills to the table, and make irreplaceable contributions to decisions. As the old adage goes, what a man can do, a woman can do better," said the SG.
The SG said that the EAC had developed many important tools, among them the EAC Gender Policy, giving direction to Gender equality, equity and non-discrimination in the Community.
"The EAC Gender Policy seeks to promote rights-based values, accountability and shared responsibility, equity in resource allocation, decision-making opportunities, benefits and access to services. It also calls for elimination of stereotypes, prejudices and other negative practices against women," said Amb. Mfumukeko.
On his part, the EAC Deputy Secretary General in charge of the Productive and Social Sectors, Hon. Christophe Bazivamo, said that there were still many other challenges on the rise in the EAC region that should be dealt with such as Gender based violence (GBV) including, but not limited to, physical and emotional abuse, rape, sexual exploitation, female genital mutilation (FGM) and early marriages.
Hon. Bazivamo urged stakeholders and leaders throughout the region to work harder to find solutions to the challenges facing womenfolk in East Africa by way of women's empowerment, gender balance and equity.
Ms. Joyce Kevin Abalo, Senior Advisor, Non-State Actors & Gender, EAC-GIZ Support to Market Driven and Peopled Centred Integration Programme (SEAMPEC), underlined that both German Development Cooperation in general and GIZ as a company have for many decades pursued the goal of gender equality in their worldwide portfolio and have striven to achieve compatibility of career development and family work as an important step towards equality of women and men.
"Equality of women and men should not only be in general numbers. It is particularly important to increase the number of women in leading positions, and this calls for a change of attitude of all involved – women and men, employers and employees, labour law makers, health insurances and many more," said Ms. Abalo.
"The Covid-19 pandemic has exacerbated the unfair gender-based division of labour, access to services, resources and added to women's double burden of paid and unpaid care work. We congratulate the outstanding women leaders in the EAC who have gone beyond their confines to lead by example in the promotion of an equal world during the Covid-19 pandemic," he added. She concluded that the EAC-GIZ Team had committed to promote gender equality through the #ChooseToChallenge campaign and fight all forms of gender-based discrimination and inequality, in the work place as well as in their everyday lives.
The COVID-19 has increased gender inequality. The limitations imposed by lockdowns have reduced income for women in the informal sector who have less access to digital tools and there have been increased cases of Gender-Based Violence (GBV) during the pandemic period.
On this Day of International Women's Day, EACSOF in collaboration with regional partners is celebrating the achievements of women who are the core driving force of the decisive EAC motives. It promotes the inclusivity of women and improved partnership for knowledge sharing and learning among CSOs in the region during Covid-19 pandemic. It has conducted sensitization campaign on equal access to vaccine, resources and opportunities regardless of gender, including economic participation and decision-making; and the evidence-based research on the State of civic operating environment in the EAC through #ChooseToChallenge Campaign.
"International Women's Day pays tribute to the accomplishments of women worldwide and retells us what still needs to be done for full gender equality, said EAWiBP Chair Person, Ms Angela Bageine. "The theme for International Women's Day 2021 is #ChooseToChallenge, as from challenge comes change. A challenged world is an alert world which knows that change is necessary and in order to bring a positive change, let's all choose to challenge."
"In 2021, we are taking stock of the many ways in which COVID-19 has inexplicably affected women and girls around the world. EAWiB conducted an assessment of impact of COVID-19 on Women in Business in the EAC Region. The survey aimed to inform EAWiBP recommendations to the EAC Governments and development partners on necessary measures needed to mitigate the risks to women businesses across the region. The findings showed about 66.67% of women businesses were shut down as a result of the pandemic," said Ms. Bageine.
She concluded that considering the impact of the pandemic, the platform had been promoting women in business to adopt digitalization and social media marketing, which had helped women-owned businesses to re-gain momentum and participate effectively in Intra-EAC trade during this Covid-19 crisis.
For us, International Women's day is a day to celebrate the unsung heroes – our women and girls and amplify the message that "Women's rights in their diversity are human rights". We acknowledge the impact Covid-19 has had on women and girls in the region, all of us should stand up against the inequalities mated to women and girls. It is therefore, fundamental to put women at the centre of the health response not as objects of interventions but experts in their diversity said Onesmus Mlewa, EANNASO interim Executive Director.
Mr. Onesmus, further mentioned that, in support of the IWD global theme of women in leadership to achieve an equal future in covid-19 world, there are still tremendous social, economic and technological gaps that's needs to be fixed and #ChoosingTochallenge our approaches to recognize women as experts and putting them at the centre of the response is the true meaning of celebrating women as our heroes.
About the EAC Secretariat
The East African Community (EAC) is a regional intergovernmental organisation of 6 Partner States: The Republics of Burundi, Kenya, Rwanda, South Sudan, the United Republic of Tanzania, and the Republic of Uganda, with its headquarters in Arusha, Tanzania.
As one of the fastest growing regional economic blocs in the world, the EAC is widening and deepening co-operation among the Partner States in various key spheres for their mutual benefit. These spheres include political, economic and social.
At the moment, the regional integration process is in full swing as reflected by the encouraging progress of the East African Customs Union, the establishment of the Common Market in 2010 and the implementation of the East African Monetary Union Protocol.
About GIZ
The Deutsche Gesellschaft für Internationale Zusammenarbeit (GIZ) GmbH is a global service provider in the field of international cooperation for sustainable development and international education work, with 22,199 employees. GIZ has over 50 years of experience in a wide variety of areas, including economic development and employment, energy and the environment, and peace and security. As a public-benefit federal enterprise, GIZ supports the German Government – in particular the Federal Ministry for Economic Cooperation and Development (BMZ) – and many public and private sector clients in around 120 countries in achieving their objectives in international cooperation.
About EACSOF
East African Civil Society Organization Forum (EACSOF) is an inclusive platform for Civil Society Organizations (CSOs) to dialogue and foster sustainable equitable development in East Africa through participation of CSOs that was founded in 2007 as the autonomous umbrella for all CSOs and NGOs in East Africa. EACSOF carries out capacity building, advocacy and lobbying activities to its member organizations in the pervasive areas of integration including at not limited to Human Rights, Good Governance, Policy Formulation - Policy Information - Policy Dialogues, Trade Negotiations, Special Interest Groups, Budgetary Implications, promoting Peace and Security in EAC, Social and Economic Justice, promoting Environment, Natural Resources and Climate Change, Mainstreaming Science and Technology, education and youth engagement in good Governance mainstreaming gender and the like.
EACSOF was created in response to provisions contained in Chapter Twenty-Five (25) of the Treaty Establishing the East African Community (EAC) that comprises of Article 127, Article 128 and Article 129. EACSOF has been constantly following up the integration process of the EAC, with particular interest of observing the implementation of the EAC Treaty, Protocols, Laws developed in EALA as well as Policies, Strategies, Plans and Programs and engaging with the East African Court of Justice (EACJ) on litigation issues.
About EAWiBP
The East African Women in Business Platform (EAWiBP) is a forum that brings together business and professional women from across the East African Community (EAC). Its membership comprises of: national apex bodies / associations / networks of business women (including associations of women formal and informal cross-border traders); professional women associations; and regional civil society organizations working to promote business women and women's socio-economic advancement. The platform works in each East African country through national business and professional associations across the region and by virtue of this currently represents over 20,000 business and professional women in the region. The platform also works closely with the EAC Gender Community Development and CSOs Department to design gender inclusive positions on a variety of issues.
About EANNASO
The Eastern Africa National Networks of AIDS and Health Service Organizations (EANNASO) is a regional umbrella body bringing together civil society voices to inform policies and improve the programming of HIV, TB, Malaria and other health issues present in our communities. Founded in 2002 EANNASO with its membership across all EAC partner states work to support community voices and strengthen the capacity of communities to effectively engage in health decision making processes. Besides EANNASO hosts the Anglophone regional communication and coordination platform of the Global Fund community rights and gender strategic initiative.
For more information please contact:
Simon Peter Owaka
Senior Public Relations Officer
Corporate Communications and Public Affairs Department
EAC Secretariat
Arusha, Tanzania
Tel: +255 768 552087
Email: sowaka [at] eachq.org

About the East African Community Secretariat:
The East African Community (EAC) is a regional intergovernmental organisation of six Partner States, comprising Burundi, Kenya, Rwanda, South Sudan, Tanzania and Uganda, with its headquarters in Arusha, Tanzania.
The EAC Secretariat is ISO 9001: 2015 Certified
Tags: #IWD2021