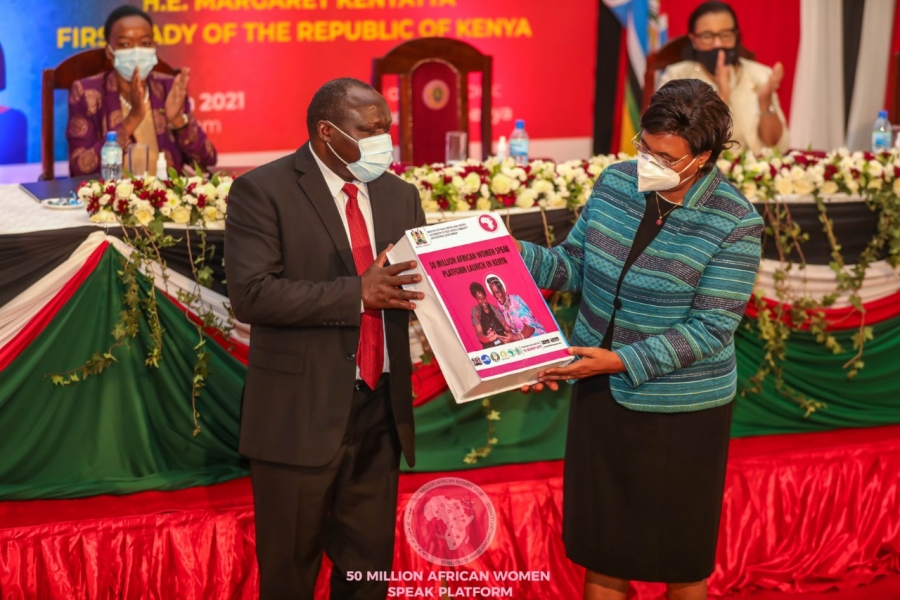 EAC Launches the 50 Million African Women Speak Networking Platform in the Republic of Kenya
East African Community Headquarters, Arusha, Tanzania, 9th March 2021: As part of the International Women's Day celebrations, on 8th March 2021; the Kenyan government, in partnership with the East African Community, launched the 50 Million African Women Speak Project Networking Platform from the Kenya School of Government (KSG), Kabete Campus, Nairobi.
The online platform is intended to support women empowerment initiatives by providing African Women Entrepreneurs with access to critical information on financial and non-financial services and providing opportunities for business networks among African Women Entrepreneurs.
The launch of the platform in Kenya was officiated by her Excellency Margaret Kenyatta, the First Lady of the Republic of Kenya, with Hon Christophe Bazivamo, EAC Deputy Secretary-General in charge of Productive and Social Sectors.
Hon. Christophe Bazivamo explained to the audience that leveraging technology has become an obligation in solving many issues that affect the world today.
He noted that businesses that did not embrace technology during this period of covid-19 experienced severe consequences than those that leveraged technology.
Hon. Bazivamo is convinced that the Region is making the right step in empowering women in business on the African Continent. However, he recognized that any innovation comes with its challenges.
He highlighted some challenges that need to be addressed for the platform to serve the purpose it is intended for optimally.
He talked about the lack of ICT skills required in target women to operate the platform; limited access to computers or smartphones, lack of electricity required by users to recharge their ICT tools, especially in the rural areas and others.
However, the EAC Deputy Secretary-General reiterated that he has hope and belief in Africans' capacity to solve challenges.
The theme for the celebration of this year's International Women's Day was "Women in leadership: Achieving an equal future in a COVID-19 world."
According to PROF. MARGARET KOBIA, Ph.D., Cabinet Secretary, Ministry of Public Service and Gender that theme illustrates the urgency of putting women and gender equality at the core of recovery and bouncing back better.
Prof Kobia thanked various organizations that have supported the organisation of the International Day.
Talking of the Kenyan Chapter of the 50 Million African Women Speak Platform launch, she appreciated the idea of launching it as the World is pushing for an equal future between men and women.
She said to be hopeful that that initiative will improve women's businesses and enhance their contribution to Kenya's economic growth.
The Cabinet Secretary ended her remarks reiterating Kenyan commitment to stand on the right side of history in appreciating the role women play in development.
Her Excellency, the First Lady of the Republic of Kenya, Mrs. Margaret Kenyatta, closed the celebration awarding gifts to Organisations and people who distinguished themselves in promoting gender equality in different ways.
For more information, please contact:
Simon Peter Owaka
Senior Public Relations Officer
Corporate Communications and Public Affairs Department
EAC Secretariat
Arusha, Tanzania
Tel: +255 768 552087
Email: sowaka [at] eachq.org
About the East African Community Secretariat:
The East African Community (EAC) is a regional intergovernmental organisation of six Partner States, comprising Burundi, Kenya, Rwanda, South Sudan, Tanzania and Uganda, with its headquarters in Arusha, Tanzania.
The EAC Secretariat is ISO 9001: 2015 Certified