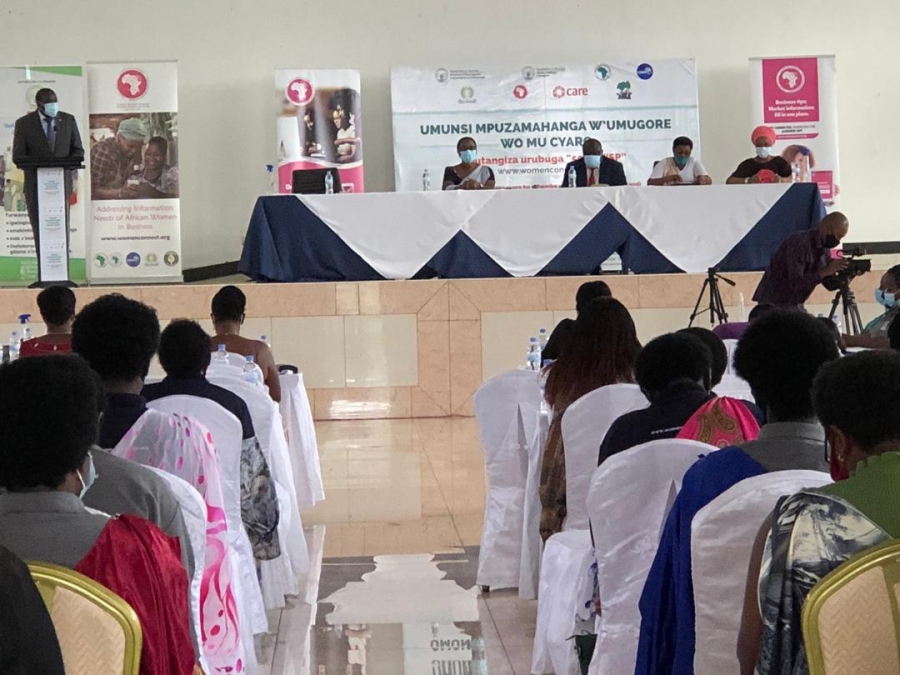 EAC Launches 50 Million African Women Speak Networking Platform in Rwanda
East African Community Headquarters, Arusha, Tanzania, 15th October, 2020: As part of the International Rural Women's Day celebration, on 15th October 2020; the Rwandan government in partnership with the East African Community launched the 50 Million African Women Speak Project Networking Platform in Musanze, Northern Rwanda.
The online platform is intended to support women empowerment initiatives by providing African Women Entrepreneurs with access to critical information on financial and non-financial services as well as provide opportunities for business networks among African Women Entrepreneurs.
The launch of the platform in Rwanda was officiated by Professor Jeanette Bayisenge, Minister for Gender and Family Promotion, Rwanda together with Hon Christophe Bazivamo, EAC Deputy Secretary General in charge of Productive and Social Sectors.
Hon. Christophe Bazivamo noted that as the world was making a quick change towards leveraging technology to address problems that affect humanity, launching the platform was one way of ensuring that regional development interventions were more transformative.
"Making sure that women in general and rural women, in particular, are not left behind becomes an obligation" Hon. Bazivamo said.
Technology comes as a tool to solve the issues of unequal intra-household relations and labour distribution while tackling the issue of poverty that women face.
"The 50 Million African Women Networking Platform was initiated to reinforce women's development and to create stronger, more resilient, and sustainable societies, because he who empowers a woman, empowers a whole society", the EAC Deputy Secretary-General added.
On her side, Professor Jeannette Bayisenge appreciated the initiative of empowering women using technology. According to her, Rwanda as a country has done a lot to empower women in general and rural women in particular.
The Minister expressed her confidence that the 50 Million African Women Speak Networking Platform will reinforce women's self-confidence, knowledge, and skills as it also provides room for capacity building.
"This project will promote equitable balance in the sharing of economic and social benefits between women and men, subsequently reinforcing communities," she said.
In an effort to ensure the target women are conversant with the functionalities of platform, the EAC Secretariat has planned training of trainers programmes on platform use in all Partner States.
The training sessions are designed to equip women champions from different Women networks in each country on the use of the Platform. The trained women are thereafter expected to train other members of their respective organisations and networks.
The EAC Secretariat is also engaging telecom companies and other stakeholders in an effort to address the limited access to smart phones by women in the region.
The Rwanda launch of the Platform was attended by high ranking Government officials, representatives of various Women Networks, UN Women, Care International, Oxfam, and other National & International Organisations.
Accessible at www.womenconnect.org, and covering 38 African states under the EAC, the Common Market for East and Southern African (COMESA) and Economic Community of West African States (ECOWAS) blocs, the innovative platform aims to economically empower women by providing a one-stop shop for their specific business information needs.
The project is being jointly implemented by EAC, COMESA, and ECOWAS with funding from the African Development Bank (AfDB). Continentally unveiled during the Global Gender Summit in November 2019 in Kigali, Rwanda, the platform enables women in Member/Partner States of the three regional economic blocs and other African countries to find information on how to run businesses, where to access financial services, how to create business opportunities online and where to access training resources.
The platform also gives women an opportunity to showcase their products and connect with a market of millions across the continent, in addition to leveraging opportunities for peer-to-peer learning and mentorship as part of a dynamic online community of entrepreneurs.
- ENDS -
For more information, please contact:
Simon Peter Owaka
Senior Public Relations Officer
Corporate Communications and Public Affairs Department
EAC Secretariat
Arusha, Tanzania
Tel: +255 768 552087
Email: sowaka [at] eachq.org
About the East African Community Secretariat:
The East African Community (EAC) is a regional intergovernmental organisation of six Partner States, comprising Burundi, Kenya, Rwanda, South Sudan, Tanzania and Uganda, with its headquarters in Arusha, Tanzania.
The EAC Secretariat is ISO 9001: 2015 Certified
Tags: 50MAWSP