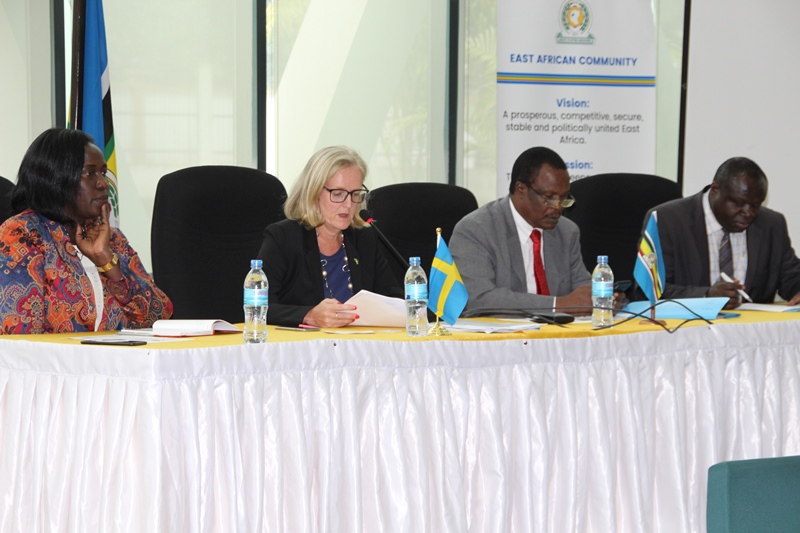 EAC, Sweden Exhibition on Climate Change concludes in Arusha
East African Community Headquarters, Arusha, Tanzania,9th February, 2018:​
Between 5th -9th February, 2018, an exhibition "Facing the Climate" has been show-casing at the lobby of the East African Community (EAC) Headquarters in Arusha, Tanzania. The exhibition coincided with the 5th Sectorial Council on Environment and Natural Resources.
The exhibition is developed by the Swedish Institute, produced by the Embassy of Sweden in Dar es Salaam and Buni Media, curated by renowned cartoonists Victor Ndula (Kenya) and Magnus Bard (Sweden) in collaboration with the EAC Secretariat.
Today at the official closing ceremony, H.E. Katarina Rangnitt, the Swedish Ambassador to Tanzania, said to create a sustainable future we need ambitious and sustainable climate, energy and environment policies. You are here today as policy makers that have the power to create change. Just like East African and Swedish cartoonists have worked together for the "Facing the Climate"-exhibition, added Amb Rangnitt.
"I encourage all of us to do the same. Climate change is a global problem which we can only solve together. Sweden is ready to do her part, let's join hands and lead the way''
On his part, the Chair of the EAC Sectorial Council on Environment and Natural Resources and Minister of Water and Environment from Uganda, Hon Sam Mangusho Cheptoris commended the good work done by the Swedish Embassy in Tanzania by raising climate change awareness through the art of cartoonists.
He disclosed to the participants that the EAC like other sub regions in Africa is facing numerous climate change challenges that affect region efforts to achieve integration agenda.
Hon Cheptoris informed the meeting that the East African Community among others developed EAC Climate Change Policy and Strategy and the Climate Change Master Plan (2011-2031) to face climate change challenges that affect regional.
One of the Tanzanian cartoonists, Dr. Meddy Jumanne, shared his view on the issue and what inspired him to be a cartoonist. Edgar Tarimo who won the Children's Climate Price 2017, presented his invention of turning plastic bottles in to building bricks which is quite impressive given that he is only 17 years old.
The idea of the cartoon exhibition was initiated to coincide with the 2009 United Nations Copenhagen Climate Change Conference when 25 Nordic cartoonists interpreted the subject. Since then Swedish cartoonists have been collaborating with their counterparts from around the world to offer amusing and alarming views on climate change issues from different local perspectives.
The exhibition has been shown in over 30 countries and attracted more than 450,000 visitors since it was initiated. The exhibition is constantly growing as new countries participate with each new year.
The exhibition has now reached East Africa and features both Swedish and East African cartoonists. Tanzanian cartoonists who participated at the exhibition were are Fedeliko, Popa Matumula, Sammi Mwamkinga, Dr Meddy and Christopher Nyiti.
Using the power of humour and satire, these cartoonists invite the public to reflect upon the challenges of climate change and encourage responsible actions. It is a topic that mankind cannot afford to ignore, either in Northern Europe or East Africa.
-ENDS-
For more information, please contact:
Ms Hanna Widén
Embassy of Sweden
Tel: 0699 887 997
hanna.widen[at]gov.se
OR
Mr Owora Richard Othieno
Head, Corporate Communications and Public Affairs Department
EAC Secretariat
Arusha, Tanzania
Tel: +255 784 835021
Email: OOthieno [at] eachq.org
About the East African Community Secretariat:
The East African Community (EAC) is a regional intergovernmental organisation of five Partner States, comprising Burundi, Kenya, Rwanda, Tanzania and Uganda, with its headquarters in Arusha, Tanzania.
The EAC Secretariat is ISO 2008:9001 Certified