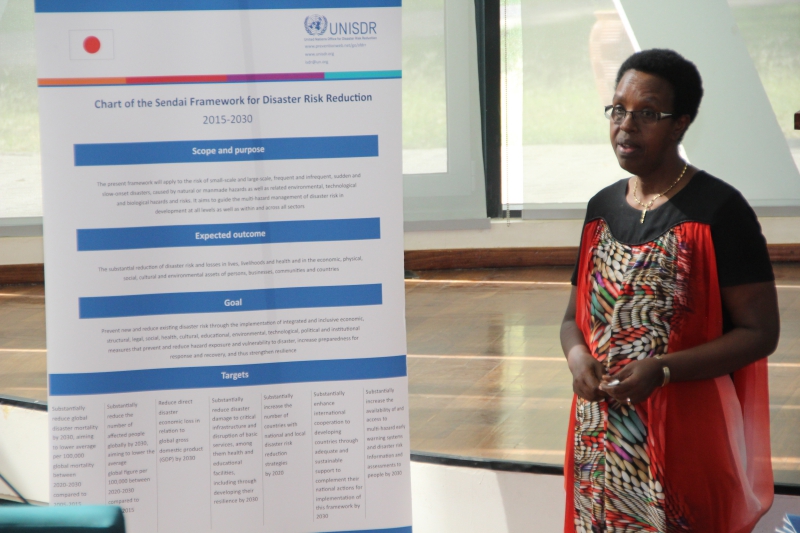 Floods and Conflicts the major cause of Disasters in East Africa
East African Community Secretariat, Arusha, Tanzania, 14th October, 2017:
Floods, landslides, drought and conflicts are some of the major factors that trigger disasters that cause people to flee from their homes within the East African Community.
EAC Deputy Secretary General (DSG) in charge of Finance and Administration, Hon. Jesca Eriyo, said that East Africans also move into areas prone to natural hazards, particularly urban centres on floodplains, rivers exposed to floods and along coastlines exposed to cyclones and storms.
Hon. Eriyo said that many East Africans remained vulnerable to natural hazards due to factors associated with poverty including lack of knowledge, technology to adapt or to be adequately prepared for disasters.
"Environmental degradation, growing human populations, unsustainable exploitation of environmental resources and poor land use planning are the other predisposing factors. The region is equally predisposed to manmade disasters such as urban fires, water pollution, HIV and AIDS and outbreaks of disease epidemics," said the DSG.
Hon. Eriyo said that most of the affected populations were generally poor and unable to pay for more secure pieces of land and build stronger houses.
The DSG disclosed that data on displacement in the EAC region indicates that internally displaced populations were on the rise with South Sudan leading with 281,000 people, Kenya 40,000, Tanzania 38,000 and Uganda 23,000, adding that there were no statistics for Burundi and Rwanda.
"Research shows that the impact of climate change on the frequency and intensity of extreme weather events and environmental degradation will increase displacement risk further. All these occurrences continue to remind us of the potentially harmful effects of global warming and the need to adopt an ecosystem-based Disaster Risk Reduction Approach," said Hon. Eriyo.
She cited the ongoing drought in the Greater Horn of Africa region, the 5.9 magnitude earthquake that hit North West Tanzania, the Mount Elgon landslide as some of the recent disasters whose impacts were still being felt in the region.
Hon. Eriyo was speaking when she presided over an occasion to mark the International Day for Disaster Reduction (IDDR) at the EAC Headquarters in Arusha, Tanzania.
She said EAC Partner States had switched emphasis from managing disasters to managing disaster risks as outlined in the Sendai Framework for Disaster Risk Reduction (SFDRR) – a global instrument adopted in Sendai, Japan in 2015.
The SFDRR is framework is a disaster response mechanism with a two-pronged strategy to Disaster Risk Reduction (DRR): reducing disaster mortality and reducing the numbers of people affected by disasters.
"The EAC has made positive moves in integrating DRR into its policies and programmes. In addressing disasters, Partner States have established DRR comprehensive policy frameworks, enacted several legislations and formed DRR platforms that guide interventions in DRR," she said.
She said the EAC had developed DRR institutions and instruments including the EAC DRR Strategy, adding that the EAC Disaster Risk Reduction Management (DRRM) Act that was recently passed by the East African Legislative Assembly had provisions for displaced persons among other things.
"The EAC has established Disaster Risk Reduction and Management Unit that will be supervised director by the Secretary General. The Unit will play a key role in the implementation of the EAC Disaster Risk Reduction Act and the implementation of the Sendai Framework in the region," said Ms. Eriyo.
- ENDS -
For more information, please contact:
Mr Owora Richard Othieno
Head, Corporate Communications and Public Affairs Department
EAC Secretariat
Arusha, Tanzania
Tel: +255 784 835021
Email: OOthieno [at] eachq.org
About the East African Community Secretariat:
The East African Community (EAC) is a regional intergovernmental organisation of five Partner States, comprising Burundi, Kenya, Rwanda, Tanzania and Uganda, with its headquarters in Arusha, Tanzania.