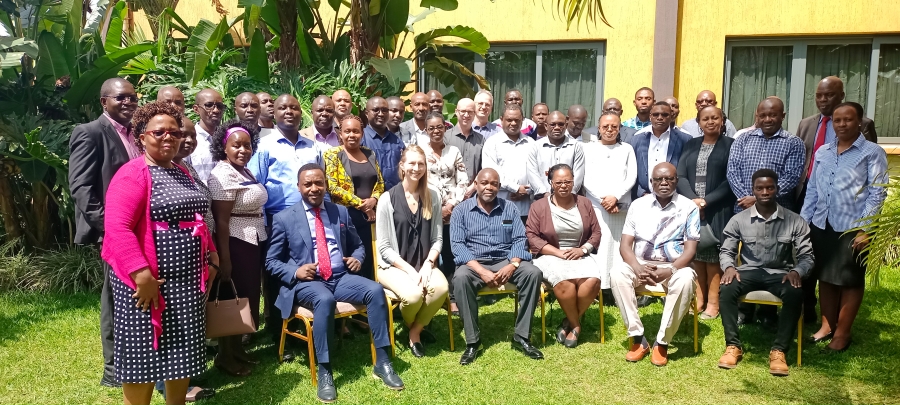 EAC capacity building workshop on Pesticides Dossier Evaluation and Risk Assessment underway in Kigali
East African Community Headquarters, Arusha, Tanzania, 8th March, 2023: The East African Community (EAC) capacity building workshop on 'Dossier Evaluation and Basic Risk Assessment' for regulators from Partner States is currently underway in Kigali, Rwanda.
The four-day workshop from 6th -9th March, 2023 is being attended by members of the EAC Technical Working Group (TWG) on Pesticides and regulators responsible for evaluation of applications for registration of pesticides, evaluation of pesticide dossiers, risk assessment of pesticides and evaluation of efficacy trial reports. The regulators from Ghana and Ethiopia are also in attendance for benchmarking purposes.
The main objective of the capacity building workshop is to contribute to increased institutional capacity and better practices for the pesticides registration to safeguard human health and the environment.
In 2018 and 2019 the EAC's Council of Ministers and the Sectoral Council of Ministers on Agriculture and Food Security (SCAFs) directed EAC Partner States to domesticate and implement a set of six harmonised guidelines on testing and registration of pesticides. Against this background, the EAC Secretariat with support from development Partners has implemented several technical and capacity building activities to support the domestication of harmonised guidelines. Capacity building in dossier evaluation and risk assessment has been identified as one of the priority areas.
Making his opening remarks, Mr. Jean Baptiste Havugimana, Director of Productive Sectors at the EAC Secretariat underscored the significance of the workshop in promoting a common understanding on internationally agreed principles, methodologies and criteria for risk assessment and dossier evaluation of plant protection products.
He noted that the knowledge imparted will strengthen the capacities of regulators in the EAC to make science-based decisions that will ensure farmers in the region have access to safe, quality and affordable crop protection products, one of the enablers for increased production for food security and food safety.
Mr. Havugimana thanked USAID and USDA for consistently and generously supporting EAC in several areas of regional integration including Food and Nutrition Security, Sanitary and Phytosanitary Measures and Agricultural Trade Facilitation and highly commended and appreciated members of the EAC Technical Working Group on pesticides for the commitment and dedication that they have demonstrated in the development and implementation of the harmonized guidelines.
On her part, Ms. Stella Simiyu Wafukho, Director of Regulatory Affairs and Stakeholder Relations, CropLife Africa Middle East, affirmed the commitment of her organization in supporting the efforts towards full domestication and implementation of EAC harmonized guidelines.
A team of technical experts drawn from the CropLife network's expert teams of consumer safety and environmental risk assessment are facilitating the workshop, covering various aspects of environmental risk Assessment, toxicology, occupational and dietary risk assessment and Maximum Residue limits (MRLs). During the MRLs session, eLearning modules on MRLs, Consumer Safety and Trade will also be launched to support knowledge exchange in the region and beyond.
For more information, please contact:
Simon Peter Owaka
Senior Public Relations Officer
Corporate Communications and Public Affairs Department
EAC Secretariat
Arusha, Tanzania
Tel: +255 768 552087
Email: sowaka [at] eachq.org
About the East African Community Secretariat:
The East African Community (EAC) is a regional intergovernmental organisation of seven Partner States, comprising the Republic of Burundi, the Democratic Republic of Congo, the Republic of Kenya, the Republic of Rwanda, the Republic of South Sudan, the Republic of Uganda and the United Republic of Tanzania, with its headquarters in Arusha, Tanzania.
The EAC Secretariat is ISO 9001: 2015 Certified