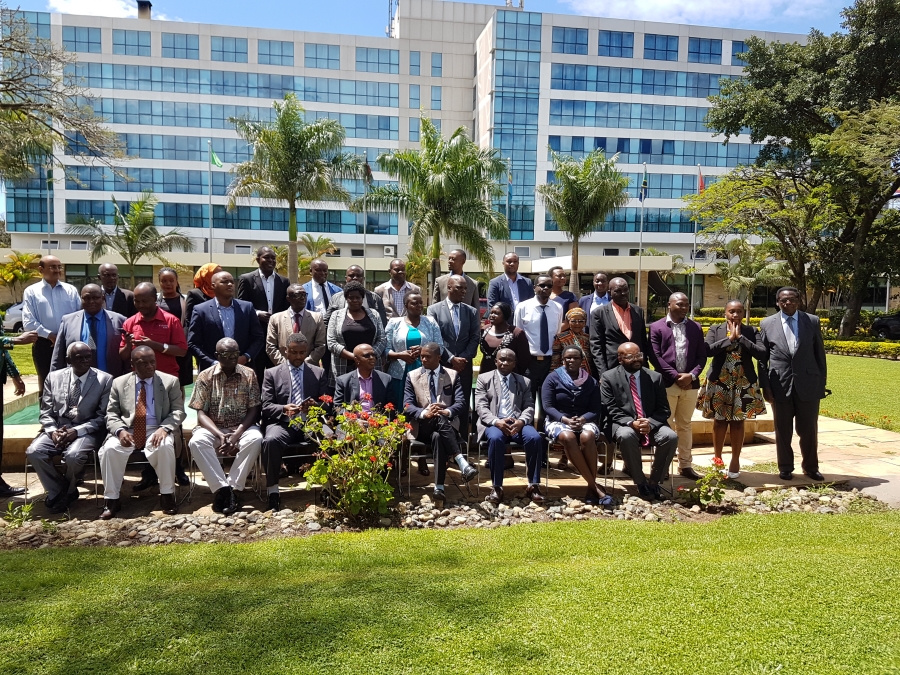 EAC Partner State validate Draft EAC Fertilizer Policy and Draft EAC Fertilizer Bill
East African Community Secretariat, Arusha, Tanzania, 14th November, 2019: The Director of Productive Sectors at the EAC Secretariat, Mr. Jean Baptiste Havugimana, has underscored the need to put in place a transformational policy instrument to trigger immediate interventions responding to the needs of smallholder farmers in the region.
Mr. Havugimana noted that over the past one decade, the EAC Partner States have successfully adopted several policy documents in the fertilizer sub-sector, yet the impact on the ground remained unchanged.
Mr. Havugimana recalled one of the previous directives from the Sectoral Council on Agriculture and Food Security (SCAFS) - reflecting the Head of States aspirations – which directed the Secretariat and Partner States to establish two fertilizer factories in the region, namely Tanzania and Kenya, to satisfy the region's demand in fertilizer and thereby save foreign currency, monies that would have been spent on fertilizer imports.
"It is an era of action now, the regional policy should be based on evidence on ground. The evidence should be informative on how and where we failed, so that a decisive action should be followed up," said Mr. Havugimana, who represented Hon. Christophe Bazivamo, the EAC Deputy Secretary General in charge of the Productive and Social Sectors, at the meeting.
The Chairperson of the workshop, Dr. Charles Murekezi, who is also the Director General for Agriculture Development in the Ministry of Agriculture and Animal Resources, Rwanda, recalled that the 37th meeting of the Council of Ministers had directed the Secretariat to extend the harmonization process to other agriculture inputs following a report on harmonization of seed regulations.
"The EAC's efforts to harmonize seed and fertilizer come as identified priorities to drive agricultural productivity and food and nutrition security. Notable progress has been made by EAC on Seed and Fertilizer legislations including the adoption of EAC Regulatory Framework and Procedures for Fertilizer Marketing by the 7th Meeting of SCAFs, adoption of the harmonized framework for Seed Legislation in the EAC by the 8th SCAFs, and adoption EAC seed Bill by 12th SCAFs," said Dr. Murekezi.
In June 2019, EAC Secretariat conducted economic and legal diagnostic studies to examine the status of domestication of harmonized seed and fertilizer policies, laws, regulations and standards. The findings of the diagnostic studies served as basis for the formulation of the draft EAC Fertilizer Policy and draft EAC Fertilizer Bill.
- ENDS -
For more information, please contact:
Simon Peter Owaka
Senior Public Relations Officer
Corporate Communications and Public Affairs Department
EAC Secretariat
Arusha, Tanzania
Tel: +255 768 552087
Email: sowaka [at] eachq.org
About the East African Community Secretariat:
The East African Community (EAC) is a regional intergovernmental organisation of six Partner States, comprising Burundi, Kenya, Rwanda, South Sudan, Tanzania and Uganda, with its headquarters in Arusha, Tanzania.
The EAC Secretariat is ISO 9001: 2008 Certified