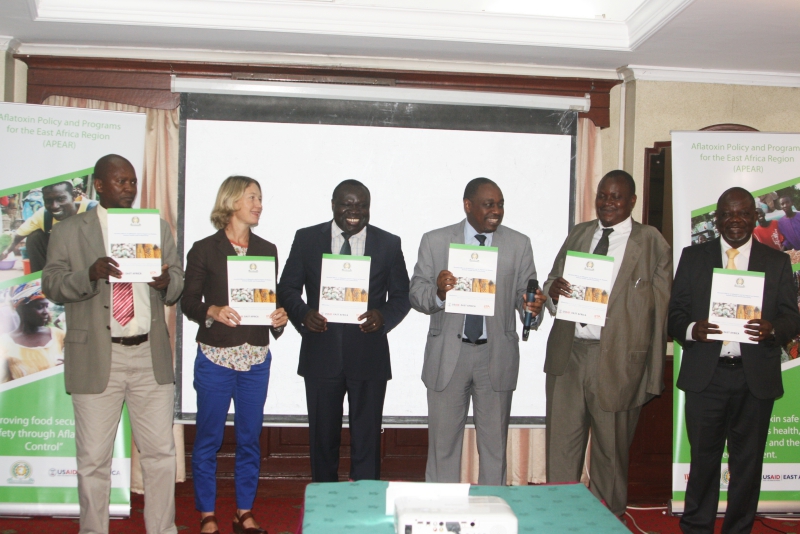 EAC Policy Briefs on Aflatoxin Prevention and Control launched in Nairobi
East African Community Headquarters, Arusha, 17th August, 2018: A two day Regional Forum to launch the East African Community (EAC) Policy Briefs on Aflatoxin Prevention and Control came to a close on Thursday in Nairobi, Kenya.
The workshop, which was geared towards enhancing levels of awareness on Aflatoxin control and prevention in the EAC region, was organized by EAC in partnership with the United States Agency for International Development (USAID) and the International Institute for Tropical Agriculture (IITA). To officiate the launch and representing the Cabinet Secretary, Ministry of Agriculture, Livestock, Fisheries and Irrigation was Prof. Hamadi Boga, the Principal Secretary (PS) in the State Department of Agriculture Research, Ministry of Agriculture, Kenya.
Prof. Boga hailed the EAC Secretariat for prioritizing aflatoxin prevention and control as one of its flagship projects in the region. He disclosed that that Africa loses up to US$ 670 million annually from lost exports due to aflatoxin contamination.
The PS further said that approximately 40% of food commodities in local markets exceed allowable levels of aflatoxins in foods.
The PS officially launched the 9 sets of policy briefs on Aflatoxin and underscored that they contain key recommendations on strategic policy action and interventions required to mitigate impacts and effects of aflatoxin along the food and feed value chains.
Aflatoxin contamination poses a serious threat to human and animal health, and to the economies of the EAC Partner States. Existing efforts to mitigate aflatoxin at national level have remained fragmented and not adequately supported, technically and financially. The 36th Meeting of the EAC Council of Ministers directed Partner States to mainstream EAC Aflatoxin Prevention and Control Strategy priorities in their national budgets and national agriculture investment plans.
In her remarks, the USAID/Kenya and East Africa Feed the Future Regional Coordinator, Ms. Kathryn Begeal, commended stakeholders for the efforts towards aflatoxin prevention and control.
Ms. Begeal further called on EAC Partner States to make real progress in implementing solutions to aflatoxin contamination such as disseminating information to communities, promoting farmer use of Alfasafe in extension and input packages, and scaling up improved post-harvest handling practices.
Pursuant to the directive of the Council, the EAC regional project on aflatoxin abatement was launched in 2014 with the aim of preventing and controlling adverse impacts of Aflatoxin along the food and feed value chains. The overall goal of this project is to contribute to Food Security and Safety in the EAC and Protect Human, Animal and Plant Health.
A Regional Forum was then established to create awareness and sensitize high level policy makers and other key stakeholders on the necessary policy action and interventions to mitigate impacts and effects of aflatoxin.
Speaking at the meeting, the EAC Deputy Secretary General in charge of Productive and Social Sectors, Hon. Christophe Bazivamo, noted that Aflatoxin prevention and control is one of the flagship programmes implemented by the EAC Secretariat.
Hon. Bazivamo said that the overall goal of the programme is to contribute to food and nutrition security as well as to protect human, animal and plant health in EAC from the adverse impacts of aflatoxin along the food and feed value chains.
Participants at the event included government officers from the line Ministries of Agriculture and Livestock in the EAC Partner States as well as academicians, researchers, animal health, food safety and nutrition experts who shared presentations on observations, lessons learned, new technologies, challenges and recommendations with regard to aflatoxin mitigation efforts.
Addressing the closing session of the event on Thursday, Hon. Mathias Kasamba, the Chairperson of the East African Legislative Assembly Committee on Agriculture, Tourism and Natural Resources commended USAID Kenya and East Africa for funding the EAC Aflatoxin Prevention and Control project, the International Institute for Tropical Agriculture, the Partnership for Aflatoxin Control in Africa, the US Centers for Disease Control, the private sector and other development partners engaged in dealing with the scourge of aflatoxin on the continent.
DOWNLOAD BRIEFS HERE: https://www.eac.int/documents/category/aflatoxin-prevention-and-control
-ENDS-
For more information, please contact:
Mr Owora Richard Othieno
Head, Corporate Communications and Public Affairs Department
EAC Secretariat
Arusha, Tanzania
Tel: +255 784 835021
Email: OOthieno [at] eachq.org
About the East African Community Secretariat:
The East African Community (EAC) is a regional intergovernmental organisation of five Partner States, comprising Burundi, Kenya, Rwanda, Tanzania and Uganda, with its headquarters in Arusha, Tanzania.
The EAC Secretariat is ISO 9001:2008 Certified