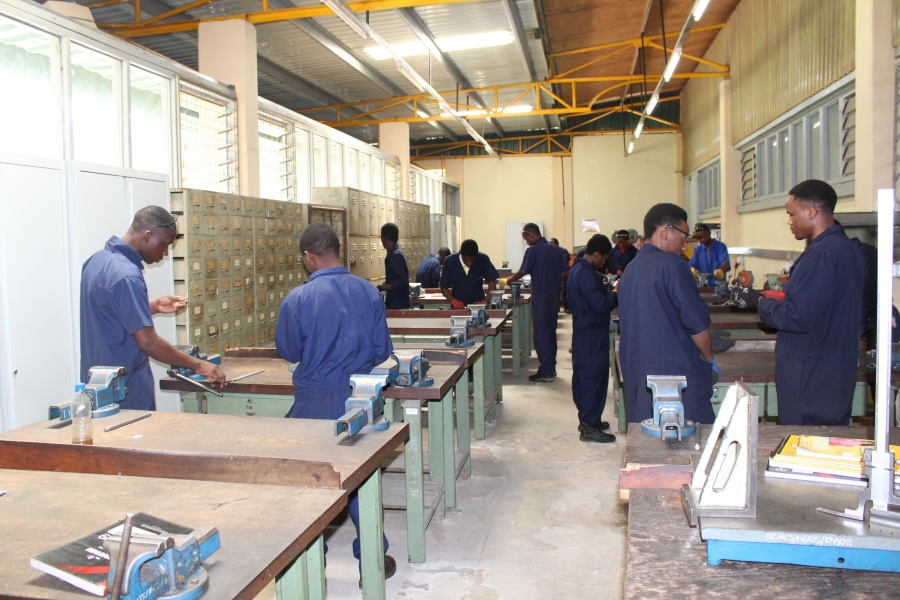 Enrolment of students in Technical and Vocational Institutes in East Africa increases fourfold
Inter-University Council of East Africa, Mombasa, Kenya, 2nd February, 2022: Student enrolment in Technical and Vocational Education and Training (TVET) colleges supported by the World Bank-funded East African Skills for Transformation Project (EASTRIP) has increased more than fourfold, according to the mid-term evaluation report of the project.
The report undertaken to review the project performance at its mid-term, revealed that the total student enrolment in 16 Regional Flagship TVET Institutes (RFTIs) increased from 6,971 students at baseline to 30,776 students at mid-term, higher than the overall project target to enrol 20,000 students annually in both long-term and short-term training programmes.
EASTRIP is a five-year project funded by the World Bank and the Governments of the Federal Republic of Ethiopia, the Republic of Kenya and the United Republic of Tanzania to increase access and improve quality of TVET programmes offered by the selected Regional Flagship TVET Institutes and to support regional integration.
The project seeks to increase enrolment of female students in technology and engineering fields, which has been low. The total number of female students enrolled in selected TVET courses has also increased from 741 students at baseline to 5,230 students. The number of TVET graduates employed within six months upon graduation has also increased from 47 to 69 per cent.
Speaking at the opening session of the Technical Advisory Meeting to reviews results of the mid-term review, the Executive Secretary of the Inter-University Council of East Africa (IUCEA), Prof. Gaspard Banyankimbona, said that IUCEA was advocating for its member universities to move from academic-based learning that has characterised university education for decades to 21st century competency-based learning that puts emphasis on skills development for the world of work.
"We believe TVET institutions have a key role to play in giving us the necessary learning experiences in training graduates with required skills to meet the demands of the fast-changing employment landscape," said Prof. Banyankimbona.
"We have developed a new strategic plan (2021 to 2026) and put emphasis on supporting TVET systems in the implementation of the EAC Common Higher Education Area. This means that harmonisation of TVET qualifications, regional mobility of students and staff in TVET institutions will become key goals of not just the EASTRIP Project Implementation Team but also the whole of IUCEA including its governance structures," added Prof. Banyankimbona.
"Over the last 3 years, significant progress has been made in expanding enrolment and developing demand-driven programmes in most TVET institutes. The underlying principles of industry linkage and institutional autonomy are two important pillars that EASTRIP uses to improve the relevance and quality of TVET and these are being well recognized," said Dr. Xiaoyan Liang, the World Bank Lead Education Specialist.
The TVET Director, Ministry of Education in Kenya, Mr Tom Mulati, who represented the Principal Secretary, State Department of Vocational and Technical Training (VTT), said that the development of harmonized regional TVET Qualifications Framework and Occupational Standards was an area that the Ministry was keen on to promote quality skills development and employment.
"Harmonized qualifications Framework is the direction that the world is taking. As a region we cannot afford to be left out," said Mr.Mulati.
The EASTRIP Project supports 16 technical and vocational institutes from Ethiopia, Kenya and Tanzania to become regional flagship institutes in key growth sectors of the economy including manufacturing, transport and infrastructure, energy, and Information and Communication Technology (ICT).
EASTRIP Regional Flagship TVET Institutes
Sector

Focus

Regional Flagship TVET Institute

Country

Transport/

Infrastructure

Railway

Dire Dawa Polytechnic College

Ethiopia

Railway

Ethiopia Railway Academy

Ethiopia

Marine

Kenya Coast National Polytechnic

Kenya

Air

National Institute of Transport

Tanzania

Road

Kombolcha TVET Polytechnic College

Ethiopia

Building Infrastructure

Meru National Polytechnic

Kenya

Highway Infrastructure

Kenya Institute of Highway and Building Technology Kenya

Kenya

Power/Energy

Power/energy

General Wingate Polytechnic College

Ethiopia

Geothermal

KenGen Geothermal Training Centre

Kenya

Hydro

Arusha Technical College

Tanzania

Manufacturing

Tool making/leather

Federal TVET Institute

Ethiopia

Textile/garment

Hawassa TVET Polytechnic College

Ethiopia

Textile

Kisumu National Polytechnic

Kenya

Leather

Dar es Salaam Institute of Technology (DIT) Mwanza Campus

Tanzania

Agro-processing

Holeta TVET Polytechnic College Ethiopia

Ethiopia

ICT

ICT

Dar es Salaam Institute of Technology (DIT) Dar es Salaam Campus

Tanzania
Notes to Editors:
The Inter-University Council for East Africa (IUCEA) is a strategic institution of the East African Community (EAC) responsible for the development and coordination of higher education and research in the region.
IUCEA is the Regional Facilitation Unit for the World Bank-funded East Africa Skills for Transformation and Regional Integration Project (EASTRIP).
EASTRIP is funded by the governments of Ethiopia, Kenya, and Tanzania and the World Bank to increase access and improve the quality of TVET programmes in 16 regional flagship TVET Centres of Excellence and to support regional integration.
The project supports the development of highly specialized TVET programs at diploma and degree levels for training of technicians and TVET faculty, as well as industry recognized short-term training, targeting regional priority sectors in transport, energy, manufacturing, and ICT.
For further information, please contact:

Godwin Bonge Muhwezi,
Project Communication Officer,
Inter-University Council for East Africa
Kampala, Uganda
e-mail: This email address is being protected from spambots. You need JavaScript enabled to view it.

About Inter-University Council for East Africa (IUCEA)
The Inter-University Council for East Africa coordinates harmonisation of higher education and training systems in East Africa, facilitates their strategic development and promotes internationally comparable standards and systems.
For more information, please visit the IUCEA website.