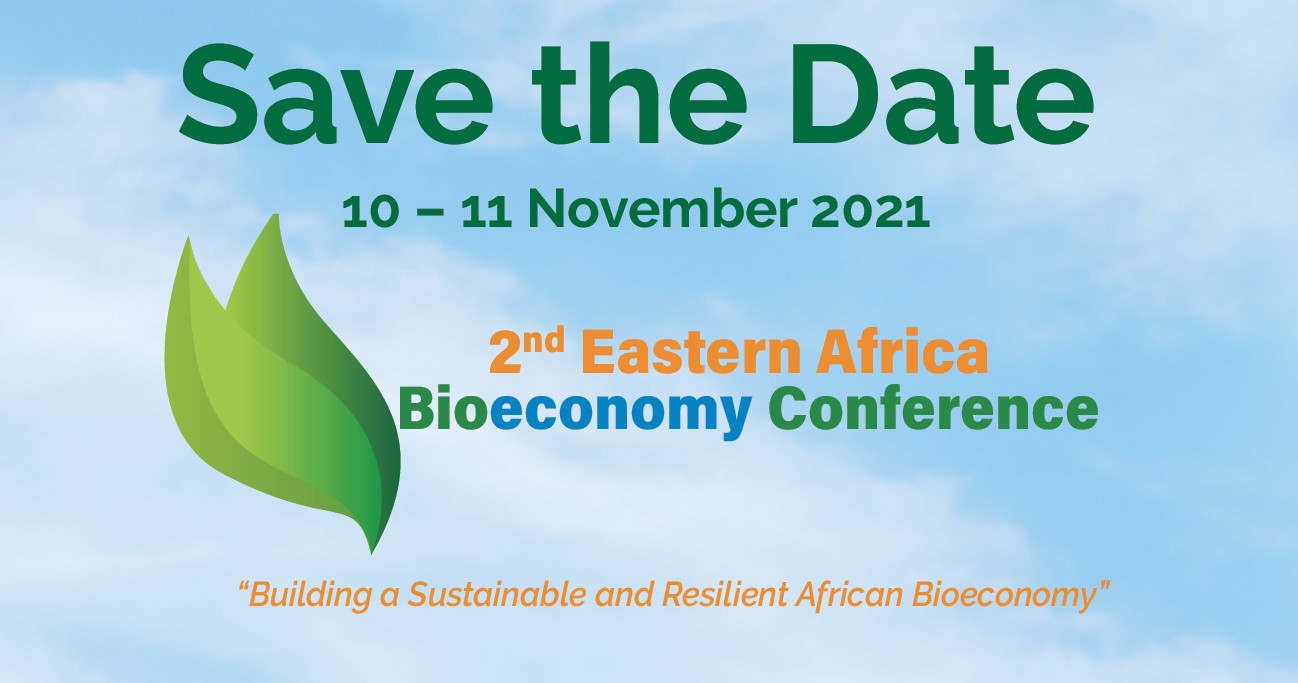 2nd Regional Bioeconomy Conference to be held virtually from 10th to 11th November, 2021
East African Community Headquarters, Arusha, Tanzania, 20th August, 2021: The 2nd Regional Bioeconomy Conference will be held virtually on 10th and 11th November, 2021 with a small group of in-person participants in Nairobi, Kenya.
The two-day conference is being co-hosted by BioInnovate Africa/International Centre of Insect Physiology and Ecology (icipe), the Biosciences eastern and central Africa-International Livestock Research Institute (BecA-ILRI) Hub, and the East African Science and Technology Commission (EASTECO), and the Stockholm Environment Institute (SEI) – Africa Centre.
The theme of the conference is "Building a Sustainable and Resilient African Bioeconomy." The theme is cognisant of the global need to reduce carbon emissions, as well as build resilience against emerging and re-emerging diseases such as COVID-19, thus opening up new possibilities for biologically based research and innovation.
Africa, with its rich biological diversity, and a relatively large proportion of arable land, is well positioned to tap these opportunities, and build a competitive but sustainable bioeconomy. The latter is seen as one of the ways of diversifying sources of growth through value addition to biological resources, and linking production to new markets.
Additionally, the period 2021 to 2030 is a decade for accelerating efforts towards the Sustainable Development Goals (SDGs) 2030. In this regard, the conference participants will discuss how sustainable bioeconomy initiatives in the continent, especially those developing healthy foods, safer and more efficacious medicines, clean energy and water, will position themselves to contribute more to the realisation of the SDGs 2030. The discussion will draw from examples of bio-based innovations that are creating new business prospects and changing lives in the continent.
The conference will also discuss regionalisation of bioeconomy, with the idea that the greatest benefits of a sustainable bioeconomy are realised through regional collaboration. Participants will discuss how regional economic blocs like the East African Community (EAC), Economic Community of the West African States (ECOWAS) and the Southern African Development Cooperation (SADC), among others, can be the anchor for regional bioeconomy policies and strategies. Key to this discussion will be opportunities for inter-Africa cooperation in building sustainable and resilient bioeconomies.
The conference will create awareness about sustainable bioeconomy initiatives in the continent, and give participants a platform to build research, innovation and bio-entrepreneurship partnerships.
Participants will also agree on concrete steps for cooperation across regions, especially on developing regional bioeconomy strategies.
For more information, please, contact to:
Executive Secretary
East African Science and Technology Commission
Email: This email address is being protected from spambots. You need JavaScript enabled to view it.
Phone: +250 788 301402
and/or:
Manager
BioInnovate Africa
Email: This email address is being protected from spambots. You need JavaScript enabled to view it.
Phone: +254-02-8632433/ +254-719052433
Tags: East African Science and Technology Commission (EASTECO)