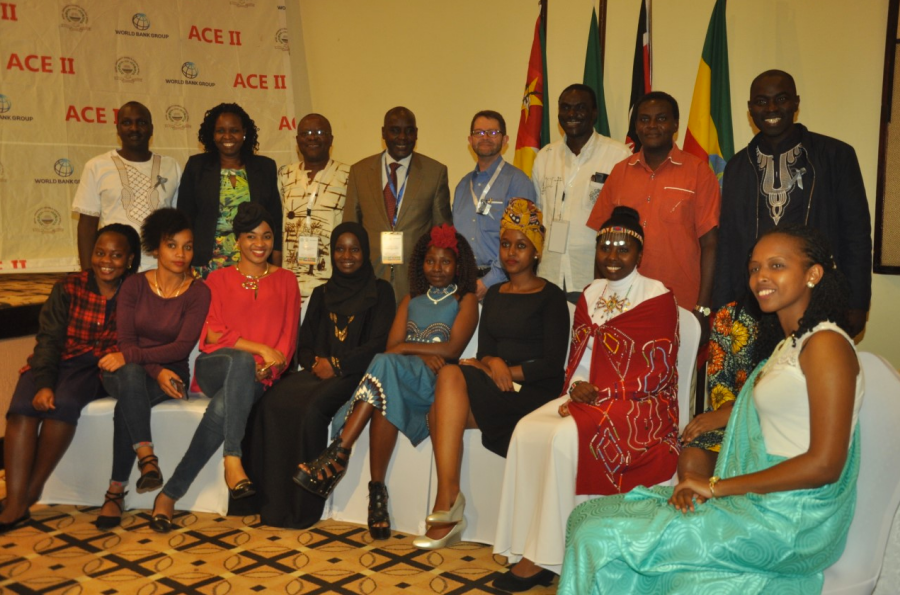 ACE Scholarship Program recipients for 2019 announced
Kampala (September 14, 2019): The Inter-University Council for East Africa (IUCEA), the Regional Facilitation Unit for the World Bank supported Eastern and Southern Africa Higher Education Centers of Excellence (ACE II) Project, has announced the recipients of the ACE Scholarship Program for 2019. A Call for Applications for Masters Fellowships targeting female students in the nine project participating countries of Burundi, Ethiopia, Kenya, Rwanda, Tanzania, Zambia, Uganda, Mozambique and Malawi was announced in March 2019. The aim of the competitive scholarship is to enhance the participation of young African female scientists at postgraduate level, encourage regional student mobility and identify and cultivate future leaders in the region. A total of 28 fellowships were awarded for the 2018/2019 academic year.
An Independent Selection Panel nominated from members of the Regional Steering Committee (RSC) of the ACE II Project selected and recommended 32 applicants out of nearly 500 applicants for the 2019/2020 academic year. The selected candidates were found to have met all required conditions for the scholarship as specified in the Call.
The selected students will study full time at some of the Africa Centers of Excellence (ACEs) in the priority disciplines of the ACE II Project, namely: (i) STEM (Science, Technology, Engineering and Mathematics) or Industry, (ii) Agriculture, (iii) Health, (iv) Education and (v) Applied Statistics. The ACE II Project's emphasis is on STEM to strengthen selected institutions to improve their quality and relevance of science and engineering education and applied research to address challenges in key priority economic sectors.
"The World Bank is committed to supporting expanded access for all students who wish to pursue tertiary education opportunities that inspire them and lead to bright and purposeful futures. This program supporting women in science is one about which we are particularly proud and excited," remarked ACE II project team lead, Dr. Roberta Malee Bassett. "We appreciate the selection panel's committed efforts in selecting this newest group of scholarship recipients, and we congratulate all of these amazing women on their accomplishments achieved and those still to come."
The ACE Scholarship covers tuition, stipend, research, visa fees, laptop, books/stationeries and a round trip air ticket between the beneficiary's home country and the study destination.
The names of candidates recommended for the award, areas of specialization and host institutions can be viewed on the list below. The Independent Selection Panel noted that they were overwhelmed by the number of highly qualified candidates that responded to the 2019 call for fellowships, yet only a limited number of Fellowships could be awarded.
LIST OF STUDENTS AWARDED MSc. FELLOWSHIP UNDER THE ACE II PROJECT FOR 2019/2020 ACADEMIC YEAR
NO.

NAME OF CANDIDATE

COUNTRY OF ORIGIN

MSc PROGRAM

NAME OF ACE

DESTINATION

1

NASANGWE Bernice

Burundian

MSC. In Agricultural and Applied Economics

CESAAM

Njoro, Kenya

2

NYONGERA Eliane

Burundian

MSc Epidemiology

SACIDS

Morogoro, Tanzania

3

NEZA
Ange Nelly

Burundian

Masters in Energy Economics

ACEESD

Kigali, Rwanda

4

SHEGENA
Efrata Ashuro

Ethiopian

Msc.of Pharmacy in Clinical Pharmacy

PHARMTRAC

Mbarara, Uganda

5

GEBREMICHAEL Fana Gebremedhin

Ethiopian

Masters in Hydrocarbon Processing Engineering

CS-OGET

Maputo, Mozambique

6

AREFAYNE
Fiyori Mebrahtu

Ethiopian

Masters of Science in Fishery

AQUAFISH

Lilongwe, Malawi

7

KIFLE
Meron Alemnew

Ethiopian

MSc. In Data Science(Data Science)

ACE-DS

Kigali, Rwanda

8

WAGAYE
Admase Waganesh

Ethiopian

MSc Energy Studies

PTRE

Eldoret, Kenya

8

VUGUTSA Cynthia

Kenyan

MSc Rural Development and Extension

AQUAFISH

Lilongwe, Malawi

10

OCHIENG Millicent Auma

Kenyan

Msc in Data Science (Econometrics)

ACE-DS

Kigali, Rwanda

11

NJERU Sarah Mueni

Kenyan

MSc.Molecular Biology and Biotechnology

SACIDS

Morogoro, Tanzania

12

KIITI Ruth Wairimu

Kenyan

Masters of Science in Epidemiology

SACIDS

Morogoro, Tanzania

13

MAKAWA
Sunge

Malawian

MSC. In Data Science

ACE-DS

Kigali, Rwanda

14

JAMES
Stella

Malawian

MSc Water Management

ACEWM

Addis Ababa, Ethiopia

15

Cuco Anacleta Bibiana Jaime

Mozambican

Masters in Public Health and Food Safety

SACIDS

Morogoro, Tanzania

16

IGIZENEZA
Acsa

Rwandese

MSc. In Health Molecular Biology

SACIDS

Morogoro, Tanzania

17

MUJAWIMANA Violette

Rwandese

MSc. Railway Engineering Civil Infrastructure Specialization

ARERI

Addis Ababa, Ethiopia

18

DUSABE Angelique

Rwandese

Masters in Life Sciences (Food and Nutitutional Science)

WISE FUTURES

Arusha, Tanzania

19

MOSHI
Sylvia Denis

Tanzanian

MSc Public Health

ACEPHEM

Blantyre, Malawi

20

KAFURIA
Angela Dennis

Tanzanian

MSc Data Science

ACE-DS

Kigali, Rwanda

21

LASWAI
Flomena Cyprian

Tanzanian

Masters of Science in Food Science

CESAAM

Njoro, Kenya

22

GWALUGANO Alune Afyusisye

Tanzanian

Master of Education in Chemistry Education

ACEITLMS

Kigali, Rwanda

23

KIBWEJA
Grace Maclean

Tanzanian

MSc. Railway Engineering Train& Traction Control

ARERI

Addis Ababa, Ethiopia

24

NAZZIWA
Cissy

Ugandan

MSc. Of Education in Physics Education

ACEITLMS

Kigali, Rwanda

25

NSHEMEREIRWE Annitah

Ugandan

MSc Water Management

ACEWM

Addis Ababa, Ethiopia

26

NALWANGA Rosemary Noeline

Ugandan

MSc Internet of Things - Embedded Computing Systems

ACEIoT

Kigali, Rwanda

27

BYONANEBYE Marion

Ugandan

MSc. In Epidemiology

SACIDS

Morogoro, Tanzania

28

EKATUSHABE Margaret

Ugandan

Masters of Education in Biological Education

ACEITLMS

Kigali, Rwanda

29

PHIRI Chikumbusto Memory

Zambian

MSc. In Aquaculture

AQUAFISH

Lilongwe, Malawi

30

NGWEWA
Faith

Zambian

Msc in Public Health and Food Safety

SACIDS

Morogoro, Tanzania

31

ZIMBA
Sharon Duba

Zambian

MSc Health Sciences (Antimicrobial Stewardship)

ACEPHEM

Blantyre, Malawi

32

NKOLOLA
Babra Namwiinga

Zambian

MSc Water Management

ACEWM

Addis Ababa, Ethiopia
For more information contact:
Agnes Asiimwe Okoth
Communication Officer
Email: This email address is being protected from spambots. You need JavaScript enabled to view it.
More details about ACE II can be found on the project website https://www.ace2.iucea.org/