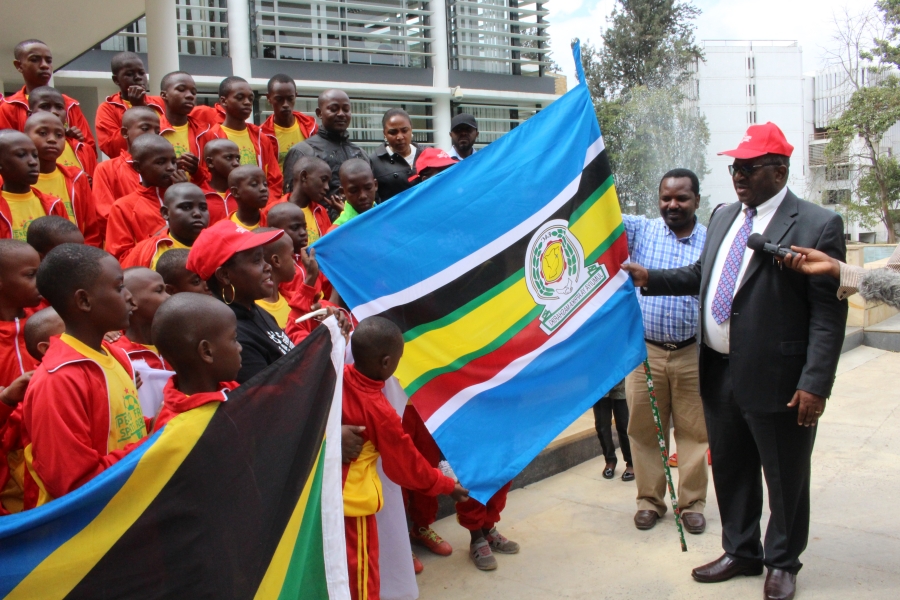 EAC Partner States working to harmonise education systems and curricula in the region
East African Community Headquarters, Arusha, Tanzania, 15th August 2019: East African Community Partner States are working to harmonise education systems and curricula in the region.
EAC Deputy Secretary General in charge of Planning and Infrastructure, Eng. Steven Mlote, said that the harmonisation would ensure quality and standardised education which would in turn guarantee skilled and tech-savvy manpower for the labour market in the region.
Eng. Mlote said the region already had a common framework of reference to facilitate comparability, compatibility, equation and mutual recognition of education/training systems and qualifications among Partner States.
He added that Partner States also had a shared view on quality, criteria, standards and learning outcomes on the education sector, adding that this would spur mobility of students and labour in East Africa and foster integration.
The Deputy Secretary General was speaking at the EAC Headquarters in Arusha, Tanzania when he flagged off a team of 48 children from the Upendo Friends Sports Academy in Arusha who were heading to Nairobi, Kenya to participate in a soccer tournament slated for 17th and 18th August, 2019.
Eng. Mlote hailed Upendo Friends Sports Academy for facilitating the students to participate in the cross-border tournament noting that sports was one avenue to promote solidarity and friendship among the youth in East Africa.
"Bringing together children from different countries to participate in such competitions will be the driver of unity among the youth in East Africa, who are the ultimate beneficiaries of the integration process. The tournament will promote friendship and togetherness among children in East Africa. It is therefore a good thing for the Community," he said.
"The tournament is an opportunity not just to play against students from another country but to foster cooperation in education and sharing experiences with others, and learning about their cultures," added Eng. Mlote.
The Director of the Upendo Friends Sports Academy, Ms Isabella Daniel Mwampamba, said that the academy taps children who are talented in sports with a view to nurturing their talents to maturity.
Ms Mwampamba urged Nairobi residents including Tanzanians living in Nairobi to turn out in large numbers for the tournament which would be held at a venue along Ngong road in the Kenyan capital.
Speaking at the event, Mr. Moses Allan Nswilla, the Programme Manager of Friends of East Africa, which is also supporting the team, said his organisation would use the Nairobi tournament and similar events to promote the spirit of integration among East Africans.
- ENDS -
For more information, please contact:
Simon Peter Owaka
Senior Public Relations Officer
Corporate Communications and Public Affairs Department
EAC Secretariat
Arusha, Tanzania
Tel: +255 768 552087;
Email: sowaka [at] eachq.org
About the East African Community Secretariat:
The East African Community (EAC) is a regional intergovernmental organisation of six Partner States, comprising Burundi, Kenya, Rwanda, South Sudna, Tanzania and Uganda, with its headquarters in Arusha, Tanzania.
The EAC Secretariat is ISO 9001: 2008 Certified
Tags: Education, Culture & Sports